Why Claudia Goldin's Nobel is a win for the study of women in economics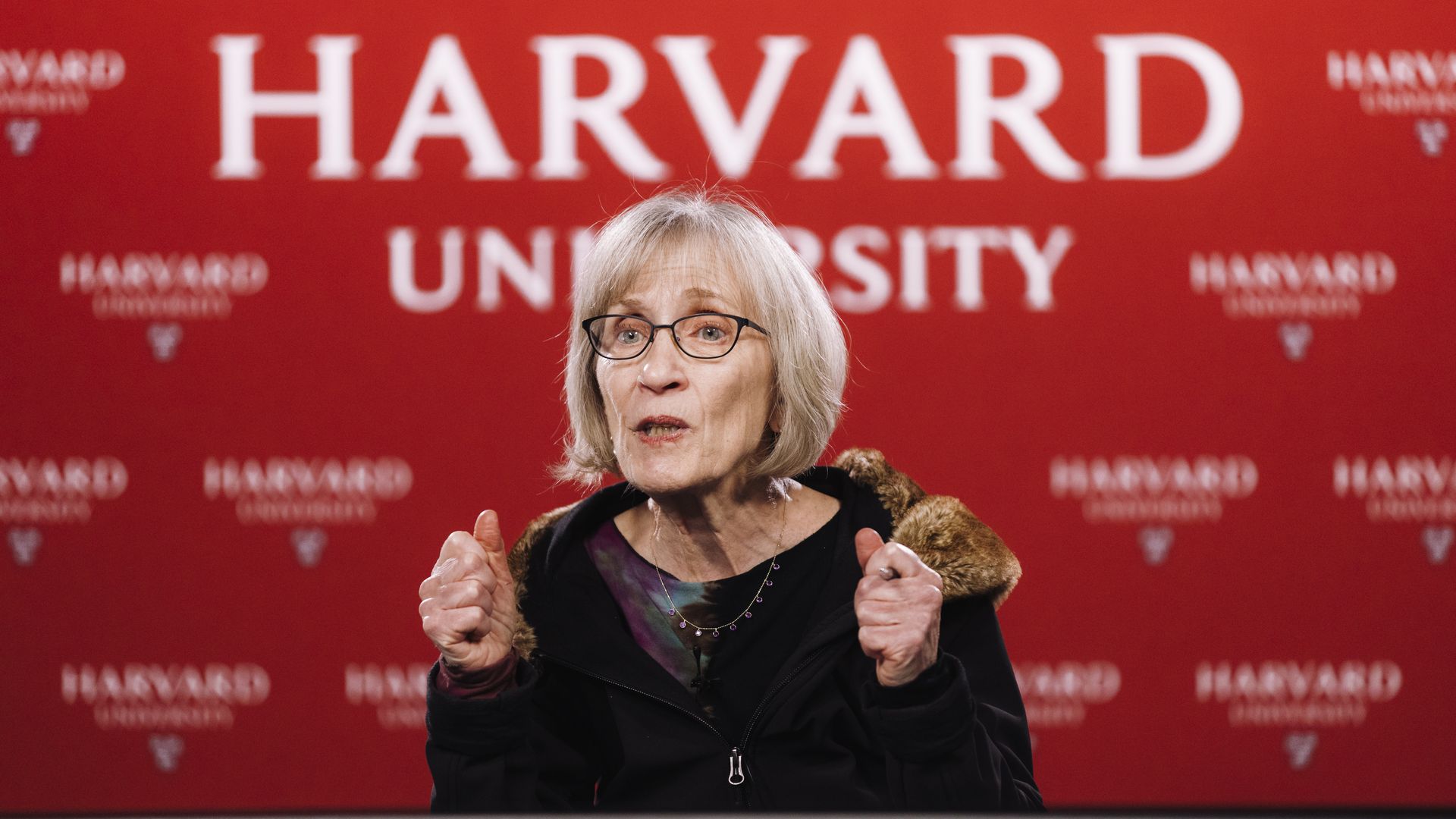 Harvard economist Claudia Goldin, best known for her work on women in the labor market, was awarded the Nobel in economics Monday, the first woman to win the prize solo.
Why it matters: This isn't just a win for Goldin, it's a victory for the study of women in economics — a long-overlooked area of research that Goldin legitimized and opened up to a generation of scholars.
Goldin's win "lifts up gender studies, lifts up female economists, and lifts up women's lived experiences across the world," Alicia Modestino, who studied under Goldin at Harvard, tells Axios.
"It just feels really, really big," says Modestino, who's now an associate professor of economics at Northeastern University, and considers Goldin a mentor. "I can't even tell you how many times I've been moved to tears today."
Catch up fast: Goldin was the first tenured woman economist at Harvard and took on the subject of women in the labor market at a time when much of the field's empirical analysis ignored women entirely.
Women were "barely thought of, if at all," says Justin Wolfers, an economist at the University of Michigan.
Plus, where it was standard for men to study men in the labor market — women studying women was seen as work on a "special interest" and a mark of "not being serious," he says.
Her work is "foundational," to the study of women in the labor market, says Kate Bahn, an economist and research director of WorkRise at the Urban Institute.
Goldin, an economic historian, is responsible for the "first comprehensive account" of women's labor force participation through the centuries, the Royal Swedish Academy of Sciences said in its announcement of the prize.
Zoom in: Some of Goldin's most well-known work uses data to explain why women experience work differently than men — why they earn less money, or choose different professions or jobs, for example.
In one of her most famous papers, Goldin and Cecilia Rouse studied auditions for a symphony orchestra. When a screen was used to keep a musician's identity concealed as they played, women were more likely to be advanced and hired, the paper concluded.
It's a paper that tells a story and shows how gender shapes outcomes in the real world, says Bahn.
In another well-known paper, Goldin studied how the birth control pill led women to postpone marriage — and invest more in their careers.
The pill was one of the most extraordinary technologies of the second half of the 20th century, says Wolfers, yet it hadn't been the focus of serious economic research. "At the time we knew more about the diffusion of hybrid corn."
The fact that other economists didn't pick up on this, he says, "is a marker of the extraordinary black hole, the extraordinary vacuum, left by the absence of women in nearly a generation of economics."
More recently, Goldin was one of the first economists to find that the pandemic didn't hurt women (particularly the college-educated) as much as was feared.
Reality check: Economics is still a field dominated by men and plagued by sexism.
Goldin called the decision "an award for big ideas and for long-term change."
"There are still large differences between women and men in terms of what they do, how they're remunerated and so on," she told Reuters. "And the question is, why is this the case? And that's what the work is about."
The bottom line: Goldin legitimized the study of women in economics — deepening our understanding of the labor market. The Nobel advances that project.
"Just like women's labor in general, a lot of what Claudia did was invisible until she made it visible," says Modestino. "Until she provided the data."
Go deeper