News execs lobby lawmakers on AI protections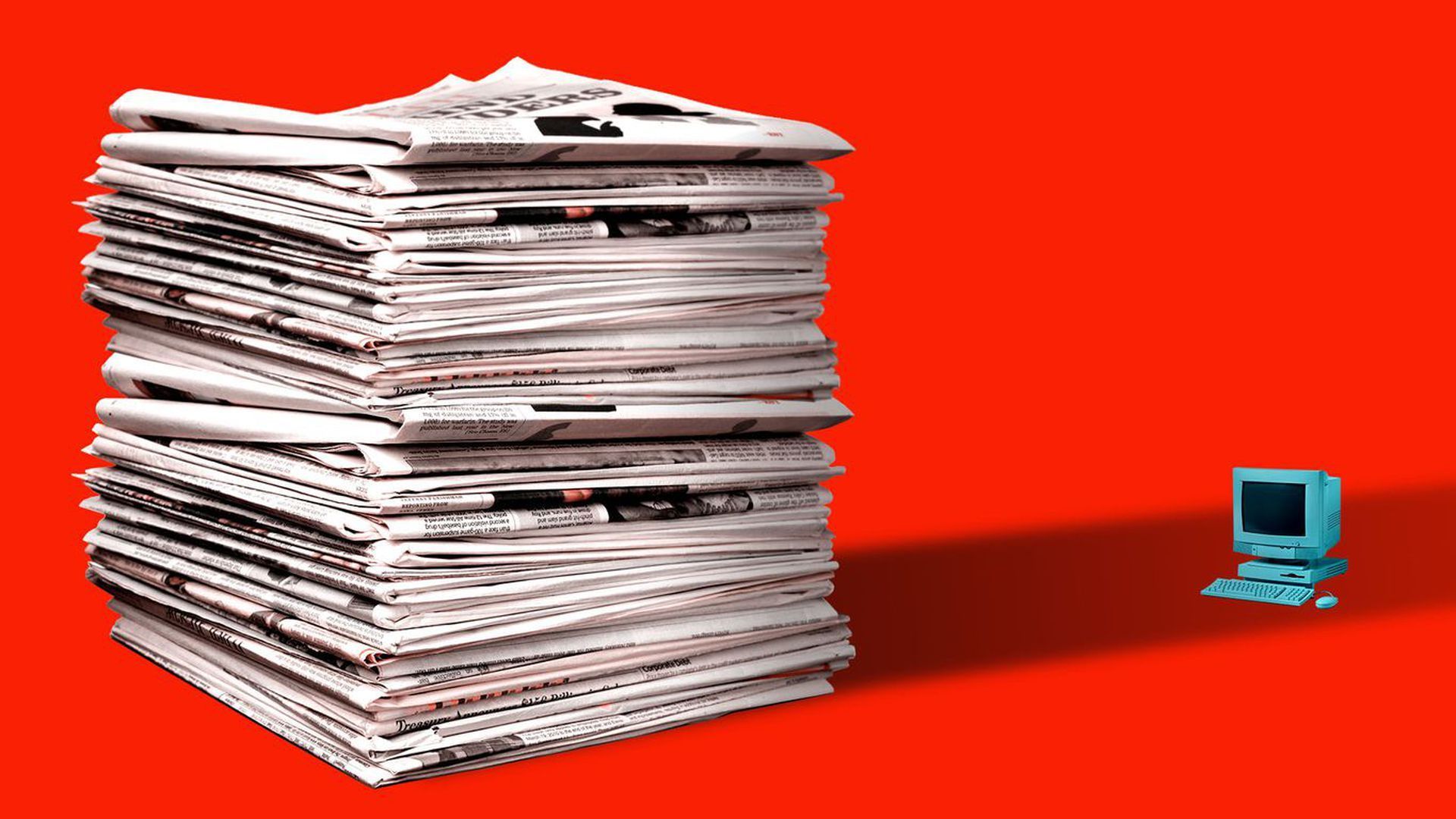 Dozens of newspaper, digital and magazine news executives descended on Capitol Hill last week to lobby members of Congress on copyright protections for their work in the era of artificial intelligence.
Why it matters: Newspaper leaders can be hesitant to lobby directly, given that many of their outlets give political endorsements. But the threat of AI, combined with competition concerns around Big Tech, is pushing executives to band together and speak out.
Details: The Hill blitz was organized by the News/Media Alliance (NMA), one of the largest news publishing associations in the world, representing over 2,000 publishers.
Executives from an array of outlets, ranging from state papers like the Idaho Press to large digital companies like Vox Media, held over 80 meetings with lawmakers across 25 states to discuss copyright protections for their work in the AI era, among other issues.
The fly-in "allowed us to meet directly with legislators to discuss various topics such as AI and its impact on journalism and the public's access to factual information," said Chris Argentieri, president and chief operating officer of the Los Angeles Times.
In her first interview since becoming president and CEO of the NMA in June, Danielle Coffey laid out a road map for how the group is planning to focus its advocacy efforts around AI.
There are four issues the alliance will focus on, she said: IP protection, disclosures and transparency in training AI models, liability, and accountability and competition.
Those goals are detailed in a list of AI principles that the organization published earlier this year. The main position the group takes is that any unlicensed use of content created by its members and journalists by generative AI companies is intellectual property infringement.
"We're focusing over the next year on communications, legal, policy, legislative and technology work around AI," Coffey said. "We are educating and working with members on what they would like to see in each of those areas."
Between the lines: Since joining the NMA eight years ago, members credit Coffey for helping to shape the NMA's efforts on digital issues such as competition, privacy and copyright.
"I think that they [NMA and Coffey] have done a very good job with JCPA [Journalism Competition & Preservation Act]," said Chris Reen, president and CEO of Clarity Media Group, the parent to several local newspapers.
While the JCPA has yet to pass after being introduced in Congress three times, the bill has garnered more bipartisan co-sponsors with each introduction, giving members hope it could one day become law.
The NMA also played an active role in pushing the Justice Department to investigate Google for its ad dominance. The alliance submitted a white paper, hoping to provide the DOJ with the evidence it needed to bring forth a lawsuit.
Catch up quick: NMA represented mostly newspapers, with groups like News Corp. and the New York Times serving as some of its largest members.
But it's branched out recently to include digital and magazine companies such as G/O media, Ziff Davis and Future.
In expanding its scope, NMA has shifted its focus toward more digital issues, though it still lobbies on behalf of print issues, like postal reform.
What's next: Coffey sees NMA's push to address AI concerns as an extension of her work in competition, and so both issues will continue to rank high on the group's priority list.
"I think AI is an exacerbation of a previous problem," Coffey said. "It's very clear that there is a marketplace imbalance and there will be no business model for quality content if we don't start changing some of these laws."
Go deeper