Philadelphia Inquirer launches 7-figure ad campaign to lure millennials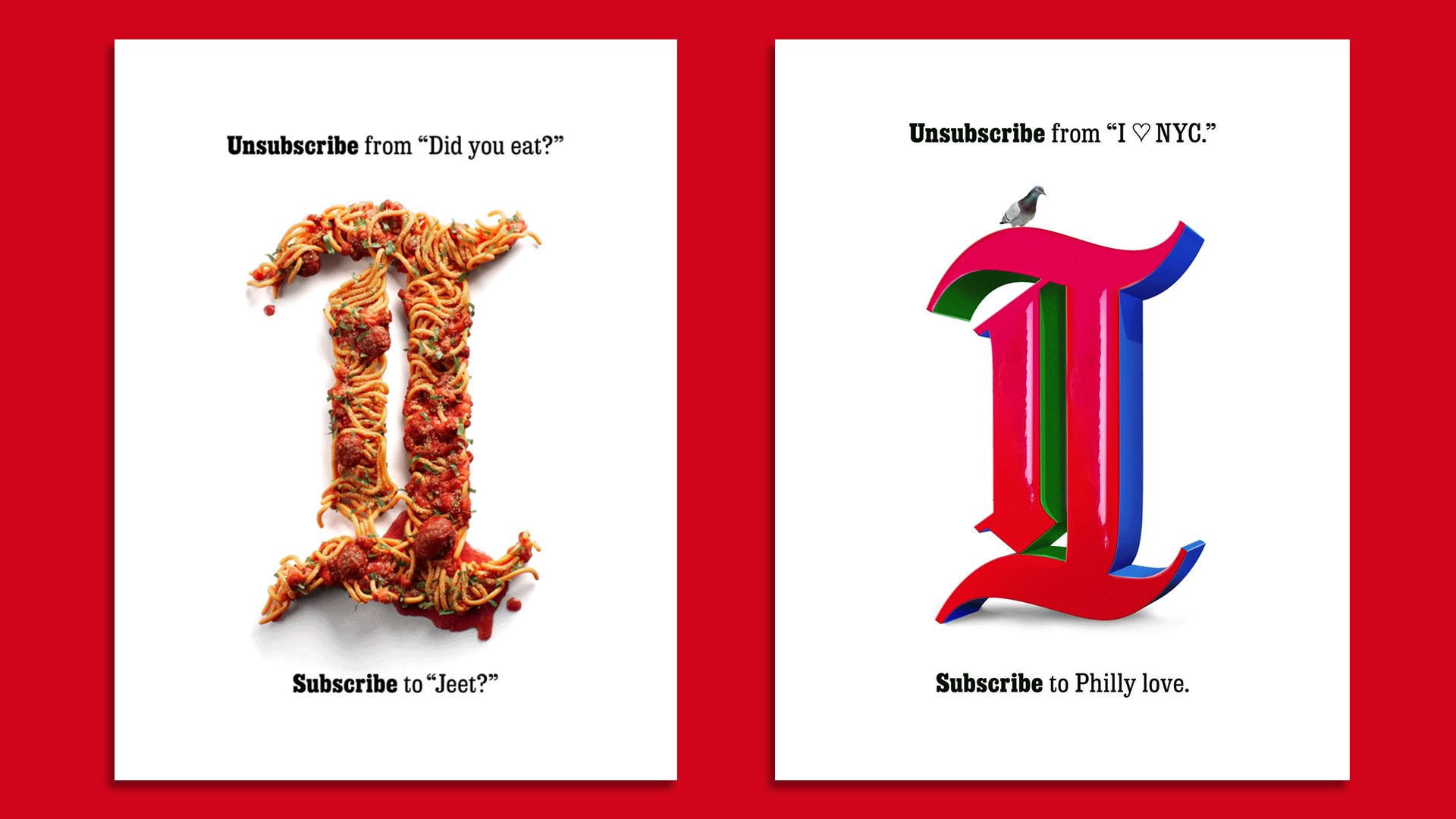 The Philadelphia Inquirer is launching its first major ad campaign in decades, its publisher and CEO Lisa Hughes told Axios, with the news organization planning to spend seven figures over three years.
Why it matters: Already, the effort is being embraced by the wider Philadelphia community, which has seen its hometown paper go through decades of triumph and turmoil.
All five major Philadelphia sports teams, for example, have agreed to let their logos be used as part of the sweeping campaign, Hughes said.
Details: The multi-year campaign, which launches Monday, will blanket the city across dozens of billboards, transit platforms, bus shelters, and more.
In addition to heavy out-of-home placements, there will also be a a slew of print and digital components, including a full takeover of The Inquirer's print and digital editions on Monday.
The campaign is designed to embrace Philly humor, with a tagline that tells viewers to "Unsubscribe" from sayings like "Weird accent" and "No one likes us" to "Subscribe" to sayings like "What accent?" and "We don't care."
In a statement, the Inquirer said it expects the campaign to reach over 70% of the market with over 50 million impressions in its first year.
The paper used Philadelphia-based agency Red Tettemer O'Connell + Partners to produce the campaign.
Be smart: The goal of the campaign is to get a younger generation of Philadelphians, mostly millennials, excited about the brand and interested in buying a subscription.
"Awareness is not our problem," Hughes said of the 194-year-old paper.
Catch up quick: The Inquirer's transition into the digital era was for years mired by complicated ownership changes and economic challenges.
Between 2006 and 2014, the paper changed hands five times and had been through two bankruptcy auctions.
In a landmark 2016 deal, the paper's owner, H.F. "Gerry" Lenfest, donated the paper — alongside its sister publication, the Philadelphia Daily News, and its web site, Philly.com — to the Philadelphia Foundation's nonprofit Institute for Journalism in New Media.
Unlike other deals to put papers under the ownership of nonprofits, Lenfest's deal was specifically designed to ensure that the outlets would become a self-governing, for-profit public benefit corporation.
Zoom in: The Institute for Journalism in New Media was eventually renamed The Lenfest Institute for Journalism in 2017. Lenfest, a media entrepreneur turned philanthropist and civic leader, died in 2018.
By the numbers: The company's corporate structure today allows it to pursue philanthropy as part of its business model. Hughes said the structure "means that we can accelerate investment in digital transformation."
Philanthropy, which is recorded as a separate capital contribution, makes up about 6% of its overall revenue. Of the revenue that does not come from contributions, 72% is consumer revenue and 28% is advertising.
The total revenue for the company is in the "low nine figures," per data provided by Hughes.
Between the lines: Digital subscriptions for The Inquirer are expected to come in at around 90,000 at the end of the year, per Hughes, up from around 36,000 in early 2020, when Hughes joined The Inquirer as its chief executive.
The Inquirer digital subscriber count surpassed its print subscriber count in 2022. Today it has 65,000 print subscribers, per Hughes.
In recent years, the outlet has been focusing on streamlining operations to cut costs and investing in digital-first products.
The Inquirer has roughly 2 million newsletter subscribers, per data from Hughes, up from around 304,000 in January 2020. It also has an events arm called Inq Live, and experiments with various other digital experiences, such as podcasts, games and brackets.
The big picture: Like most major newspapers, The Philadelphia Inquirer has had to make major changes to its print operations and its culture in order to survive.
In 2020, the company sold its printing plant, resulting in 500 plant job losses. It later began outsourcing its printing to Gannett, driving $18 million in annual savings.
Last year, it redesigned its print and magazine editions, streamlining operations to make its print products viable for longer. It is usinf layoffs and voluntarily separation programs to reduce costs.
Earlier this year, the firm ratified a new, three-year collective bargaining agreement with the NewsGuild, that includes parental leave policy enhancements, codified DEI policies and better benefits and wages.
The bottom line: The campaign shows that The Inquirer is "coming out swinging with the latest stage in our full-scale business transformation," according to Hughes.
Go deeper