Cases to watch in the Supreme Court's new term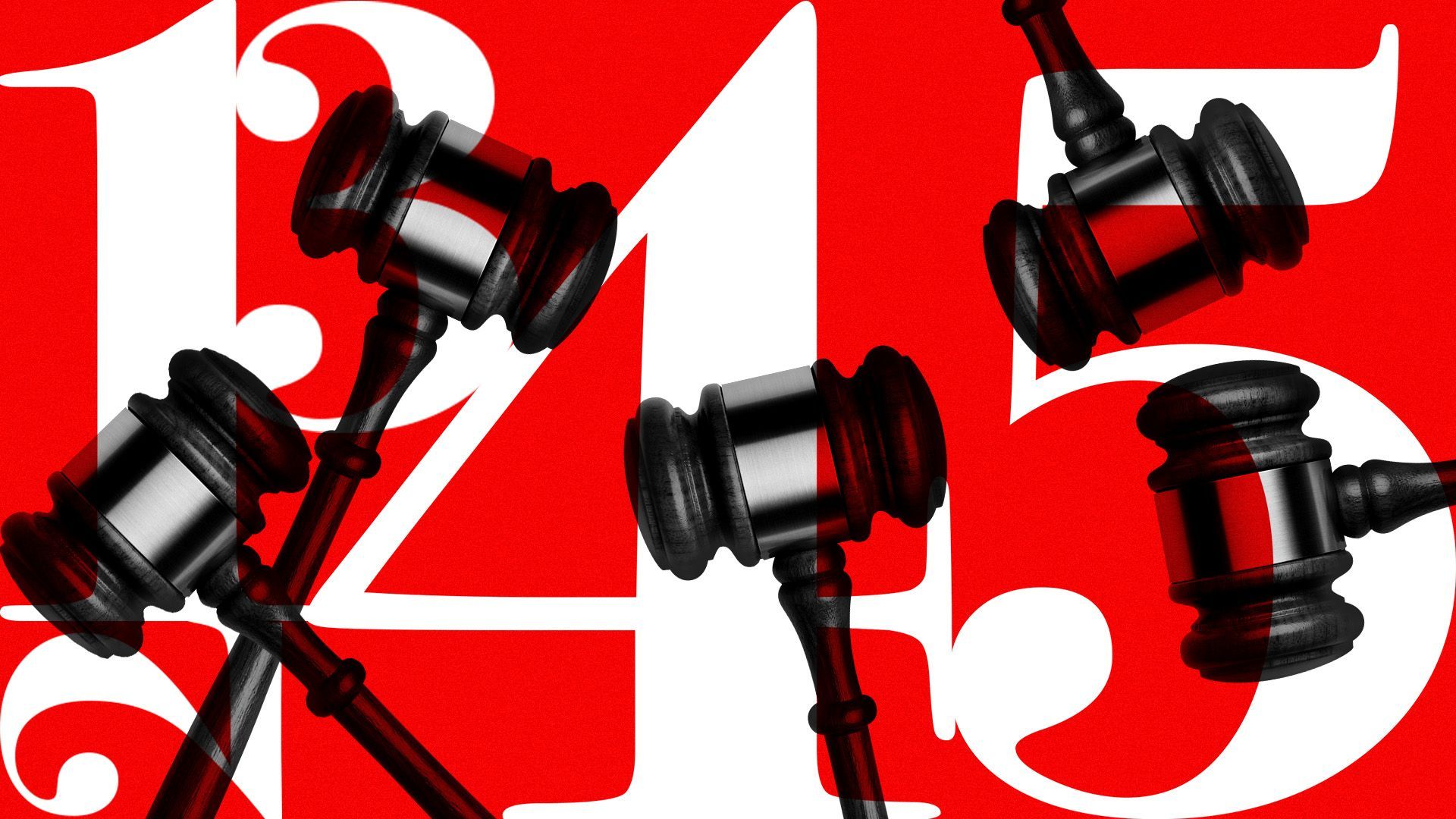 The Supreme Court's new term begins Monday, with major cases on gun rights, the First Amendment and federal regulatory power already on the docket.
Why it matters: After overturning Roe v. Wade, expanding gun rights and handing down a host of other sweeping but controversial decisions over the past few years, the conservative court has another slate of potential blockbuster cases on the docket.
Second Amendment
The court will decide in U.S. v. Rahimi whether a law banning people who are subject to restraining orders because of domestic violence from owning firearms violates the Second Amendment.
Details: According to court documents, plaintiff Zackey Rahimi assaulted his girlfriend, then threatened to shoot her if she told anyone.
A court granted her a restraining order, which meant that Rahimi was prohibited from possessing firearms. He was later suspected of multiple unrelated shootings, and a search of his home turned up two guns. He was arrested. He sued.
The intrigue: The 5th Circuit Court of Appeals — the most conservative appeals court in the country — initially ruled against Rahimi and upheld the firearms ban.
But then, last summer, the Supreme Court handed down a major Second Amendment decision, striking down New York's gun-control laws because, the court said, there was not a long enough tradition to support them.
After that ruling, the 5th Circuit withdrew its decision in Rahimi's case and wrote a new one.
This time, Rahimi won on the grounds that there isn't a sufficiently long tradition of suspending Second Amendment rights due to domestic violence restraining orders.
What's next: Oral arguments are scheduled for Nov. 7.
Politicians and social media
The court is set to hear two related cases involving local officials who blocked some of their constituents on social media.
Details: Two members of a San Diego-area school board blocked parents who posted messages on Facebook and Twitter accusing the board of financial impropriety and racism.
According to the 9th Circuit Court of Appeals, the messages were "were often quite lengthy and were frequently repetitive of other comments." One of the parents posted 126 identical Twitter replies within 10 minutes. The board members eventually blocked the parents.
But those messages, however annoying, were related to the school board, didn't use profanity and didn't threaten violence.
Therefore, the 9th Circuit ruled, they fell within the bounds of constituents communicating with elected officials — which meant that blocking them violated their First Amendment rights.
Between the lines: The main question here isn't whether government officials, in their official duties, can stop their constituents from speaking to them. That's a pretty straightforward First Amendment violation. Rather, the question is: When is your Facebook page official business, and when is it just your Facebook page?
The court will hear the San Diego case alongside a similar suit involving the city manager in Port Huron, Michigan. He did not have an "official" Facebook presence, but simply posted about city-managing on his personal page, alongside photos of his family and other updates.
That's where he blocked a constituent who objected to COVID restrictions. And in his case, a federal appeals court said that was OK.
Federal regulations
The conservative court will quickly dive into a longstanding priority on the right: reining in the federal bureaucracy.
Driving the news: On Tuesday — just the second day of the term — the justices will hear a case that could gut the Consumer Financial Protection Bureau.
A group of payday lenders brought the case, which argues that the CFPB's funding mechanism is unconstitutional — and that everything it has done with that funding is therefore void.
A ruling in payday lenders' favor would grind much of the agency's work to a halt.
"All C.F.P.B. rules are now potentially vulnerable to constitutional attack," Boston College law professor Patricia McCoy told The New York Times last year.
Flashback: The court ruled in 2020 that the CFPB's leadership structure was unconstitutional, but allowed the agency to keep functioning under new rules.
Later in the term, they'll hear a separate case asking them to overturn the doctrine known as "Chevron deference."
Chevron states, in short, that when part of a particular statute isn't clear, the courts will generally defer to the interpretation of the agency tasked with implementing that statute, as long as its interpretation is reasonable.
But the court has been chipping away at Chevron for years, as part of a broader trend toward limiting the executive branch's power to act without clear congressional authorization.
What's next
State laws banning gender-affirming care are on an accelerating path toward the Supreme Court.
Twenty-one states now have bans on hormone therapy, surgery or other forms of care for minors. Some have been halted in the courts, while a pair of appeals court rulings this summer allowed others to go into effect, Axios' Adriel Bettelheim and Jason Millman report.
Divisions among lower courts make it far more likely that the Supreme Court will ultimately need to step in, though there's nothing in front of the justices right now.
Abortion also may be back on the docket relatively soon, via lawsuits over the drug mifepristone, which is used in almost half of abortions in the U.S.
An appeals court last month reinstated restrictions that the FDA had lifted on the pill. The Justice Department and the drug's manufacturer have asked the high court to reverse that decision, citing "destabilizing practical consequences" and "serious legal errors."
The justices haven't yet said whether they'll hear the case on the merits.
Go deeper