Updated Sep 28, 2023 -

World
American soldier who crossed into North Korea arrives back in U.S.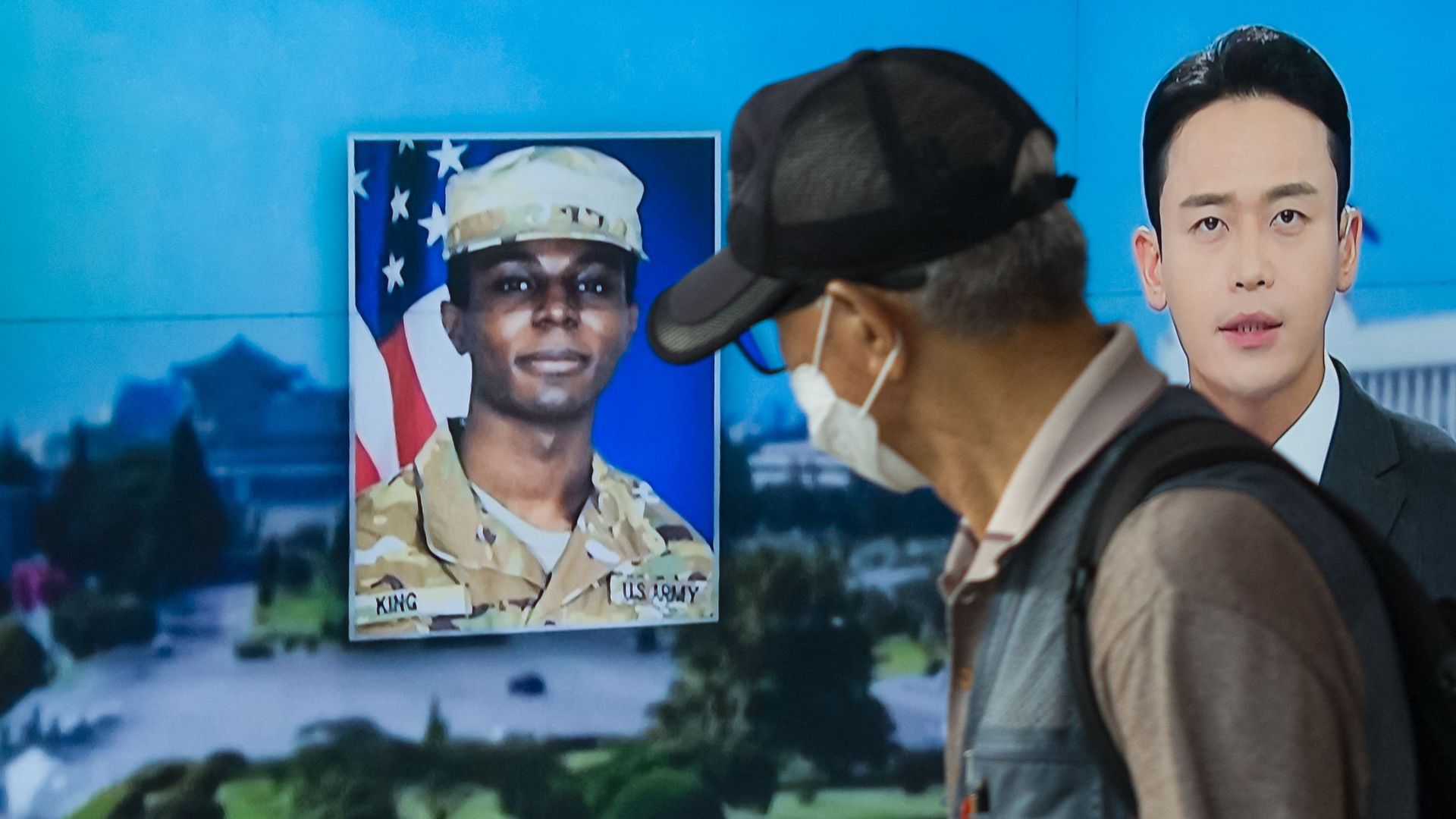 An American soldier who crossed into North Korea in July landed at a U.S. military base in Texas early Thursday morning, a Department of Defense spokesperson confirmed to Axios.
Driving the news: The soldier, Travis King, was subsequently taken to Brooke Army Medical Center at Joint Base San Antonio, U.S. Army spokesperson Bryce Dubee said in a statement.
"The Army's focus right now is on ensuring the soldier's well-being and privacy. His status will be addressed at a later time by the chain of command," Dubee stated.
Catch up quick: North Korea announced earlier Wednesday that it planned to expel King, AP reported citing the state-run Korean Central News Agency (KCNA).
Authorities said King, a 23-year-old Army private, had admitted to entering the country illegally, KCNA added.
Details: Senior administration officials confirmed Wednesday that King's transfer out of North Korea was the culmination of a monthlong effort by the U.S. government.
Officials said the U.S. learned from Sweden earlier this month that North Korea wished to expel King, kicking off an intense period of diplomacy.
King was in "good health and good spirits" Wednesday, they added.
Sweden, as the "protecting power" for the U.S. in North Korea, was the United States' "primary interlocutor" in the matter. Swedish officials entered North Korea and transferred King to China, where the U.S. government received him.
Officials thanked China for its role in helping facilitate King's safe transit but stated that China did not play a mediating role in King's release.
The big picture: The U.S. officials did not say why North Korea had decided to expel King, but noted that no concessions were made to secure his release.
From China, King was taken to a U.S. Air Force base in South Korea, before traveling to the U.S., State Department spokesperson Matthew Miller said at a press briefing Wednesday afternoon.
"We appreciate the dedication of the interagency team that has worked tirelessly out of concern for Private King's wellbeing," White House national security adviser Jake Sullivan said in a statement.
Of note: Secretary of Defense Lloyd Austin confirmed in July that a U.S. soldier was believed to be in North Korean custody after crossing into the country "willfully and without authorization."
The soldier, later identified as King, had been on a civilian tour of the Joint Security Area (JSA) that straddles the Demilitarized Zone between North and South Korea.
KCNA reported that King had admitted to crossing the border because he "harbored ill feeling against inhuman maltreatment and racial discrimination within the U.S. army and was disillusioned about the unequal U.S. society," per Reuters.
Zoom out: King, who grew up in Wisconsin, crossed into North Korea the same week he was scheduled to fly home to the U.S.
He was due to face additional disciplinary measures after serving two months in a South Korean prison on assault charges, per AP.
King's family was confounded by his decision to cross into North Korea. His sister, Jaqueda Gates, told NBC News in July that her brother had been looking forward to returning to the U.S.
"My brother, he's not the type to get into trouble like that," she said at the time.
Editor's note: This story was updated with additional reporting.
Go deeper