America embraces prenups: 50% of adults open to signing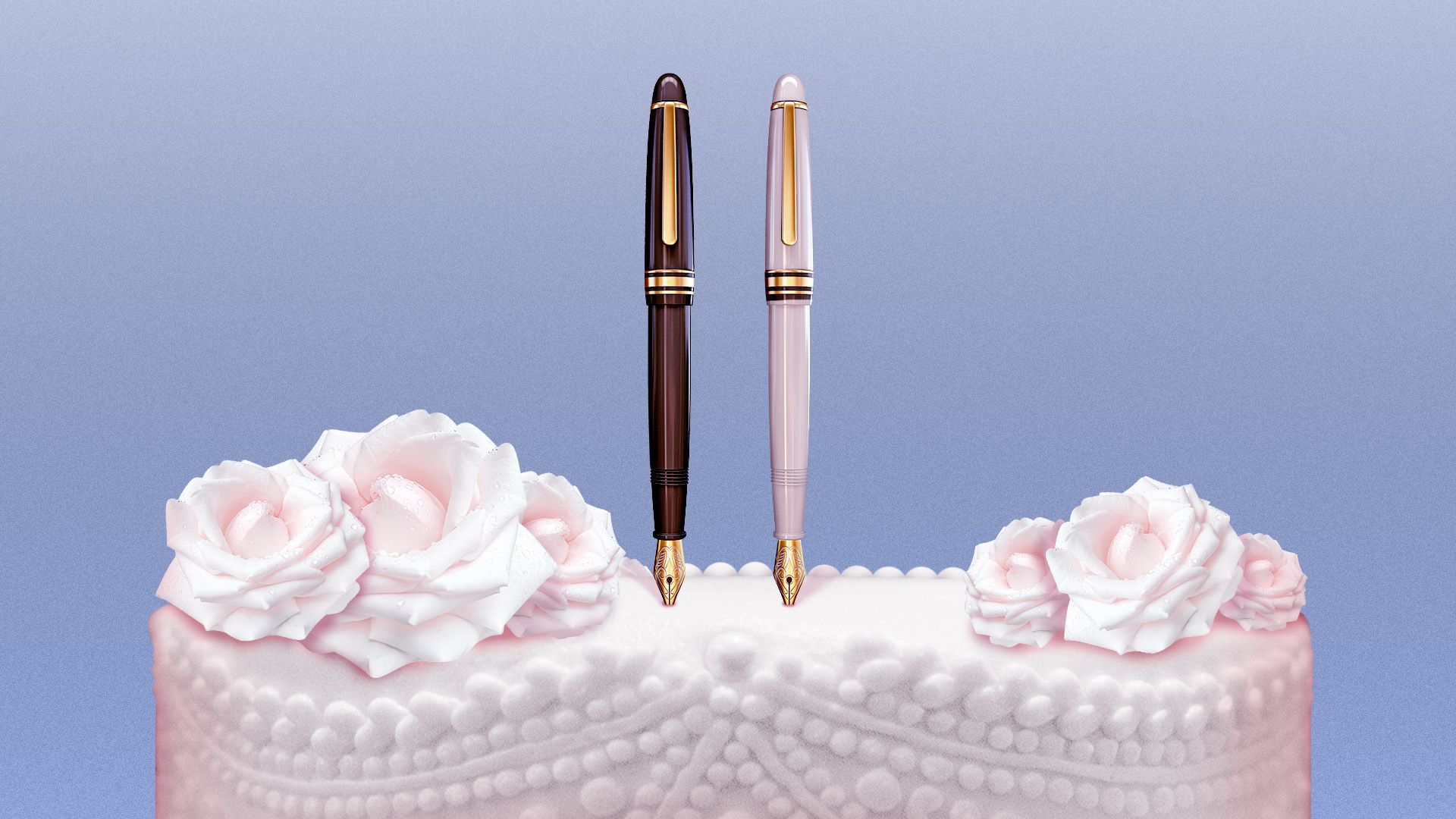 Half of U.S. adults say they're open to signing a prenup, according to new data — preconceived notions about romance and matrimony be damned.
Why it matters: More fiancés (millennials in particular) want to protect their assets before they tie the knot by signing prenups, contracts previously linked to only the rich and famous.
By the numbers: 50% of U.S. adults said they at least somewhat supported the use of prenups, although about only 1 in 5 married couples has a prenuptial agreement, according to a September Harris Poll survey conducted for Axios.
That's up from last year, when Harris Poll found that 42% of polled adults support the use of prenups.
And 66% of people on the dating app The League who responded to a question about prenups said they're open to signing one, according to data shared with Axios.
Younger generations in particular are embracing prenups, according to the Harris Poll.
41% of Gen Z respondents who are engaged or have been married said they entered a prenup.
47% of millennial respondents who are engaged or have been married said they entered a prenup.
Zoom out: Americans are getting hitched later in life.
And they often have individual assets — and debt — to consider before marrying.
Meanwhile, divorce remains a common reality.
Even if you factor in the recent wedding boom that pushed the marriage-to-divorce rate down, 40% of marriages end in divorce nationally.
What they're saying: "My own parents got divorced when I was 3, and money was a really contentious topic for them, [so] it was important that my partner and I had open communication about money," Beth Williams, a 34-year-old newlywed who signed a prenup, told Axios.
Although prenups were long thought of as agreements that benefited wealthier grooms, now "women see this as a way to financially protect themselves," says Williams, who's passionate about financial education as the founder and CEO of Future Wallet.
"I encourage people to start talking about it as early as possible so that it doesn't feel like it's this icky, taboo, non-romantic thing."
Yes, but: Penning prenups can be a complicated process that costs hundreds to thousands of dollars.
Two millennial women launched a company with the goal of addressing those problems in 2021. The online platform, HelloPrenup, charges a flat fee of $599.
HelloPrenup is projected to do 25 times more prenups in 2023 than it did in 2021, according to data HelloPrenup shared with Axios.
Between the lines: "Not all prenups say that you won't get half. ... What a prenup does, essentially, is take [your potential divorce] out of the court system," where you could be beholden to state laws and judge rulings that may not be in your best interest, says Kelly Chang Rickert, a family law attorney who and shares advice on TikTok about divorce and prenups.
Depending on what state you're in, divorcing without a prenup could make someone responsible for their partner's debt (whether it was known during the marriage or not) and vulnerable to creditors, Chang Rickert says.
According to HelloPrenup user data shared with Axios, 65% of users say they want to protect against their partner's debt.
87% of users on the platform say they're getting a prenup to clarify which of their property is separate versus marital or community.
The bottom line: "A long time ago, I think if you mentioned 'prenup,' it [brought] up fears of divorce. ... Today, it's more accepted [as] part of the wedding planning process," says Chang Rickert.
Go deeper: Prenups aren't just for rich people anymore
Go deeper