The era of over-the-top weddings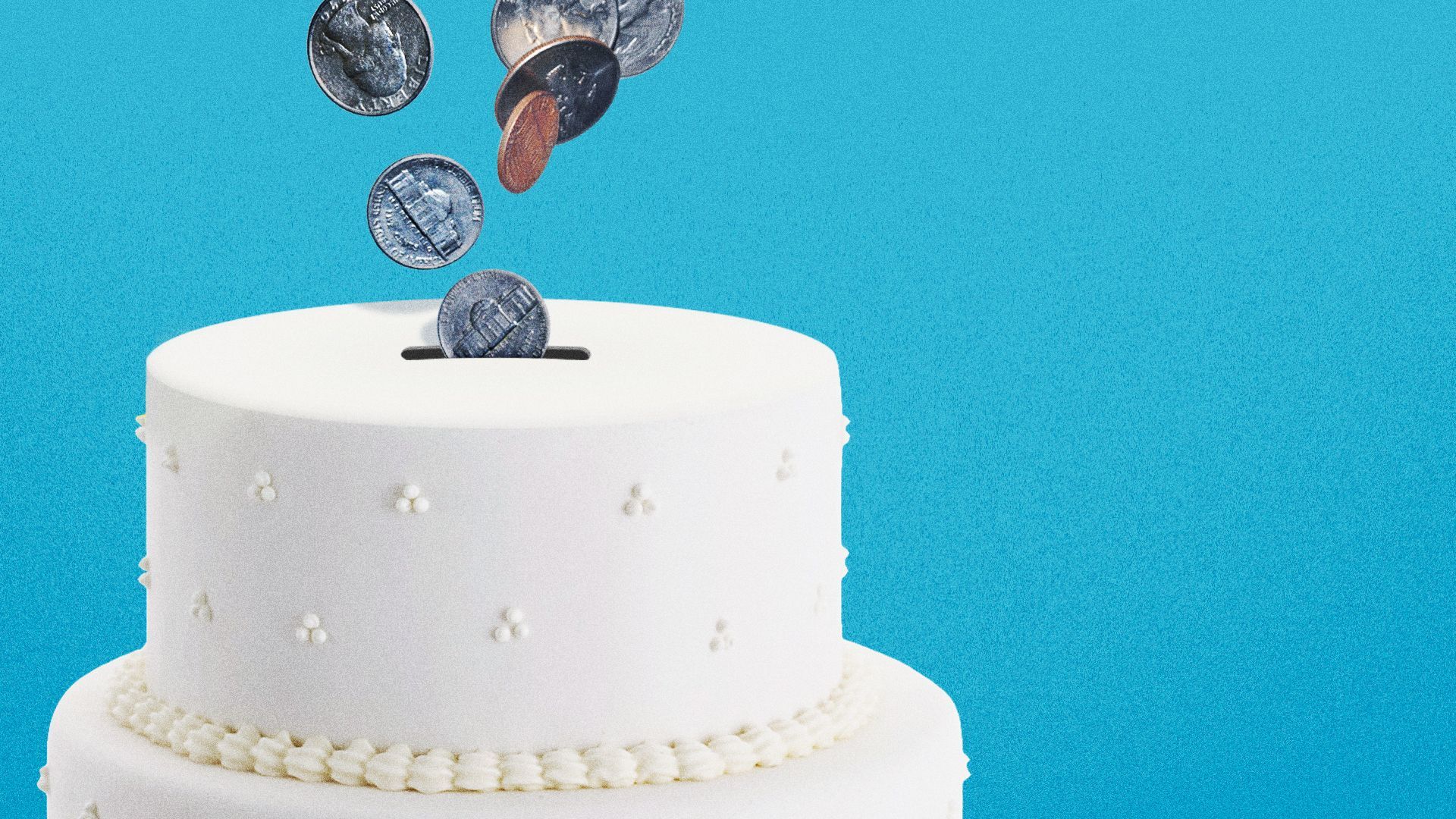 After a pandemic-induced backup and pent-up demand, weddings have come roaring back with bigger budgets, longer guest lists and grander ideas.
The big picture: Almost every aspect of planning, hosting and attending weddings is getting pricier.
By the numbers: The average cost of a wedding in the U.S. ticked up from $28,000 to $29,000 from 2022 to 2023, according to the wedding planning website Zola.
But the average cost was far higher in some states, like Washington, D.C., ($45,400), New Jersey ($44,219) and Massachusetts ($40,097).
What's happening: Inflation and high demand are driving up the price of weddings, as everything from music to flowers to makeup gets more expensive.
77% of wedding vendors surveyed in a recent study said they'd be raising their rates in 2023, CNBC reports.
On top of that, social media has infiltrated the wedding planning process — and more and more couples feel pressure to spend big to make their events pop.
They're splurging on details like doughnut walls, custom cocktail napkins, and champagne towers to add pizzazz.
"[C]ouples continue to lean into the desire to have a high degree of personalization," says Kirsten Francis, director of global insights at The Knot. Some 63% of couples said that personalization was the most important element of planning, per data from The Knot.
That adds to costs because it calls for extra effort from vendors.
"We're just really inundated with images of wedding possibilities," says Landis Bejar, a therapist who specializes in talking to couples and wedding guests.
"Maybe 15 years ago, if you got engaged you got a couple of bridal magazines. Now, a quick Google search can turn into six hours of wedding research. It's analysis paralysis."
One in three 2023 couples are looking to TikTok for wedding inspiration, Zola notes.
The stakes: Pricey weddings aren't just burdening couples.
40% of people who've gone to weddings in the past five years have gone into debt to be there, per a recent LendingTree survey.
That jumps to 62% if they were also in the bridal party — which comes with additional obligations, like showers and bachelor and bachelorette parties.
After years of isolation, these gatherings still feel really special, Bejar says. "[Guests and bridal party members] feel sad saying no."
Trend to watch: One wedding cost that's bucking the trend and declining is attire for the groom. That's because grooms are increasingly opting for a more casual outfit than tuxedos, Francis tells Axios.
What's next: The U.S. wedding services business is booming as a result of the rush — growing 10% in 2022 to a $71 billion industry, according to market research firm IBISWorld
That growth is likely to continue if bigger, grander weddings become a fixture of the post-pandemic era.
Go deeper: Listen to the Axios Today podcast, where host Niala Boodhoo and Erica Pandey talk about why small pandemic weddings are being replaced by splashy, pricey affairs.
Go deeper