How state unemployment benefits impact the UAW strike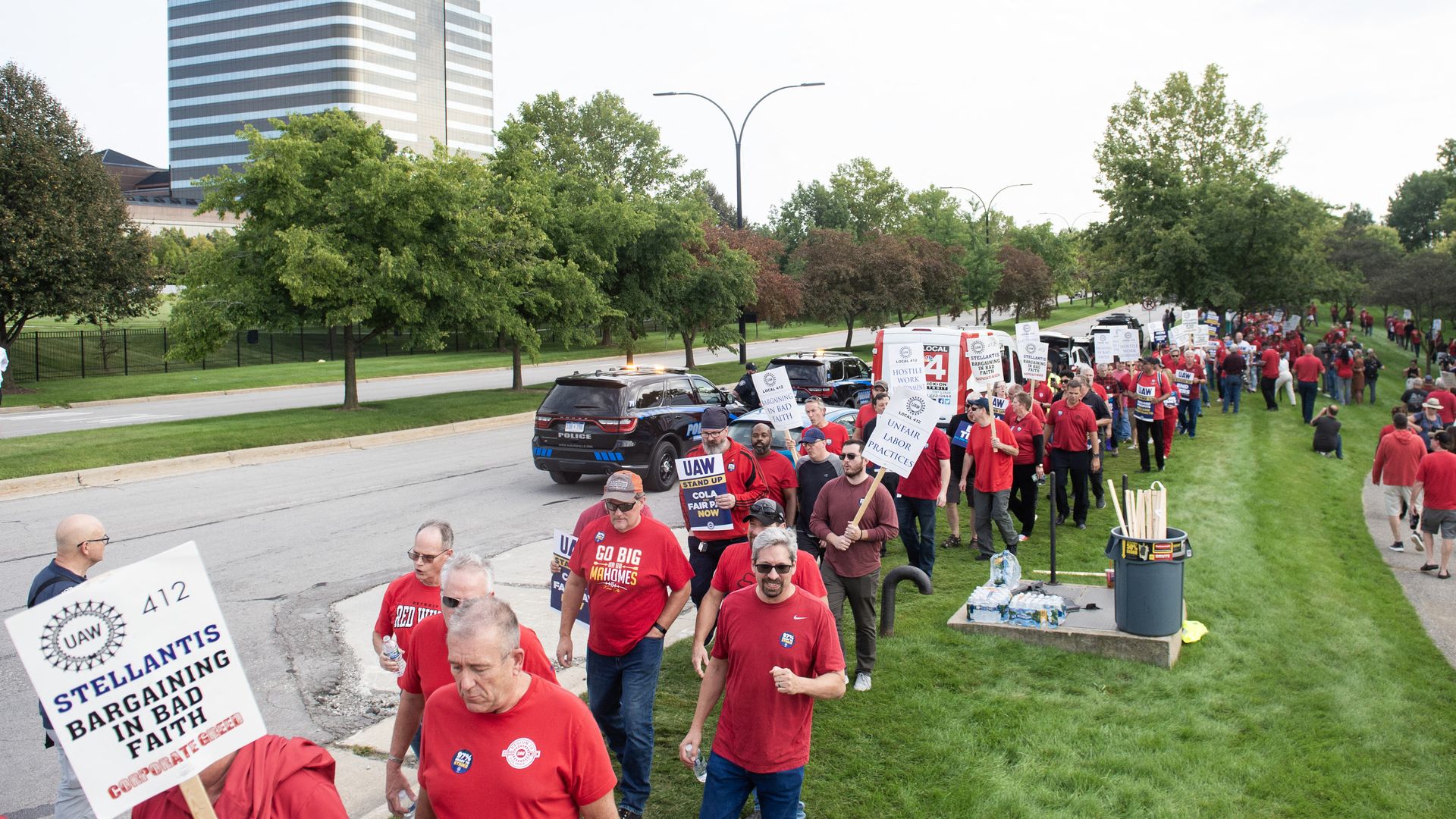 The United Auto Workers union's unprecedented strike strategy is raising pressing questions about who is eligible for state unemployment benefits.
Why it matters: The answers could determine how long the UAW and other laid-off workers can endure a protracted strike, which looks increasingly likely.
The UAW can stretch its $825 million strike fund further if some members who lose work due to the strike are eligible for unemployment benefits.
State of play: The strike expanded Friday — UAW president Shawn Fain called on about 5,600 members at 38 GM and Stellantis parts distribution centers across the country to join the work stoppage.
The UAW has promised weekly strike pay of $500 to Detroit Three members on the picket line and those who get laid off due to the strike.
Between the lines: Uncertainty over unemployment eligibility is rampant because the UAW's novel strategy of targeting selected factories is presenting new scenarios for state unemployment agencies.
Eligibility will depend on specific state laws and a range of other factors.
What they're saying: The degree to which the union can offset strike fund expenditures with unemployment benefits will have far-reaching implications, Michael Duff, a labor expert and law professor at Saint Louis University, tells Axios.
"This is getting to the essence of how a union is going to operate a strike in the 21st century," Duff says. "How this comes out is going to send signals throughout the economy and the labor movement in terms of what has to happen if you're going to win labor disputes."
Flashback: About 13,000 UAW workers — less than 10% of the union's 146,000 workers employed at GM, Ford and Stellantis — were initially called to strike last week at three factories that build small pickup trucks and SUVs in Michigan, Missouri and Ohio.
Meanwhile, several thousand people at non-striking facilities in Kansas, Michigan, Ohio and Indiana already have been laid off because of strike-related parts shortages.
The intrigue: Spokespeople for state agencies contacted by Axios in Michigan, Indiana and Ohio did not definitively address eligibility questions surrounding the strike, explaining that each claim is judged on a case-by-case basis.
"Striking workers and sometimes other employees of a company with striking workers may be disqualified from receiving unemployment benefits," Dasia Clemente, of Ohio's Department of Job and Family Services, told Axios in a text message.
Zoom in: The UAW is already dipping into its strike fund for about 600 non-striking workers at Ford's Michigan Assembly Plant who were temporarily laid off last week when other workers at the plant were called to strike.
"We were very confused if we were going to get (strike pay) or not," Halle Heinz, one of the Ford employees laid off, told WXYZ-TV in Detroit. "They were trying to hold as much strike pay as they could in order to make everything survive."
Under Michigan law, UAW workers generally won't qualify for unemployment if they get laid off because of a labor dispute involving other workers at the same worksite, Brett Miller, an attorney specializing in labor law for Butzel in Detroit, tells Axios.
UAW's Ohio and Indiana director is also navigating murky waters when it comes to unemployment.
"It's clear as mud," UAW Region 2B director David Green told Crain's Cleveland Business. "I don't want to say all our members are going to get unemployment, because that's not going to happen."
Disputes over unemployment benefits could end up in court, he said.
The bottom line: "To the extent workers can get some unemployment benefits, that allows the union to shift some of those strike funds around to employees who may not be eligible," Duff says.
"There's a finite amount of cash."
Go deeper