Climate-focused professionals are ready to move beyond "throwing spaghetti at the wall"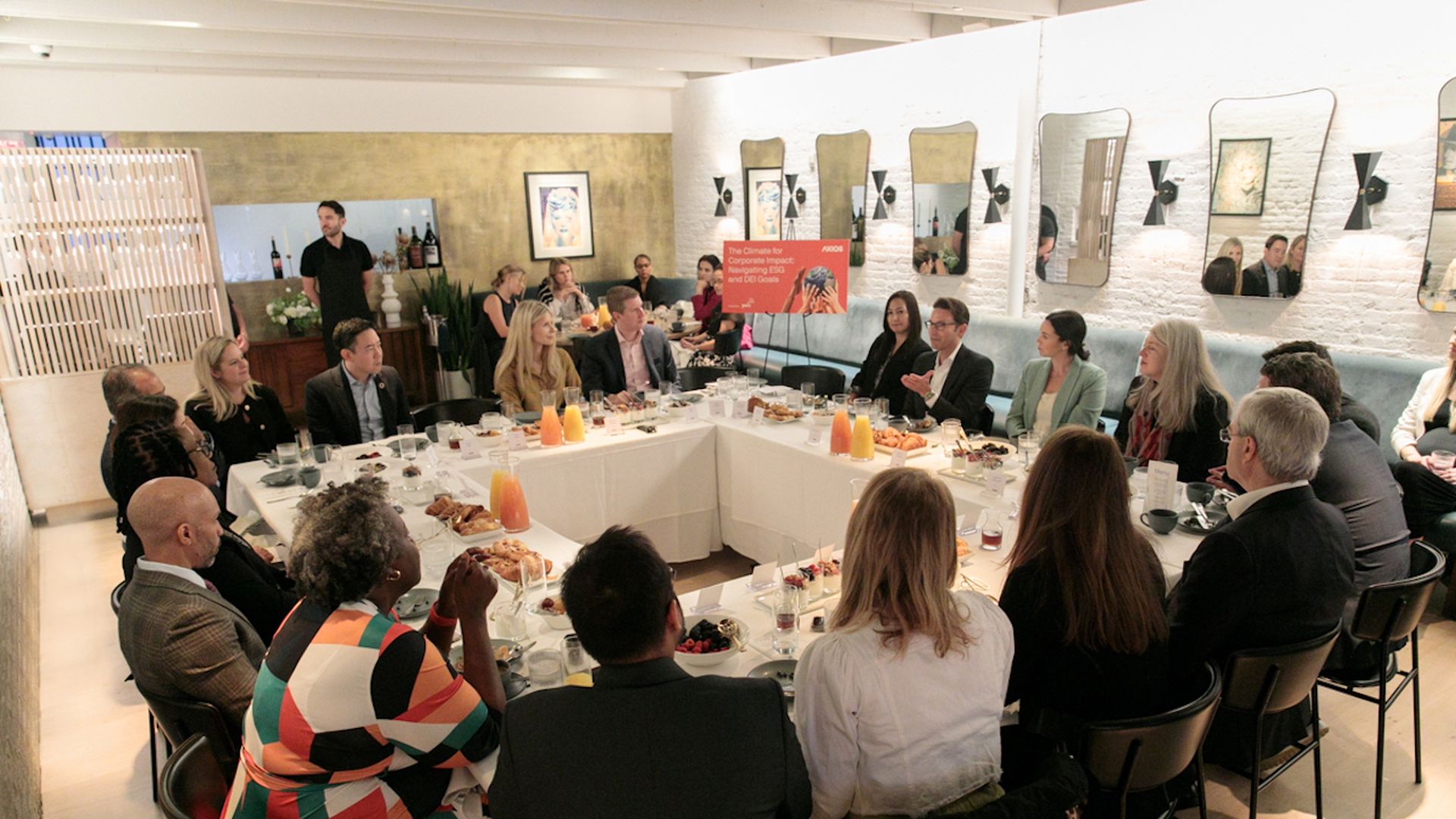 Check on your colleagues who support environmental, social and governance or impact work because while they are hopeful, they are also exhausted.
Why it matters: Corporate communicators and consultants tasked with ESG messaging are ready to stop spending so much time acting as interpreters and start spending more time integrating their work across the business.
The sentiment was made during this year's Climate Week, which coincides with the UN General Assembly.
The big picture: ESG communicators point to the extreme weather that's impacting every part of the globe and continues to make headlines worldwide as reason enough to take this moment seriously.
And muddled narratives are holding companies back from advancing at the speed they'd like.
State of play: As Axios' Emily Peck points out, "Promoting ESG policies was once an easy layup to score good press — and theoretically move toward bettering society — but now it's a way to court controversy, the ire of politicians and the attention from well-funded anti-ESG groups."
During the last round of earnings, ESG was cited by only 56 of the S&P 500, down 24% (from 74 mentions) since last quarter and down roughly 64% (156 mentions) since its peak in Q4 of 2021.
"We may be changing terminology — ESG is not as prevalent now as it was even six months ago — but the core things that we are working on are still paramount and are still important to consumers, employees, suppliers and customers," says Nigel Glennie, senior vice president of communications for Ecolab. "So the priorities are still there, but how they talk about them might be different."
"In our roles, we have superpowers of resilience and translation," says Marissa McGowan, chief sustainability officer at L'Oréal. "So if some language isn't resonating, how do we bring different language to the table because the cause, the purpose, the business strategy doesn't change."
Zoom in: Axios and PricewaterhouseCoopers gathered two dozen sustainability and diversity and inclusion experts for a breakfast during Climate Week to discuss the state of ESG in America.
Here's what we heard...
The recent pushback against sustainability and diversity programs means they must double down on their efforts.
"The work doesn't really start and [our] value to an organization doesn't really kick in until times are tough," said Randall Tucker, chief inclusion officer at Mastercard. "It's easy to do this work when things are fine, but this is the time now in which our roles are really important."
Yes, but: Business leaders need to finesse the messaging if they hope to bring consumers, employees, legislators and shareholders along.
"Words do matter. Honestly, our profession needs to stop talking [in] acronyms," said David Wei, managing director of climate and nature at BSR. "Instead, we will speak about treating employees well, strengthening communities, managing material risks, readying businesses for an uncertain future — and this clear description work gathers very broad support."
"You need to meet people where they are, and that's why messaging matters. But I feel like in this space, there's a lot of throwing spaghetti at the wall — hoping that this word or this catchphrase will stick. Instead of that, companies and institutions should use the same language everywhere they go, because if they have nine different blog posts for each different audience saying the same thing, using different words, no one is going to trust you," said Margaret Taylor, head of public affairs at Salesforce.
"There was a time when, as a fund manager, if you put the word ESG next to your fund, it might attract more capital in your fund. Now you're going to be very careful about the name and the definitions that you're using to make sure you don't run afoul of regulators," said Brian Matt, head of ESG advisory for NYSE. "So even within the investment community, they have to be more careful about the monikers and definitions they use."
The bottom line: Muddled messaging is a key barrier to wide adoption of ESG.
Go deeper