Texas AG Ken Paxton's star rises after acquittal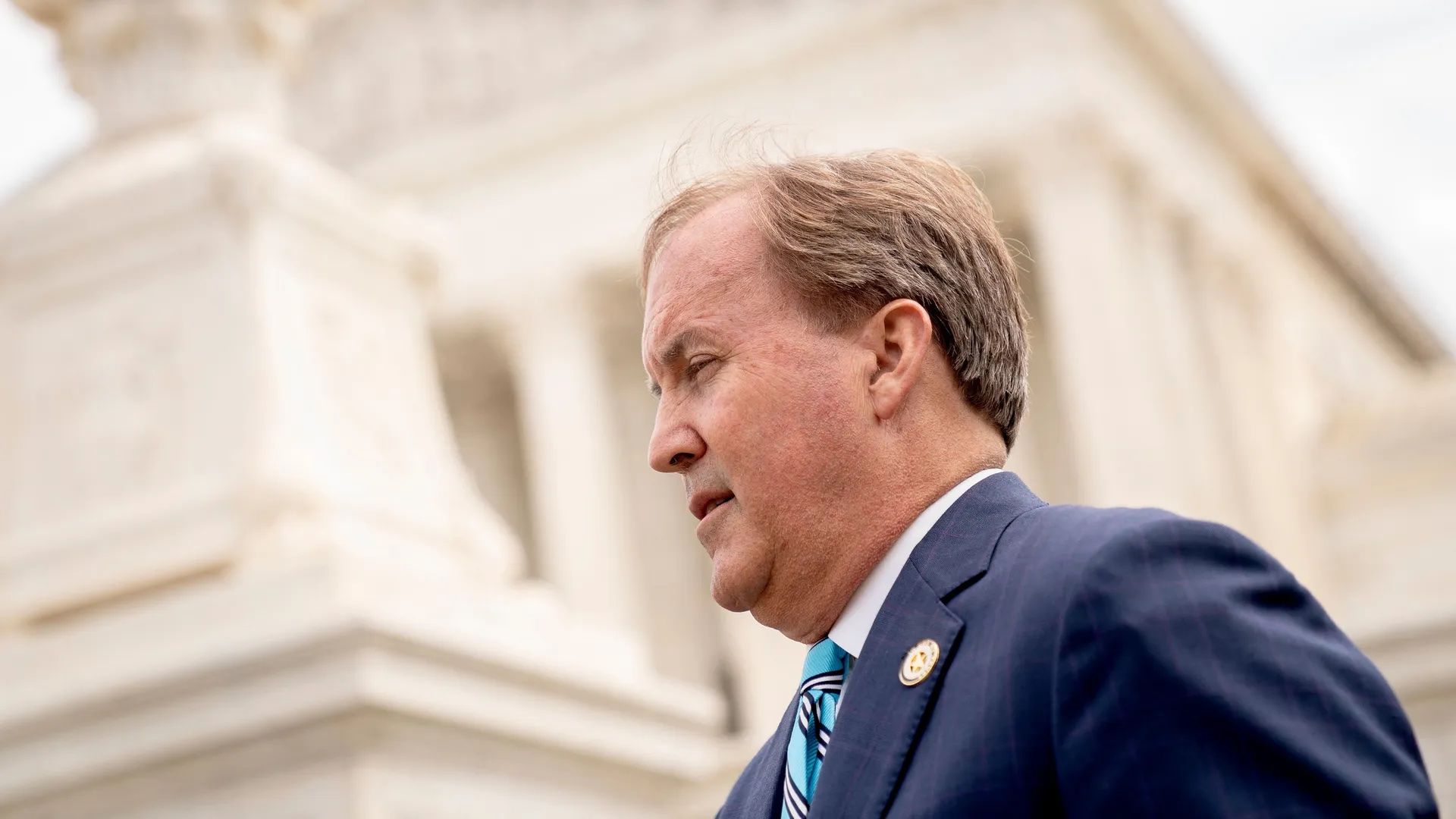 Far from being a diminished figure, Texas Attorney General Ken Paxton, freshly acquitted in an impeachment trial, is about to go big.
Why it matters: Paxton, long a relatively modest fundraiser among top statewide elected officials, is in the national spotlight now, his profile among grassroots Republicans enhanced as an embattled, Trump-lite character.
Among those congratulating him on his acquittal were U.S. Sen. Ted Cruz, conservative activist and talk radio host Charlie Kirk, Trump-aligned former Arizona governor candidate Kari Lake and pro-Trump political consultant ​​Alex Bruesewitz.
The big picture: "He's gone from an obscure attorney general in a state where people don't pay much attention to the office to having a direct line of communication" with key media outlets and conservative voters, Brandon Rottinghaus, a political science professor at the University of Houston, tells Axios.
"It's gone from the Big 3" — the governor, lieutenant governor and House speaker, who control legislation — "to the Big 4," Rottinghaus says.
Tune in: Expect to see a lot more of Paxton on conservative media outlets — he's doing a sit-down interview with Tucker Carlson this week.
By the numbers: Paxton had $2.76 million on hand as of campaign finance reports this summer, far less than the $23.29 million in cash that Texans for Abbott reported.
But following his impeachment, his campaign raised $1.7 million in less than two weeks when a fundraising freeze lifted and after the regular legislative session ended.
What's next: Paxton, who co-chaired Lawyers for Trump in 2020 and famously filed a dead-end lawsuit seeking to throw out election results in Georgia, Michigan, Pennsylvania and Wisconsin following former President Trump's defeat, could be Trump's running mate — or his attorney general, Rottinghaus says.
The U.S. attorney general is a Senate-confirmed position, but political forecasters currently predict the Senate will turn Republican.
Reality check: Paxton has obvious political liabilities. A securities fraud case and a federal investigation into alleged corruption remain very much live wires.
And the State Bar of Texas is seeking to sanction Paxton over his 2020 election gambit, which could result in his disbarment.
Plus: Trump will win Texas either way, so there's no real electoral benefit to picking someone from here.
Yes, but: Trump prizes loyalty, and arguably no one has been more loyal to him than Paxton.
What they're saying: Paxton did not respond to an interview request left with his campaign.
In a statement after the verdict, Paxton blamed his impeachment on the Biden administration and "liberal" Texas House Speaker Dade Phelan, promising to attack Biden's "lawless policies."
Trump congratulated Paxton over the weekend on Truth Social, his social media platform, on a "great and historic Texas sized VICTORY" and "his wonderful wife and family for having had to go through this ordeal, and WINNING!"
Bottom line: The impeachment is turning into a very successful proposition for Paxton.
Go deeper