Scoop: Advance plots new Gulf Coast news site after Times-Picayune sale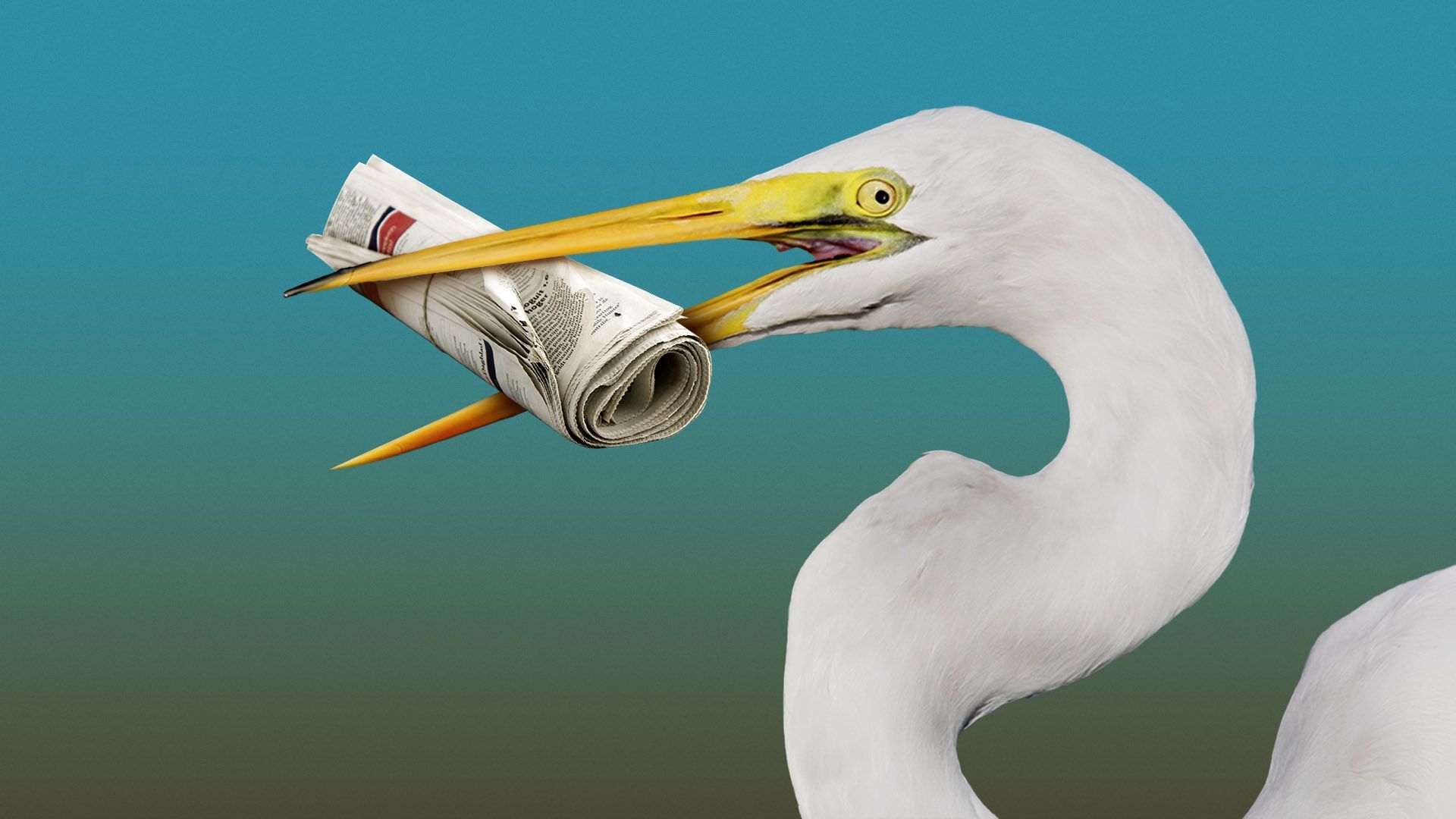 Advance Local, a local news subsidiary of the media holding company Advance, has been quietly working to build a New Orleans-based sports and news website called GulfLive.com.
Why it matters: The push comes just four years after Advance sold what was once the region's biggest newspaper, the Times-Picayune, and its website NOLA.com, leading to a talent bloodbath.
All of the Times-Picayune's 161 staffers were let go in 2019 amid that sale. Some were rehired by its new owners, but the cuts were still jarring. Building a new Gulf Coast news site now, given that recent history, will test Advance Local's trust within New Orleans' news community.
The creation of GulfLive suggests Advance is following a similar playbook in New Orleans that it has used to streamline efforts in other local markets: regionalize coverage and shift more roles to nonunionized digital sites.
Details: The new site, called GulfLive.com, has not been formally announced, but it began publishing stories a few weeks ago from Advance Local's national news desk staff and from wire reports.
Advance Local has posted nine job openings for the site, including a sports editor/producer, a life and culture trending news reporter, a breaking news/trending news reporter, a college sports reporter focusing on the SEC, and a New Orleans Saints reporter.
It also has a role posted for a dedicated podcast reporter to help create "unique podcasts, designed to engage and connect with people of the Gulf Coast."
The intrigue: All of the roles appear to be based out of New Orleans, but they're listed mostly as remote. Some roles note that preferred candidates will be based in New Orleans or the Gulf Coast.
Some jobs, like a sports editor/producer role, are meant to support both GulfLive.com and LoneStarLive.com, a site that launched in beta less than a month ago in Texas.
Be smart: GulfLive.com was previously the online home of the Mississippi Press, which is also owned by Advance Local.
The print edition of that paper, along with several others in the Southeast region, was terminated in February. Advance Local said at the time it would focus its efforts on its Alabama outlets, including AL.com, which won two Pulitzer Prizes this year.
What they're saying: In response to questions about the new site, Steven Ibanez, founding editor of LoneStarLive.com and editor of GulfLive.com, said the expansion "supports our efforts to grow the reach of our journalism, to diversify our revenue model and to fulfill our mission to strengthen and empower the communities we serve."
He noted that GulfLive.com "will provide news, sports and culture coverage for residents of the Gulf Coast, with a special focus on Florida, Mississippi and Louisiana."
He said Advance Local is "actively hiring and will add coverage and enhance the existing site as we bring staff on board."
Catch up quick: Advance sold the Times-Picayune and NOLA.com in 2019 to the owners of Louisiana's largest newspaper, The Advocate.
At the time of the sale, the Times-Picayune — like most local papers — had seen its circulation shrink in the digital era.
The paper, which won multiple Pulitzers for its coverage of Hurricane Katrina in 2006, ended its daily circulation in 2012.
The big picture: Advance Local is one of the largest local media companies in the country, operating news sites and papers across more than 20 cities in 10 states. In recent years, it has pushed to consolidate many of its local papers and websites into regional operations, resulting in layoffs.
Most notably, it laid off 22 Cleveland Plain Dealer staffers in 2020. Of those who remained, most were told that they'd be moved to out-of-town beats and that nonunionized writers for its sister website, Cleveland.com, would handle coverage of the city.
Advance Local's parent, Advance Media, was founded by S.I. Newhouse and his family more than a century ago. Newhouse bought the Times‐Picayune and the New Orleans States‐Item for $42 million in 1962. He bought a slew of papers, including the Plain Dealer, during that era.
Today, Advance remains a private, family-held business. In addition to Advance Local, it owns Condé Nast, American City Business Journals and several other digital franchises. It has sizable investments in Charter, Warner Bros. Discovery and Reddit.
What's next: There has been a slew of efforts to fill the void left by the gutting of the Times-Picayune in the past few years.
Go deeper