NYSE president talks IPO return and AI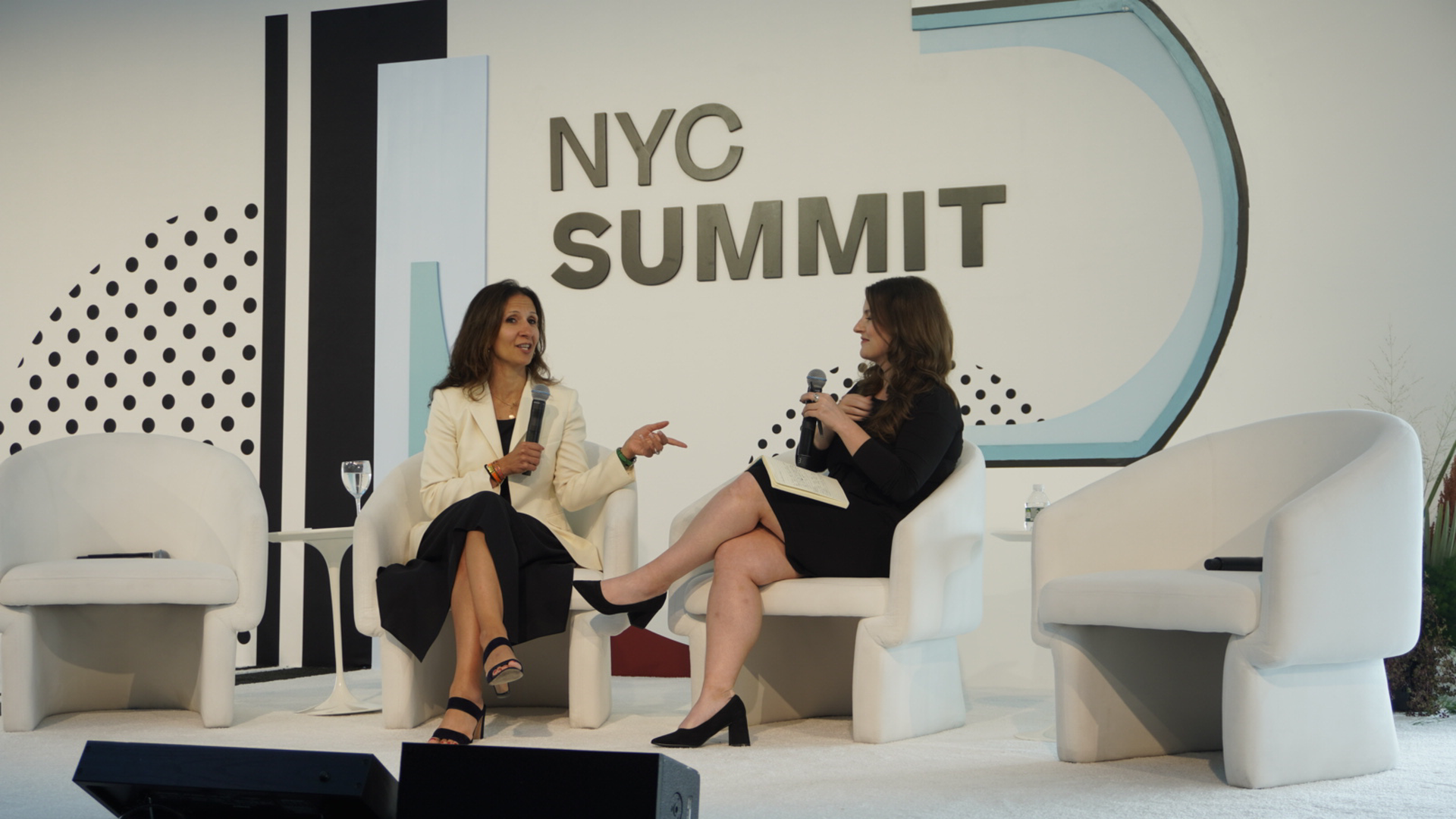 Arm's return to the public market Thursday was hailed by some as a comeback for technology initial public offerings, but the window's reopening is more cautious than it appears at first glance.
What they're saying: "There are deals coming to market with all different sorts of structures, so people are being thoughtful about how they tap the IPO markets at the moment," New York Stock Exchange president Lynn Martin told Axios' Kia Kokalitcheva on Wednesday at Primary Venture Partners' NYC Summit.
Below are highlights from the onstage conversation with Martin at the conference:
What is Arm's IPO a test for?
"I think Arm is interesting in that it's got a core group of investors that aren't your traditional long-only funds [as anchors]. It's more of the customer base — so I think that's one of the things it's testing, the deal structure. I think it's also a test for the tech markets, quite honestly — but a portion of the tech markets. It's a very specific deal, it's not software, it's hardware. It's your more traditional company."
What's your assessment of investors right now?
"It's not growth at all costs. If you want to tap the public market, you've got to be disciplined, you gotta have a disciplined strategy, you've got to have a story that you can articulate.…
[I] totally understood why so many companies came out to market at the end of 2021. The valuations were incredibly frothy.… But what was being rewarded was growth at all costs, as opposed to core discipline, core strategy and execution of that strategy.… But I think it's instructive that these deals are getting done now, and it shows that there is investor demand out there, and the market is ready to welcome good companies to the public markets."
We didn't have IPOs and now we do. What changed?
"I think there's just a lot of dry powder on the sidelines, and companies, and long-only funds excited about investing in new companies.…
From a market fundamentals standpoint, the one thing that changed is the VIX.… Do you see the VIX at 30? There's not going to be IPOs.…
It's not about your IPO day, but the days, weeks, months, year that follows your IPO. Because you're gonna have a great IPO day, but then you're gonna have to do the hard work of doing your earnings calls, you're gonna have to be on the road with your long-only investors trying to drum up interest.…
So the VIX is really the one market fundamental being below 20 — being below 20 for most of this year, if not, call it the last six months in particular — that is giving the companies new confidence."
What are your predictions for the rest of 2023?
"The first business day … after [Cava's IPO], we had five companies file and start their roadshows. They wanted to get out because they saw the positive effects.
So I think you're gonna continue to see how these tech companies do in these next two-week period.… I think if they do well, they get the deals done, and they get the valuations that they hope to get, I think you're gonna start to see companies really gear up to file.
It might not be … that you see a flood until '24, because I think there's still a little bit of uncertainty. We'll see what the Fed does in terms of interest rates.… So that's that macro uncertainty that I was talking about, that's still is a bit of an overhang in the market.… I don't think our pipelines gonna move tremendously."
SEC chair Gary Gensler has been talking about his concerns about AI and its ability to create the next market crisis. Do you agree with him?
"In terms of regulation, I think having guardrails around it: possibly good. But I think at times regulation has — overregulation — has had unintended consequences.… I hope the conference that happened in D.C. today, with the tech leaders, I hope that policymakers are listening to them, because they have experience in rolling a lot of this out. And I hope that's rolled out responsibly. There are a lot of considerations, though, that come along with that technology."
Are you concerned that brokers are going to be using AI models, or deep fakes could make people think something's going with a company?
"I think that's where it comes back to data and human overlay. Humans have to be able to interact with these things to put intelligence over any piece of technology.…But a lot of times when there's bad data in the system.…
It also comes down to the strong regulatory framework that companies like us operate under.… There's this race to be first to market and go after the next sexy thing in the market.… Given our role at NYSE, we don't always need to be first to market, we need to be the most thoughtful to market.
And that means we need to think about regulatory implications, given our systemic importance in the market. So that's why when we've implemented pieces of technology, they've been battle tested, fully redundant, fully resilient, subjected to a high regulatory perimeter, not just the one that gets imposed by D.C., the one that we impose on ourselves.…"
Go deeper