This NFT project break up is the crypto equivalent of Brexit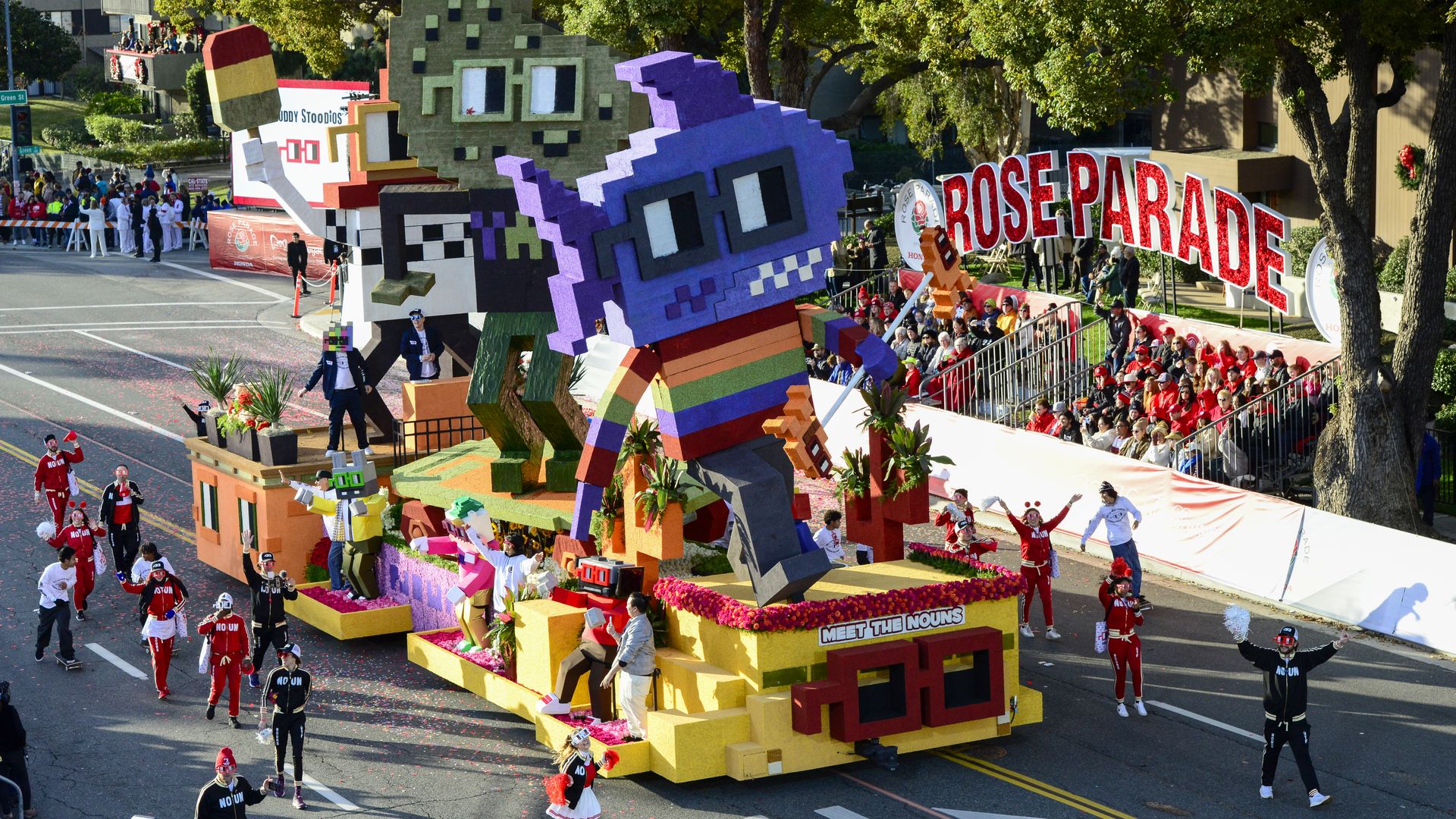 Nouns are a top-tier NFT project that looks set to split its $50 million dollar treasury in twain today, in the latest cryptocurrency equivalent of Brexit.
Driving the news: The organization had decided to break up, and the only question remains how many members will join the split (which determines how much of the money will go with them).
In crypto and coder parlance, this kind of break-up is called a "fork."
By the numbers: As of this writing, 466 Nouns have joined the fork with about two hours to go.
There are 845 Nouns, as of Friday.
How it works: Nouns is a project with an infinite supply. Every day, a new Noun NFT is released. Nearly all of these are sold as an auction.
Early on, they fetched wildly high prices. As the supply has increased and the NFT boom has busted, new Nouns go for much less than they once did (though it's still a lot: typically around $55,000 worth of ethers each).
Of note: Nouns were one of the early projects whose lo-fi artwork is actually generated and stored on the Ethereum blockchain.
Nouns introduced forking in May. If at least 20% of Nouns ever wanted out, the new procedure gave them a way. Now it's well over half.
Once the fork finalizes, every Noun in the fork will join a new decentralized autonomous organization (DAO) with a proportional share of the treasury.
They will keep their Noun and its art. It will simply move to that new Ethereum contract.
Members of the new DAO will have the right to exit with a pro rata share of the treasury at any time.
What we're watching: How many forked Nouns cash out once the fork closes.
Members who are staying are now discussing increasing the treasury spend for what remains, so that more funds go to building the brand and there's less temptation to split.
What they're saying: "My guess is also that most people (80%+) will just cash out," Noun 40, a DAO member who's been involved with the fork, tells Axios.
Those that opt to leave now can expect a payout of 36.6 ethers, he said.
Be smart: Ethereum, the chain that runs Nouns and most NFT projects of any note, has forked twice.
It forked after the DAO hack in 2016 and it forked when it switched to proof-of-stake last year (though both of these forks were nearly effected with near unanimous support, so they hardly seemed like forks).
Meanwhile, there has been a rash of dissolving crypto treasuries lately, with activist crypto investors taking steps to simply redistribute funds as cash to backers, pro rata.
The bottom line: It's beginning to look like the inevitable fate of of any DAO with a governance mechanism is break-up or dissolution.
Go deeper: NFTs are down, but they're not dead
Go deeper