Updated Sep 14, 2023 -

World
U.S. will "respond appropriately" after Russia expels 2 diplomats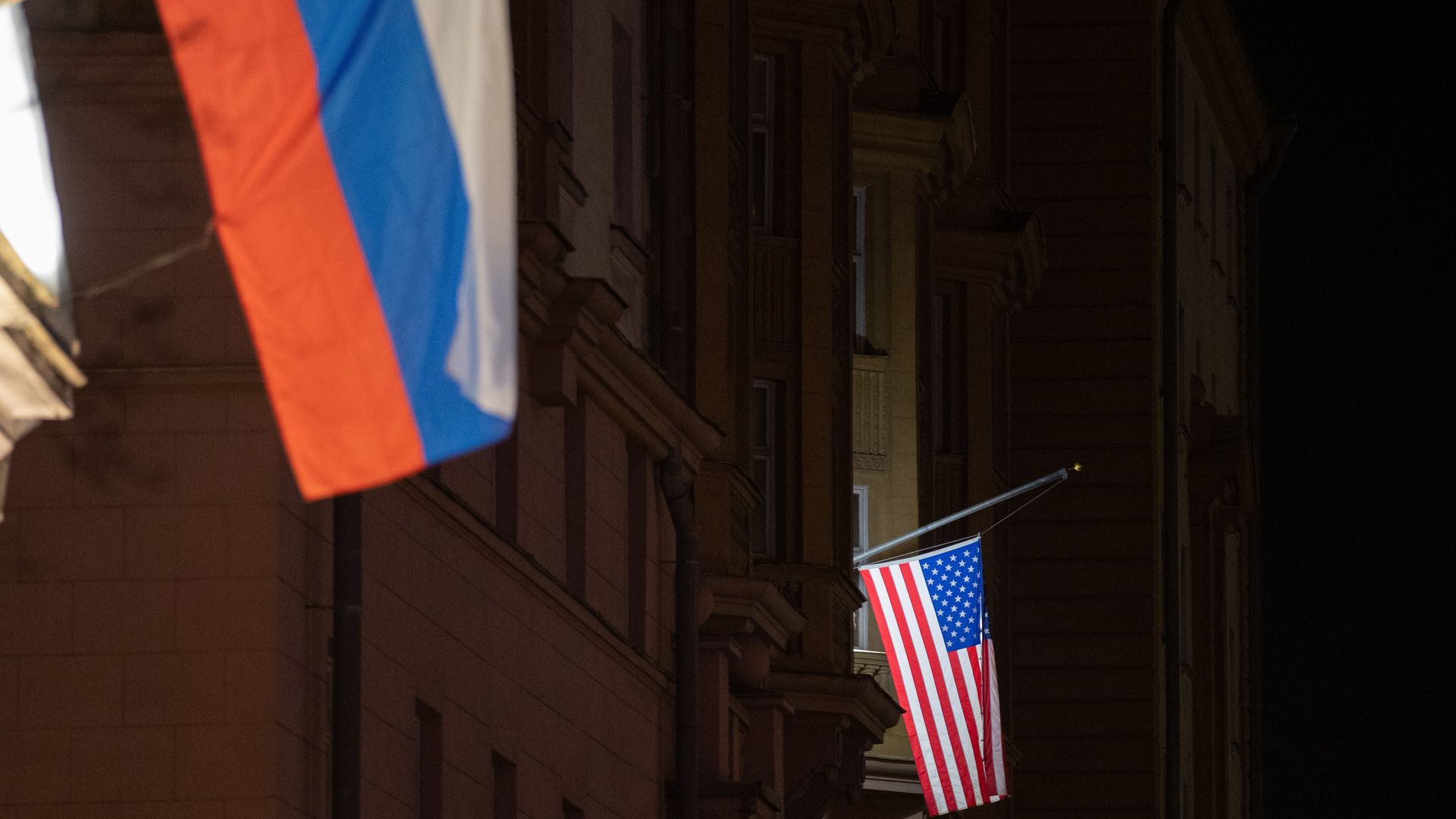 The State Department said on Thursday it would "respond appropriately" after the Kremlin expelled two American diplomats for allegedly "liaising" with a former U.S. consulate worker who has been accused by Moscow of spying.
Why it matters: Russia's decision to expel the diplomats marked another serious escalation in U.S.-Russia relations.
Driving the news: Russia's Foreign Ministry said in a statement early Thursday that U.S. Ambassador to Moscow Lynne Tracy was summoned and given "a harsh demarche."
The Kremlin claimed that First Secretary of the U.S. Embassy Jeff Sillin and Second Secretary of the Embassy David Bernstein were involved in actions "incompatible with their diplomatic status." The two diplomats must leave Russia within seven days, the Russian Foreign Ministry said.
Russian officials claim the two U.S. diplomats were involved in "illegal activity" in their engagements with Robert Shonov, a Russian national who had previously worked at the U.S. consulate in Vladivostok for more than two decades.
The Russian Foreign Ministry said that "illegal activities of the U.S. diplomatic mission, including interference in the internal affairs of the host country, are unacceptable and will be resolutely suppressed."
What they're saying: "Russia has chosen confrontation and escalation again. We regret the Russian step – you can expect we will respond appropriately," State Department spokesperson Matthew Miller said when asked about Russia's decision.
Miller didn't give any details about what steps the U.S. was considering and when they may be taken, but stressed the U.S. would inform the Russian government about any action it takes.
Miller called the Russian government's decision "an unprovoked expulsion" and said it was "without merit."
Background: Russian authorities arrested Shonov earlier this year and accused him of "confidential cooperation with a foreign state," claiming he collected confidential information about the war in Ukraine and passed it to U.S. diplomats.
The Kremlin claims Shonov was given tasks by the U.S. diplomats for financial compensation "aimed at harming Russia's national security." Last month, Russian media aired a video in which he gave a "confession."
The State Department has called the Russian allegations against Shonov, who used to write summaries of reports from the Russian media, false and said he was employed "in strict compliance with Russia's laws and regulations."
Editor's note: This story and headline have been updated with the State Department's comments.
Go deeper