Focus groups: Pa. swing voters see GOP targeting Biden as retaliation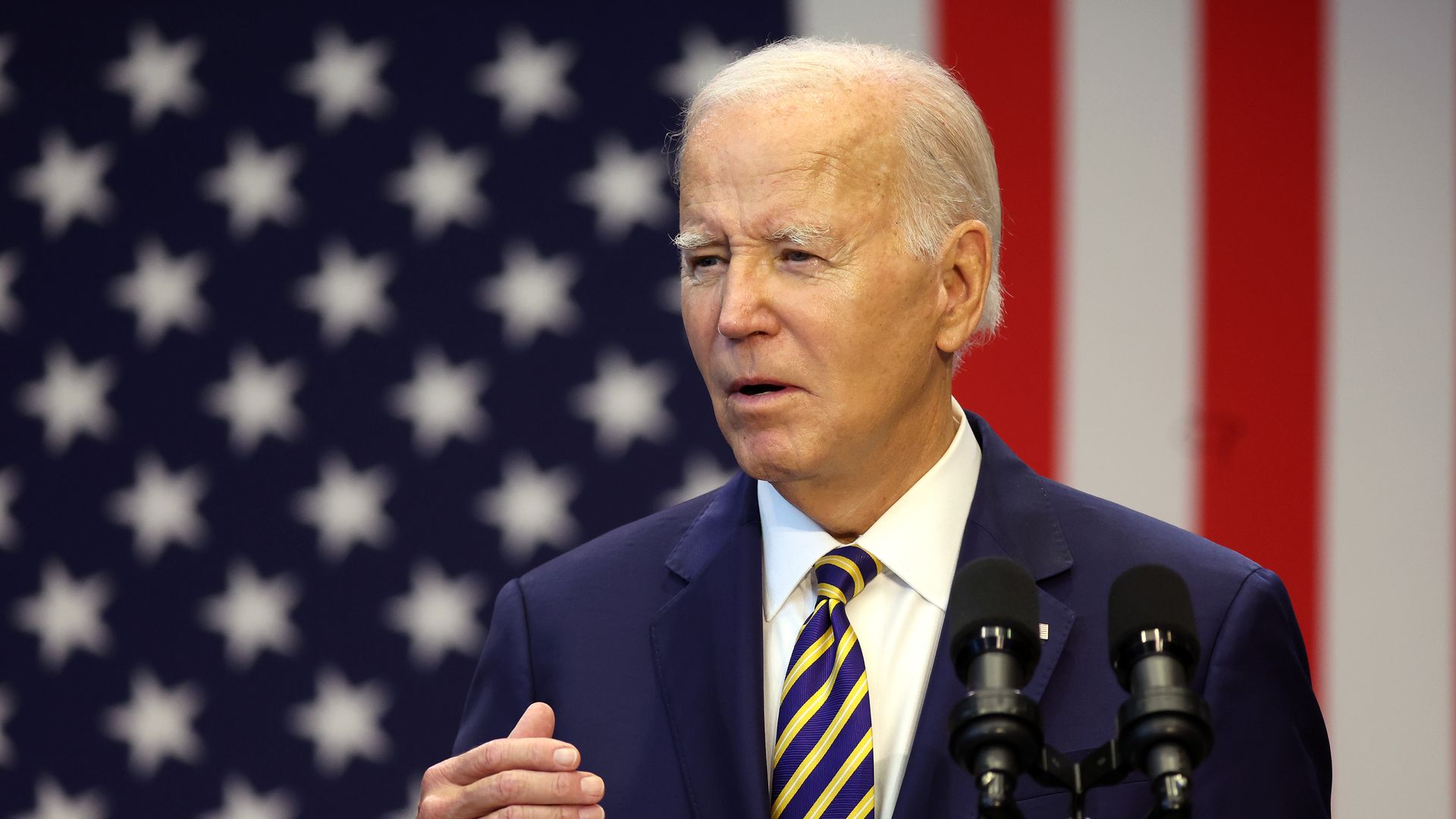 Pennsylvania swing voters believe Republicans' impeachment inquiry into President Biden is largely in retaliation for Democrats impeaching former President Trump, according to our latest Engagious/Sago focus groups.
Why it matters: Interviews with 11 Pennsylvanians who voted for Trump in 2016 and Biden in 2020 suggest that Republicans' efforts to go after Biden could backfire among voters because of doubts about the GOP's motives.
"Pennsylvania swing voters thirst for more bipartisan cooperation within Congress, and they're not getting it," said Rich Thau, president of Engagious, who moderated the focus group interviews.
"Instead, with this impeachment inquiry, they're complaining about another cycle of political retribution."
Zoom in: Axios sat in on two Engagious/Sago online focus groups Tuesday night. Six of the swing voters who attended identified as Republicans, four as Democrats and one as independent.
A focus group is not a statistically significant sample like a poll, but the responses show how some voters are thinking and talking about current events.
The big picture: Many of these voters have not decided whether they'll back Biden for a second term, but they aren't convinced that Republicans have articulated why he's unfit for office.
Trump, currently leading GOP primary polls, also looms over the presidential race — despite facing four felony indictments.
"Unfortunately I think Trump is still probably the strongest Republican candidate out there," focus group member Fred V. said.
Most participants were aware of the declaration by House Speaker Kevin McCarthy (R-Calif.) that three GOP-led committees would begin a formal impeachment inquiry of Biden, without the House voting on the issue.
But not one had heard the House's leading Republican explain why he began the impeachment process.
"I don't know the details, but I know it centers around Hunter Biden," Arthur T. said. "I don't know specifically what the process or what the plan is."
McCarthy has since blamed former House Speaker Nancy Pelosi (D-Calif.) for setting a precedent during the Trump years that allowed McCarthy to declare an impeachment inquiry without a House vote.
McCarthy called the inquiry the "logical next step" in a probe of the Biden family's financial dealings to "give our committees the full power to gather all the facts and answers for the American public."
Between the lines: Lawmakers and political analysts on both sides of the aisle said a politically motivated impeachment could be unpopular with voters and prevent Congress from tackling issues that matter most to Americans.
"There's no evidence" against Joe Biden, focus group member Jon D. said. "It just feels like it's so out of left field, it's distracting."
"Waste of time," Alyssa C. said.
"When I saw the clip on the news, (I thought) ... 'Oh, for goodness sake,' " Beth B. said. "That's what was in my head."
What they're saying: Despite a majority of participants expressing no regrets for backing Biden in 2020, many are still undecided about backing him for another term.
"I think I'll probably just end up voting on the issues and my gut feel. I'm not crazy about either [Biden or Trump], to be honest with you, but I don't have much faith in Biden," Megan M. said.
"With Biden, I don't really ever know what he's doing and I don't have faith in him, I don't believe in him," Crismary P. said.
"Based off of their political affiliation and some of their decisions they'd make, I would pick probably any of them over Biden," Matt S. said of the GOP candidates other than Trump.
The bottom line: Biden still needs to persuade many swing voters to turn out for him again next year, while Republicans need to make a case for why such voters should return to the GOP.
"At this point I don't know if I want either of them," Alyssa C. said. "It's just really hard to make that decision when it comes down to it."
Go deeper