CDC recommends updated COVID vaccines for anyone 6 months and older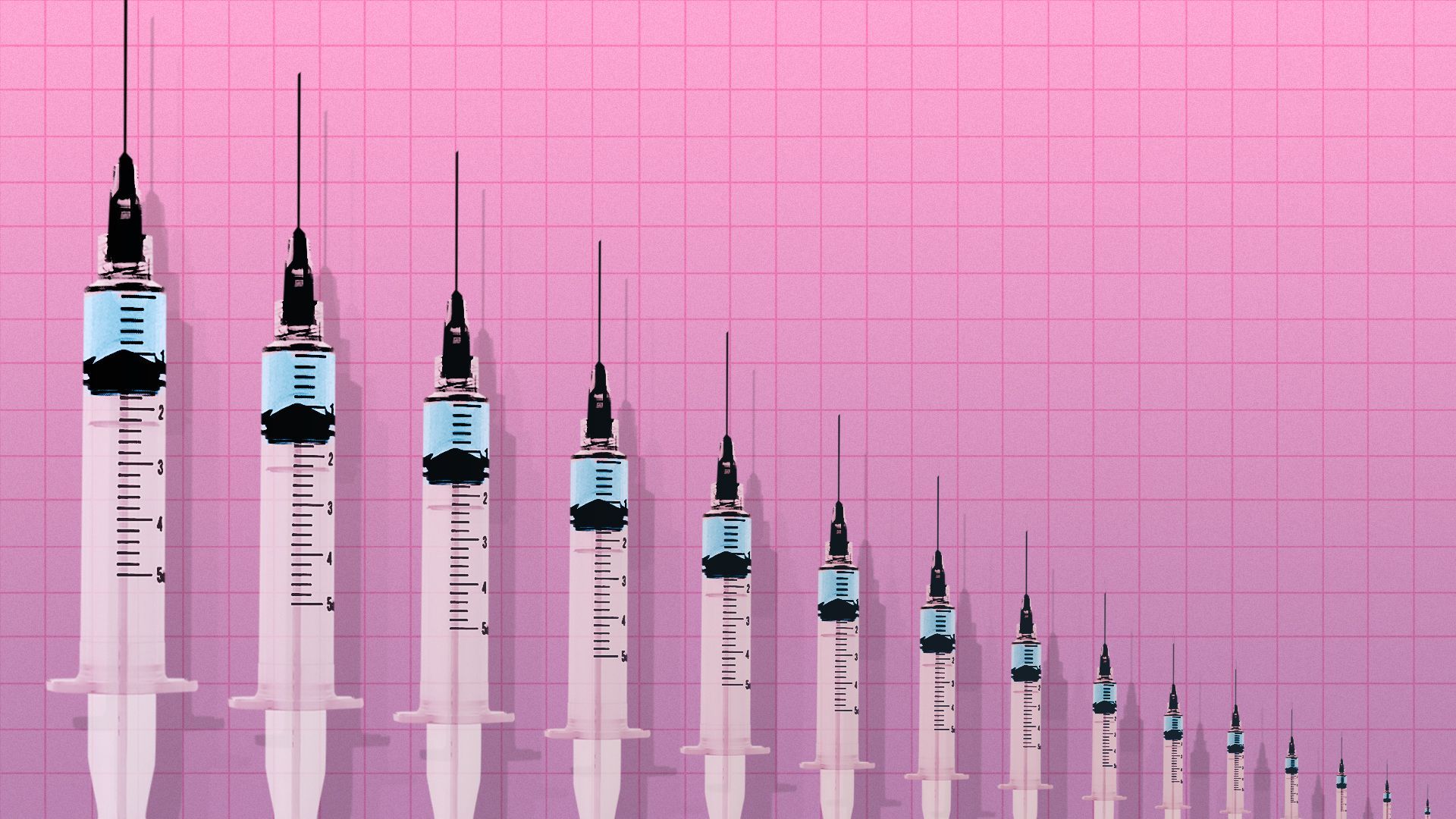 The Centers for Disease Control today recommended that updated COVID-19 vaccines from Pfizer and Moderna be given to anyone ages 6 months and older, clearing the way for reformulated shots to be available later this week.
Why it matters: Amid a months-long uptick in cases, the Biden administration is facing pressure to make the updated vaccines available to help head off a repeat of last year's "tripledemic" of respiratory disease.
The new shots are expected to take aim at circulating strains, including the EG.5, or Eris, strain, which the CDC said accounted for 21.5% of cases as of Sept. 2, as well as a newer variant, FL.1.5.1, dubbed Fornax, which accounted for 14.5% of U.S. infections.
The FDA approved mRNA shots from Pfizer and Moderna on Monday, and it's still reviewing a shot from Novavax that uses more traditional protein-based technology.
CDC advisers earlier today recommended the updated Pfizer and Moderna vaccines in a 13-1 vote.
What they're saying: "Today's announcement ... means we now have immunizations for all three major seasonal respiratory viruses COVID-19, flu and RSV," President Biden said in a statement. "As we head into fall and winter, we are in our strongest position yet with more tools and systems available than ever before."
CDC Director Mandy Cohen said: "We have more tools than ever to prevent the worst outcomes from COVID-19."
Details: The vaccine advisers recommended everyone ages 5 years and over receive one dose of an updated vaccine.
Children 6 months to 4 years should complete a two-dose initial series with at least one dose of the updated vaccine.
Moderately or severely immunocompromised people should complete a three-dose initial series that includes at least one dose of the updated vaccine.
Some advisers questioned whether there was enough data to make a universal recommendation for the updated shots, or whether the recommendation should only apply to higher-risk individuals. But only one member, Ohio State University pediatrician Pablo Sanchez, voted against the recommendation on those grounds.
Go deeper: The bivalent vaccine that's been available for the past year targets the original coronavirus strain and earlier Omicron subvariants that are largely out of circulation. Those shots will no longer be recommended.
The unwinding of the COVID-19 public health emergency means the federal government is no longer covering the shots, but most people with private insurance and those enrolled in Medicare and Medicaid should be able to get them at no cost.
A temporary Bridge Access Program that runs through 2024 is supposed to provide COVID-19 vaccines at no cost for adults who can't access them through their insurance.
The list prices for the updated Pfizer and Moderna shots will be $120 and $129 per dose, respectively. Novavax would be $130 per dose.
Officials expect boosters to be updated annually to account for circulating variants, much like flu shots.
Uptake of boosters has lagged, with just 17% of the population receiving it, according to the CDC.
Go deeper: The plan to dodge another tripledemic
Go deeper