UN: Countries need dramatic course correction to meet Paris climate goals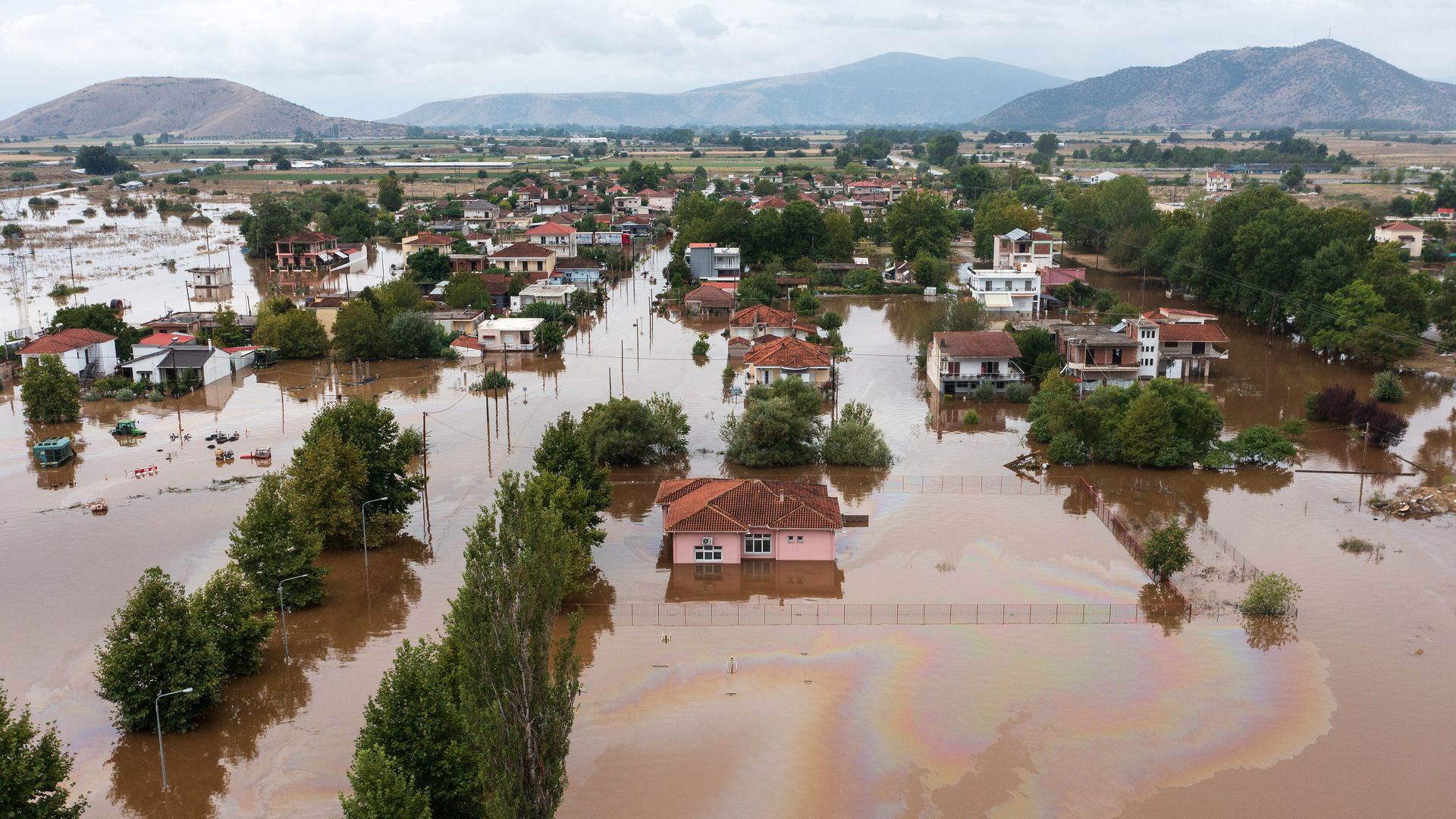 Countries are facing a significant gap between the course of global greenhouse gas emissions under current plans and what is needed to meet the Paris Agreement's targets, according to a new UN report.
Why it matters: The report, released Friday, is the technical summary of the "First Global Stocktake" that will form the foundation of negotiations at the next climate summit, to be held in Dubai in early December.
The big picture: Much of the report's recommendations, from boosting funding for climate adaptation and compensation for damaging climate change-related impacts to redoubling efforts to slash emissions by 43% by 2030, are contained in other scientific reports.
However, the new "synthesis report" that forms the technical basis for what is known as the "First Global Stocktake" is aimed squarely at framing the task before world leaders heading into COP28.
The document can be considered a report card on how well countries are doing in limiting human-caused climate change to the Paris Agreement's temperature goals. It gives the world near-failing grades.
"There is a rapidly closing window of opportunity to secure a liveable and sustainable future for all," it states.
Zoom in: The report finds that while considerable progress on cutting emissions, taking actions to adapt to climate extremes and more has been made since the agreement entered force in 2016, the world still faces an implementation gap between 20.3 to 23.9 billion tons of carbon dioxide equivalent through 2030.
These numbers come from a comparison between countries' emissions reduction pledges and the actual trajectory of global emissions.
The intrigue: The document notes that sweeping changes are needed to phase out "unabated fossil fuels," dramatically scale up renewables, end deforestation, and cut other greenhouse gas emissions, such as methane.
It points out that many renewable forms of energy are cost-competitive with fossil fuels and ready to grow at rapid rates.
Emissions reductions on the order of 43% globally, compared to 2019 levels, by 2030 are needed in order to have a chance at limiting warming to 1.5°C (2.7°F) above preindustrial levels, the report states.
The report's call for increased global action to tackle emissions reductions, scale up money going to countries to adapt to climate change, and compensate them for damages as well, is also likely to be a focus of the UN secretary-general's "Climate Ambition Summit" on Sept. 20 in New York.
What they're saying: "I am calling on leaders from both the public and private sector to come to COP28 with real and actionable commitments to address climate change. We need to rapidly decarbonize both the supply side and demand side of the energy system at the same time," said Sultan Ahmed al-Jaber, the COP28 president-designate, in a statement.
"The report is clear that all is not lost – but we must get real," Ambassador Pa'olelei Luteru, who leads the Alliance of Small Island States, said in a statement. "We must stop putting profits before people. It's time to prioritize the wellbeing of all humanity over short-term gains. The pursuit of wealth at the expense of the environment is a race towards our own demise."
Environmental groups are viewing the report as another indication that the world is simply moving too slowly on climate change.
"Today we received another stark reminder that our work to address the climate crisis is not moving fast enough," said Marcene Mitchell, senior vice president of climate change at the World Wildlife Fund, in a statement.
"Hope is not lost. We have seen critical actions taken that are making a difference. We know what we can do, and we know what we must do next both in the United States and across the globe."
Go deeper