Bethesda's hit Starfield can be played on the highway, thanks to cloud gaming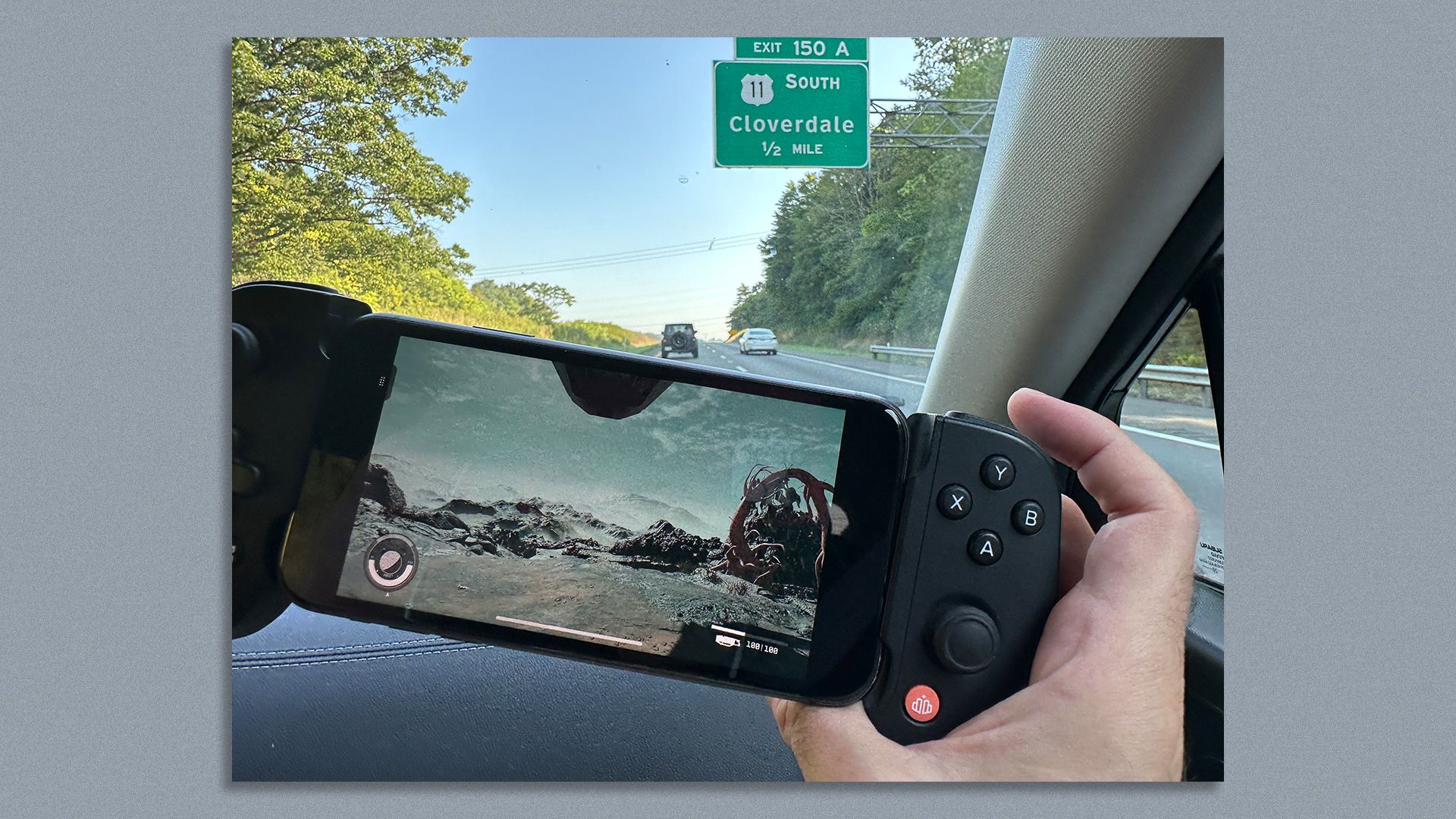 I did not play Microsoft and Bethesda's massive new game Starfield on PC or Xbox when it officially launched yesterday.
No, I played the first hour of the game on my phone, thanks to Microsoft's still niche cloud gaming tech.
Driving the news: Literally "driving." I played it while my wife dodged trucks on Interstate 81.
How it worked: I put a Backbone controller attachment around my iPhone and loaded up Xbox.com/play.
Because I subscribe to Xbox Game Pass Ultimate, I was able to play the game remotely via Microsoft's cloud system.
In Virginia, this set-up worked great. I was able to play Starfield's slow-paced interactive intro, in which my character meets their boss and mines some space rocks. I also designed the look of my lead character, got into some introductory spaceship dogfights and flew to another planet, all as the game ran smoothly via a cellular connection.
Then I had to take a break. The glare from the sun was too bright on my phone, and our kids needed a snack.
In Pennsylvania, I tried again, with worse results. The knock on cloud gaming is that a poor connection can reduce a game into an uncontrollable slideshow. That happened as I tried to battle through Starfield's first extended gunfight.
At various points, the game's visuals would freeze even as I could hear my enemies shooting at me. After restarting, the game's camera swiveled 720 degrees as if I was leaning on a control stick, then gave me proper control.
But then things smoothed out and it worked well again.
Between the lines: Two years ago, Microsoft touted cloud gaming as a revolutionary tool to bring its games to billions of players, but said in June, during an antitrust hearing over its bid for Activision, that its cloud tech was not widely adopted.
Xbox executives recently said their cloud gaming tech is mostly used by players who try games before they download them.
But maybe there hasn't been a great reason to try it for other reasons, until now.
Microsoft hasn't had a massive release like Starfield since it launched its cloud gaming option, certainly no 100-hour game that players might want to be able to access when they're away from their computer or console, like when they're on the interstate.
Sign up for the Axios Gaming newsletter here.
Go deeper