Your new car's options now come with a monthly fee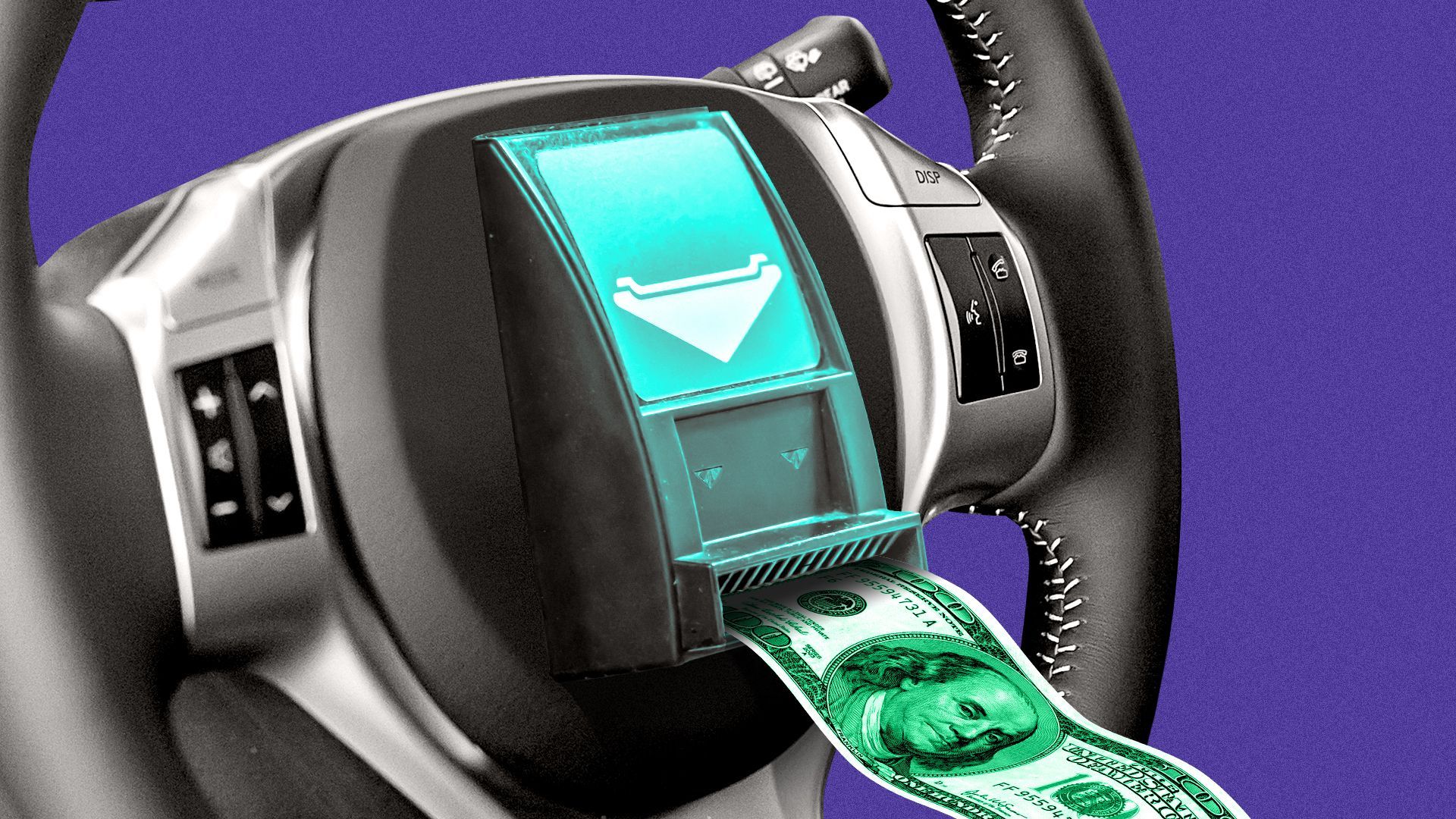 The choices for car buyers are multiplying: It's no longer just silver or red, sedan or SUV, gas or electric.
Now buyers must also decide which connected services they want to add.
Why it matters: Automakers are embracing a new business model that requires paid subscriptions to unlock everything from entertainment options to enhanced navigation and hands-free driving.
Driving the news: Ford recently announced new options for accessing its top-rated BlueCruise hands-free highway driving technology.
Buyers can activate BlueCruise at the time of purchase for three years by rolling the $2,100 cost into the financing.
Or, they can use BlueCruise for free for 90 days, then activate it later for $800 a year or $75 a month. They can even subscribe for a road trip and reactivate it as needed.
Context: Tesla just chopped $3,000 off the price of its "full self-driving" beta software (which, despite its name, still requires users to "keep your hands on the steering wheel at all times"). It's now $12,000 upfront or $199 a month.
Three years of General Motors' Super Cruise highway hands-free system costs $2,200 upfront on Chevrolet and GMC vehicles ($2,500 for Cadillacs), after which it's $25 a month or $250 per year via subscription.
Lots of premium features are sold this way. Mercedes' Me Connect $150 annual subscription bundle, for example, includes everything from live weather and traffic to software for finding and reserving a parking space.
State of play: Car buyers are open to subscription add-ons — if they get to try the services first, according to a recent S&P Global Mobility survey.
It's difficult for buyers to fork over thousands of dollars at the time of purchase for technology features they're not sure they'll use, the survey found.
82% of respondents who had experienced a free trial or an existing connected service plan said they would "definitely" or "probably" pay for it on a future car.
The catch: Respondents said they don't want a subscription for features like heated steering wheels or seats — a lesson BMW famously learned.
"When everything becomes a subscription, it becomes overkill," says Yanina Mills, senior technical research analyst at S&P Global Mobility.
The big picture: Automakers savor the prospect of collecting recurring revenue from car owners by transforming their vehicles into connected tech platforms.
GM, for example, is targeting $20 billion-$25 billion a year in software and subscriptions revenue by the end of the decade — 10 times what it takes in now from its OnStar-connected vehicle service.
Likewise, Ford CEO Jim Farley recently told investors that it's currently making "hundreds of millions" on software with gross margins over 50%, and "we expect to 10x that in the coming years, just based on the growth we see."
Yes, but: Consumers only have so much room in their budgets for subscriptions — and typically won't pay for features that are already available on their smartphone and can be "mirrored" on the dashboard.
What to watch: Reaction to GM's decision to phase out smartphone mirroring — including widely used Apple CarPlay and Android Auto apps — in favor of a built-in Google-based infotainment system that allows consumers to download their favorite subscription apps.
Go deeper