Scoop: Haley team blasts DeSantis, Ramaswamy as "Trump-lite"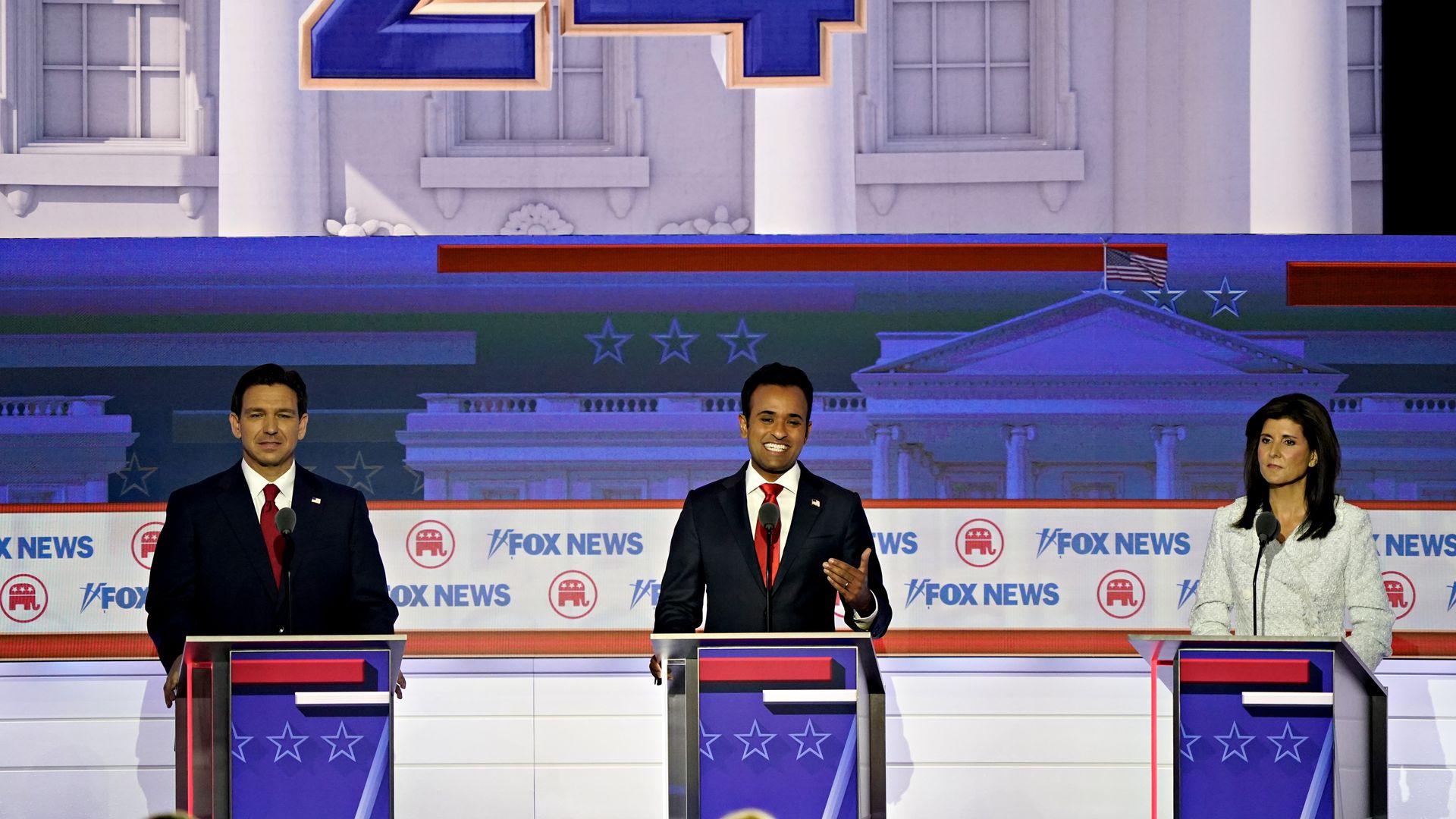 Nikki Haley's campaign manager labeled Vivek Ramaswamy and Florida Gov. Ron DeSantis "Trump-lite" in a new memo to donors Tuesday night, mocking them for falling "all over themselves to copy Trump on everything," Axios has learned.
Why it matters: Haley, who has risen in the polls following the first GOP debate and served as Trump's U.N. ambassador, is betting on a viable lane in the Republican primary distinct from Trump and his positions — despite his commanding lead.
What they're saying: "From DeSantis's 'territorial dispute' [on the Russia-Ukraine war] comments to, well, everything about Ramaswamy, both seem to think copying Trump is the path to success," Haley campaign manager Betsy Ankney wrote in the memo.
Ankney argued that Haley was "blazing her own path" and highlighted that "in a recent speech at AEI, she criticized President Trump for lacking moral clarity on China."
She also noted Haley's pointed criticism of Trump and Democrats for the growing national debt.
"Some run as 'Trump-lite,' while others throw rocks at Trump to win points in the media. All are wrong, all will fail, and all show a lack of leadership," she argued.
Between the lines: Haley is pitching herself to the GOP establishment and donors as the main alternative to Trump after DeSantis' early struggles.
DeSantis still consistently polls ahead of every candidate for second place, but Haley but has narrowed the gap after the first Republican debate, according to polls by the Wall Street Journal, CNN, and a firm hired by DeSantis' campaign.
Trump's team prefers a brawl for second place rather than a Trump vs. DeSantis battle.
What to watch: Haley needs DeSantis-skeptical donors to rally to her side to continue her momentum. As of June 30, Haley had only $6.8 million on hand, fifth among her Republican rivals.
Go deeper