The next driver of inflation: health care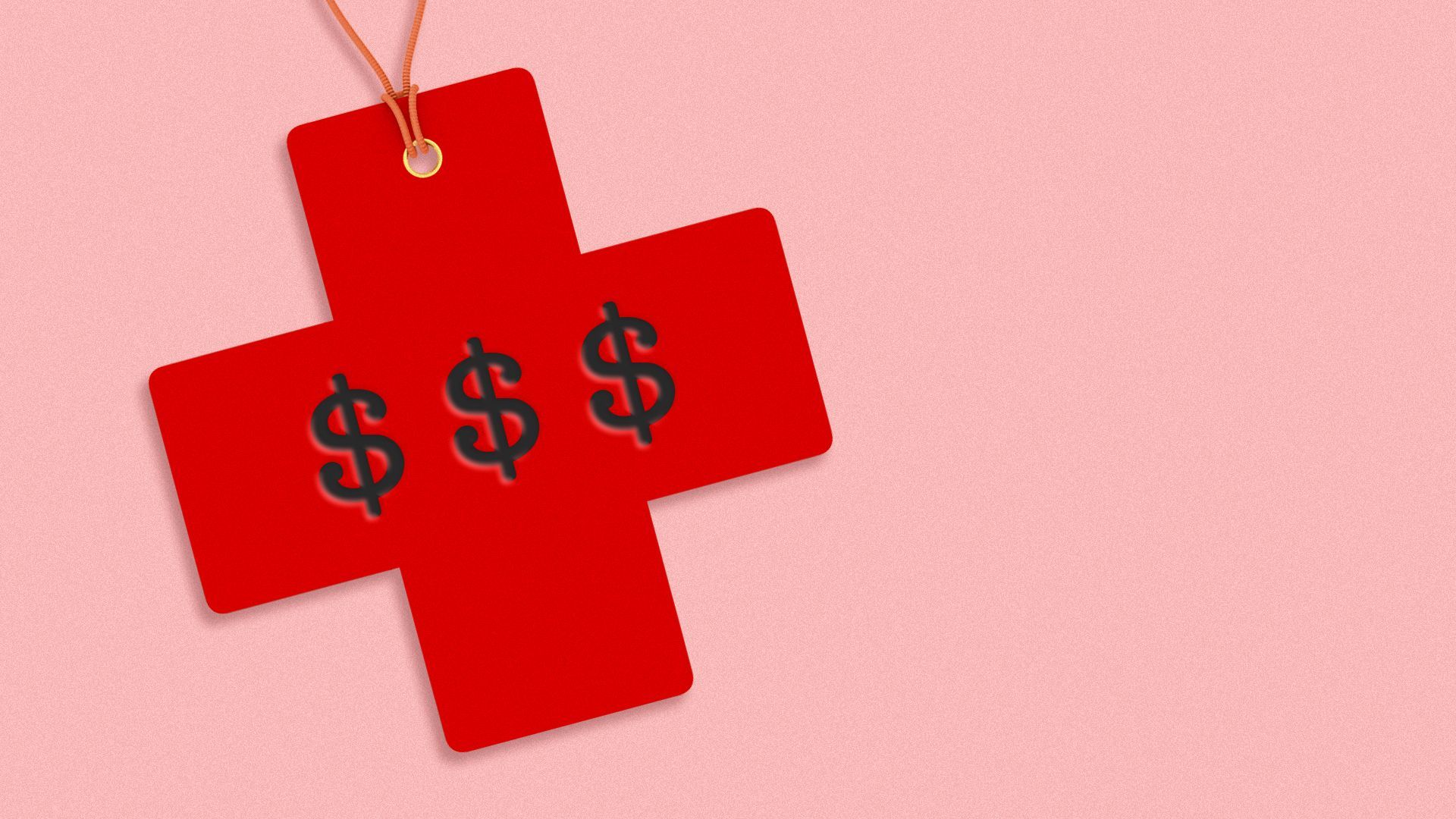 Medical services could prove an unpleasant source of higher inflation in the near future.
Why it matters: While quirks in how health insurance prices are measured, and how medical providers set prices, have led to a downturn in inflation in recent months — that trend looks likely to reverse.
It would exert a slight upward tug on overall inflation and a much larger one on "core services excluding housing," a measure of underlying price pressures Federal Reserve officials have emphasized.
That's because medical services account for 6.4% of overall inflation but 27% of core services ex-housing.
The details: Some of the Consumer Price Index's components are measured simply; to figure out the price of bananas, for example, data collectors go to the grocery store and check. Others are more murky and theoretical.
Health insurance is very much the latter. Its price in CPI calculations is not simply what you or your employer pays for health insurance. Rather, it is based on insurers' retained earnings.
The intuition: Your health insurer's service isn't the health care itself — doctor and hospital visit prices go in a different line of CPI. Rather, they provide insurance services, handling payments you would otherwise have to make yourself.
So, the price of health insurance is calculated by subtracting what they spend on health services for customers from the premiums they charge.
If health insurers end up paying out more than expected to provide care for customers and their profits fall, that shows up in CPI data as a drop in the price of health insurance.
That's why the price of health insurance in the CPI data was down a whopping 29.5% for the 12 months ended in July — more an artifact of the unusual statistical method used than real disinflation benefiting American consumers.
What's next: The Bureau of Labor Statistics said last month it will update its methodology for calculating health insurance starting this October. The basic method will remain in place, but BLS will smooth the retained earnings data and update the prices twice a year rather than once.
Goldman Sachs economists expect the change will mean health insurance goes from falling 4% per month, as it has recently, to rising 1% a month starting in October.
That would cause core services excluding housing "to accelerate from a three-month average of 0.14% to a 0.46% average over the next six months before slowing to 0.28% by April 2024," Goldman's Ronnie Walker wrote.
Then there's the price for medical services themselves. Here, the outlook is a bit more speculative but also points toward higher inflation on the way.
State of play: The price of being treated has been rising slowly, according to CPI data, with the cost of physicians' services up only 0.4% for the 12 months ended in July.
The price of hospital visits is up more, 3.1%, but is hardly a major driver of overall inflation.
Yes, but: Many of these prices are set as part of annual negotiations with insurers and may be slow to reflect changing economic conditions.
There's reason to think labor shortages and rising wages among health care workers could filter through to higher prices as those contracts are reset.
There are widespread reports of nursing shortages, for example, among other anecdata.
By the numbers: The Employment Cost Index for health care workers — which includes what employers pay for wages and benefits — was up 5.2% for the year ended in June.
What they're saying: "As many medical care prices are set in advance ... the combination of higher wages ... prior supply-chain disruptions to medical supplies, and post-pandemic increases in utilization are still pushing up health care inflation," JPMorgan economist Michael S. Hanson wrote in a note.
"While the outlook for medical inflation remains uncertain, on net we see risks skewed toward further increases that also contribute to a narrower wedge" between CPI and PCE inflation, Hanson wrote.
He noted that a survey of insurers participating in the Affordable Care Act marketplaces showed a median proposed 2024 premium increase of 6%.
The bottom line: The health care sector has been a source of inflation relief over the last year, but it may not last.
Go deeper