Nursing shortages show no signs of slowing, survey finds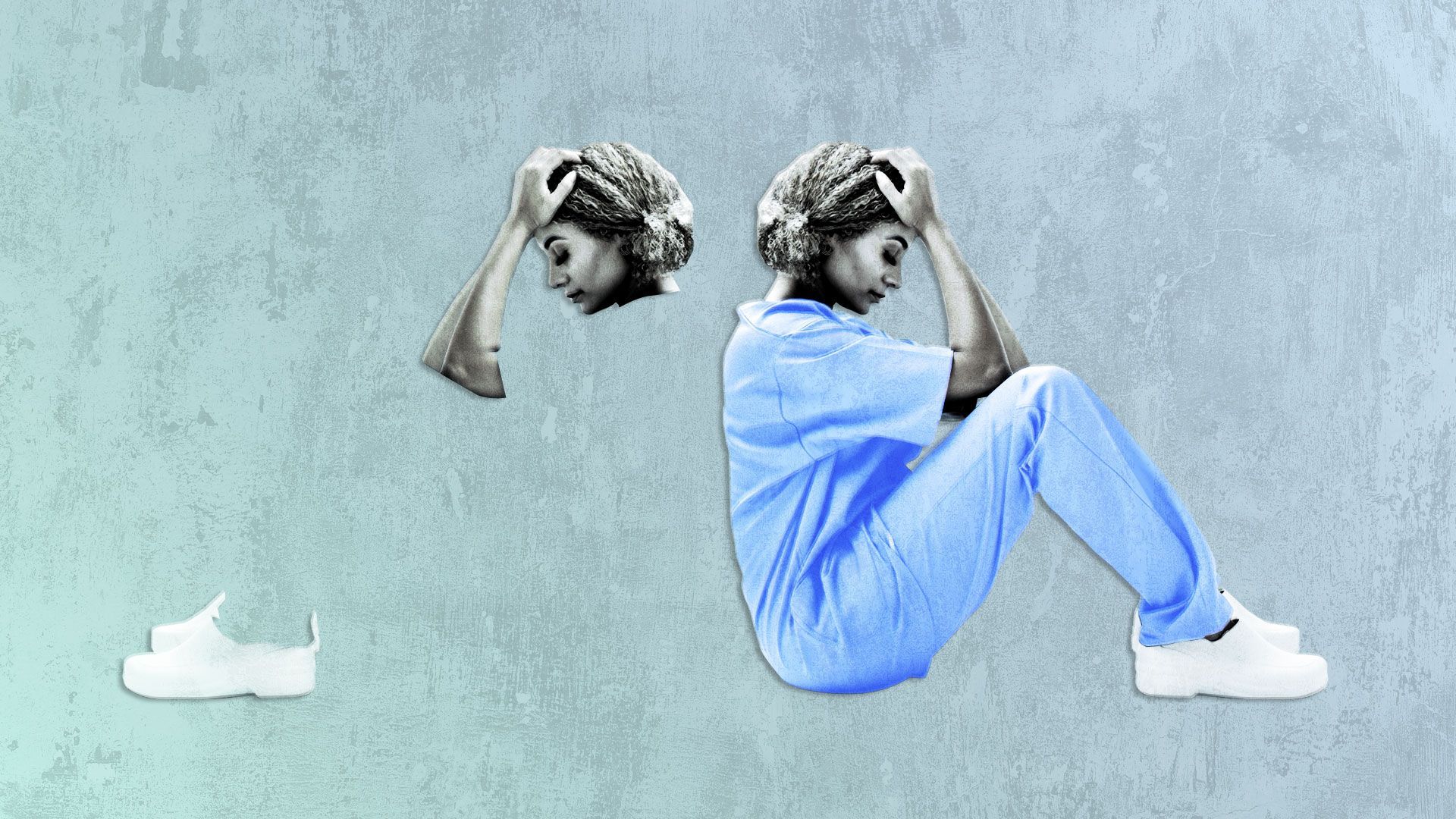 Nearly a third of nurses nationwide say they will likely leave nursing for another career due to the pandemic, a new survey found.
Why it matters: Some sectors of the health care industry plagued by significant labor shortages during the pandemic appear to be rebounding, but the AMN Healthcare survey, published on Monday, suggests a shortage of nurses may continue to be a major challenge for health care providers for years to come.
That reality is especially worrying for hospital leaders who are already relying on expensive contract labor to maintain services.
Details: For a decade, 80% to 85% of nurses said they were satisfied with their choice of becoming a nurse, according to AMN Healthcare. But in 2023, that percentage dropped to 71%, the survey of more than 18,200 nurses conducted in January found.
Younger generations were less satisfied with their nursing career than older generations.
The percentage of nurses who said they were satisfied with the quality of care they provide also decreased from 75% in 2021 to 64% in 2023.
About 94% of those surveyed said there was a severe or moderate shortage of nurses in their area, with half saying the shortage was severe, per the survey.
Nearly 9 in 10 nurses said the nursing shortage is worse than it was five years ago, the survey found. The vast majority (80%) believe the shortage will get much or somewhat worse over the next five years.
What they're saying: The 2023 survey results show that a "crisis in nursing is upon us," Cole Edmonson, AMN Healthcare's chief clinical officer, wrote in a report about the survey results.
"This extremity reverberates not only in the profession but throughout our nation's healthcare system," he added.
The big picture: There are steps hospitals and other health care providers can take to better support nurses, the AMN Healthcare report said.
The survey found that the top five strategies nurses said would reduce their stress included: increasing support staff, reducing patients per nurse, increasing salaries, creating a safer working environment, and including more nurse input into decision-making.
Based on those results, AMN Healthcare recommended health care providers offer nurses mental health and wellness benefits and invest in technology to take away remedial tasks nurses don't need to perform. It also recommended regulatory changes and more investment in nursing programs to strengthen the nursing pipeline.
Methodology: The survey polled more than 800,000 Registered Nurses in the U.S. from Jan. 5 to Jan. 18, 2023, and received 18,226 completed questionnaires, of which 11,918 were from staff nurses with the rest identifying as travel, per diem or other types of nurses. The margin of error is 1% at a 99% confidence level, and the response rate is 2.5%.
Go deeper