Updated Sep 5, 2023 -

World
U.K. follows U.S. lead in trying to navigate China balancing act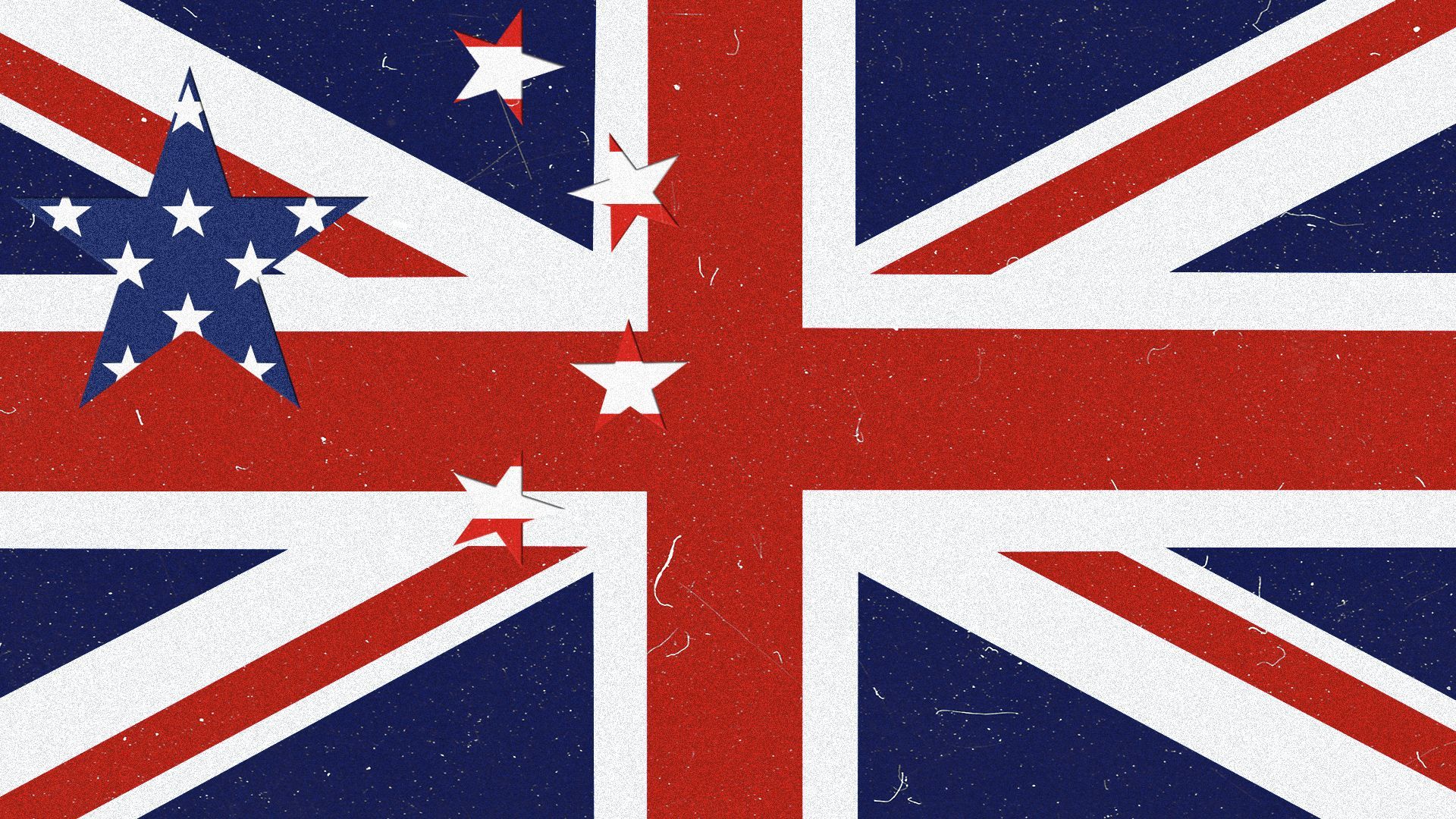 After years of chilly bilateral ties, the U.K. government is reaching out to Beijing while maintaining tough China rhetoric at home.
Why it matters: The balancing act echoes a similar stance in Washington, which in recent months has sent several top officials to Beijing. Policymakers in both capitals have recognized that a continued free fall in relations with China may be both unsustainable and dangerous.
"The U.K. and the PRC need to have effective diplomatic channels at the ministerial level," Steve Tsang, director of the SOAS China Institute in London, told Axios.
"Diplomacy is a desirable luxury among friends, but essential when dealing with a non-friend."
Driving the news: U.K. Foreign Secretary James Cleverly visited China last week, the first British foreign secretary to do so in almost five years, and met with China's top diplomat Wang Yi and vice president Han Zheng.
Cleverly faced criticism at home for the trip, but he told the BBC a lack of face-to-face interaction can result in misunderstanding.
"Part of this trip is making sure ... we can speak directly and unambiguously on the areas where we disagree, but we can also look for opportunities to work together where it is our interest to do so," he said.
Cleverly also said he raised China's human rights record in "every single one" of his meetings. Tensions between the U.K. and China have centered around China's crackdown in Hong Kong, concerns that Chinese-made technology poses privacy issues, and allegations of espionage and political interference.
China hopes to "deepen exchanges and enhance understanding in the spirit of mutual respect, so as to promote the steady development of China-U.K. relations," Chinese Foreign Ministry Spokesperson Wang Wenbin said about the visit. "Affairs relating to Hong Kong, Xinjiang and Tibet are China's internal affairs, where other countries have no right to interfere."
Between the lines: "The biggest achievement was the very fact that Cleverly met with Wang and [they] did not end up publicly disagreeing with each other," Tsang said.
"Both sides are looking at improving economic ties as both economies are weak, but neither actually got much from the other."
Zoom out: Prime Minister Rishi Sunak may be reaching out to China, but he's no dove.
In March, he called China a "systemic challenge," saying it is the "only country with both the means and intent to reshape the world order."
He also said China is the "biggest state threat" to the U.K.'s economic interests.
Cleverly announced the same month that the U.K. would boost spending to cultivate China-related expertise within government.
Yes, but: Members of Sunak's own Conservative Party are urging him to go further.
Liz Truss, who briefly served as prime minister last year, said in May that Sunak should officially designate China as a threat.
Several Conservative members of Parliament who have been sanctioned by China have criticized Cleverly's visit. "After everything China has and is still doing, they cannot be treated as an ordinary trading partner," said Tim Loughton, one of the sanctioned MPs.
The House of Commons foreign affairs committee released a report last week calling Taiwan an "independent country" for the first time and saying it "possesses all the qualifications for statehood."
Flashback: U.K.-China relations have spiraled dramatically over the past eight years, since then-Prime Minister David Cameron declared a "golden era" in the U.K.-China relationship in 2015.
The big picture: The U.K., a member of the Five Eyes intelligence sharing alliance, has often followed Washington's lead on foreign policy.
But the U.S. and U.K. are on untrodden ground. Both are aiming to preserve economic and diplomatic ties with a rising authoritarian superpower while still preserving commitments to their own national security and democratic values — a situation neither has faced in the post-World War II era.
What to watch: Sunak had recently suggested he was willing to meet with Xi Jinping on the sidelines of the G20 in India later this week, but the Chinese president reportedly plans to skip the summit and send Premier Li Qiang instead.
Go deeper