Search for lost soldier shows how little we know about Latinos in WWI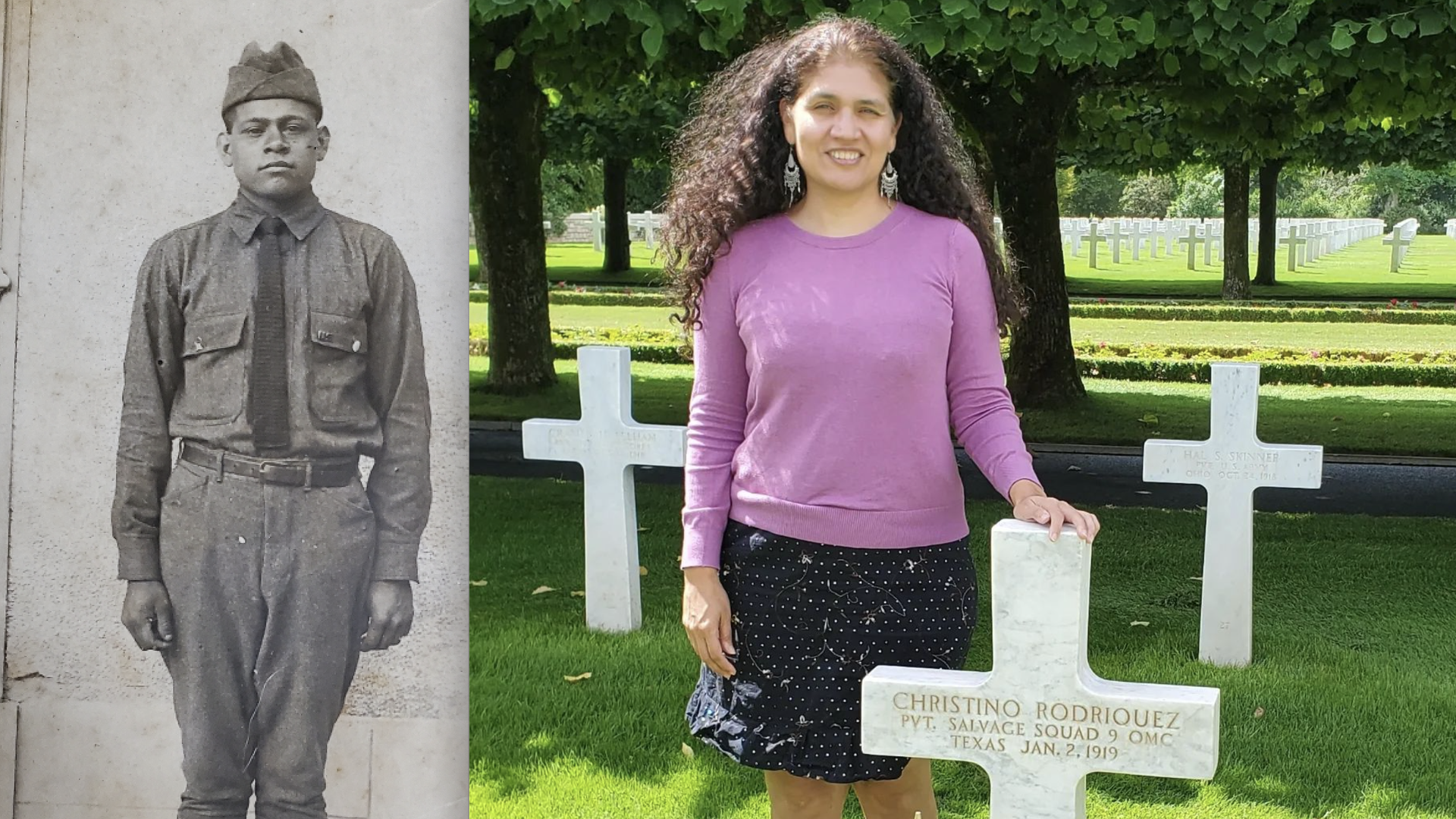 A Texas woman, curious about what happened to a relative who died while serving in World War I, recently found his resting place in France — likely one of several Mexican Americans who died abroad and whose stories have been largely forgotten.
The big picture: Latinos have been fighting in U.S. conflicts for centuries, but recorded history of their service in World War I is scant.
The Library of Congress' Veterans History Project, which collects and preserves war veterans' first-hand accounts, recently put out a call for more Latino veterans to submit their stories.
San Antonio College history professor Lisa Ramos in July traveled to France and went searching for her great-great-granduncle, Crispin Rodriguez.
After some digging and an hours-long trip involving trains and buses, Ramos found Rodriguez in the Thiaucourt-Regniéville cemetery. His name was misspelled on his gravestone.
Rodriguez, 23, died in 1919 after contracting influenza during the 1918 flu pandemic.
Ramos says it was unlikely that, because of limited means, anyone from her Mexican American family back in Texas ever had a chance to go over and say goodbye.
"I just talked to him and said that I will never forget him," Ramos tells Axios Latino.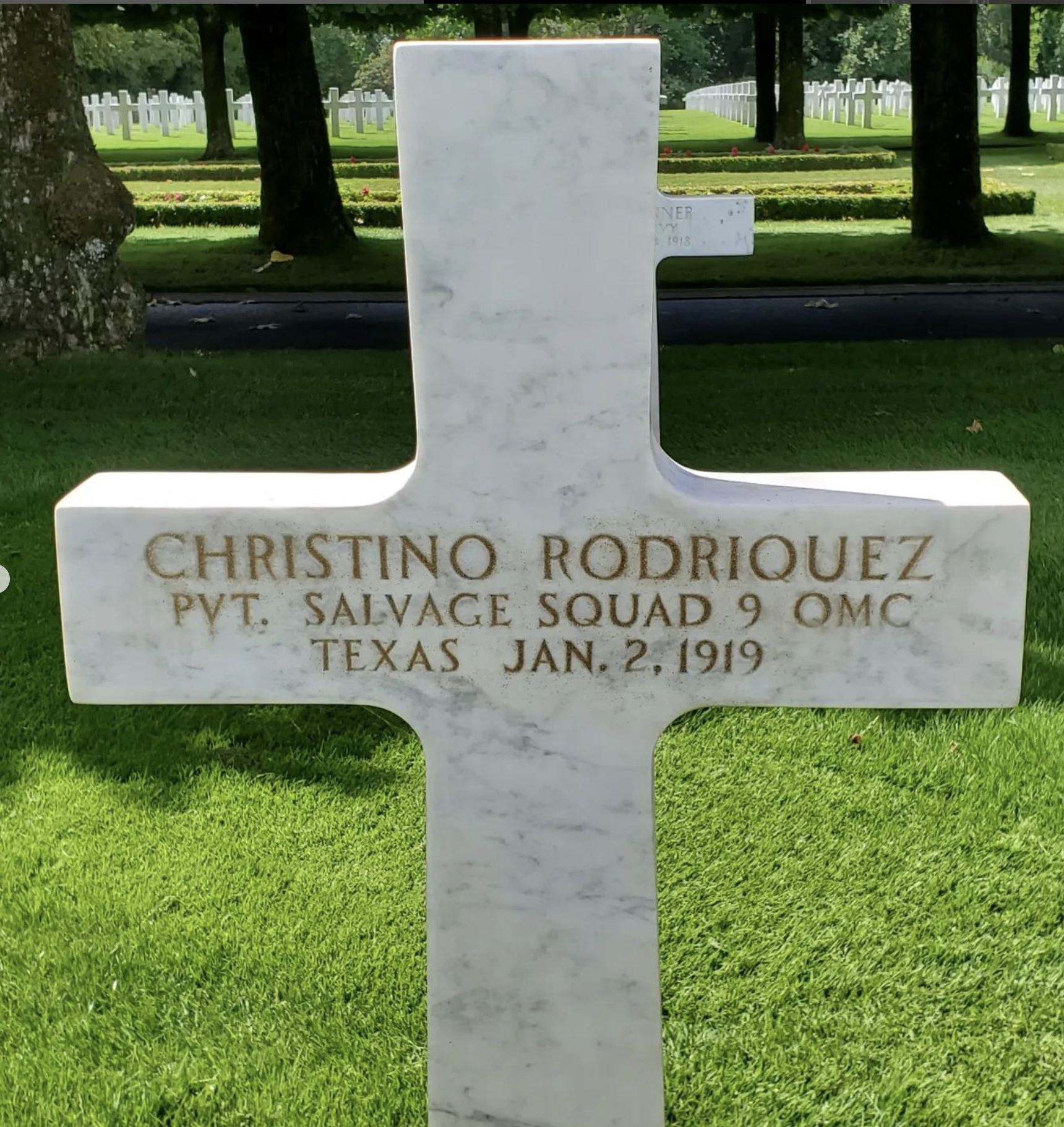 Flashback: According to family documents and oral history, Rodriguez served in the U.S. Army during World War I and died while waiting for a ship to return home.
It doesn't appear that he was married. A sister, known as "Mama Romana," received his pension and was able to purchase a home in South Texas with the money, family documents show.
Zoom out: It's not known exactly how many U.S. Latinos served in World War I since the U.S. Army did not keep demographic data on Hispanics, José A. Ramírez, author of "To the line of fire! : Mexican Texans and World War I," tells Axios.
Ramírez, a history professor at Laredo College, said he's documented at least 5,000 men from Texas with Spanish surnames who served during the Great War.
About 2% of them — or roughly 100 Tejanos — were killed and likely buried in Europe.
Between the lines: Because many Mexican American and Puerto Rican families were poor at the time of World War I, few had the means to visit loved ones who were buried overseas.
A U.S. government program in the 1930s allowed WWI widows to visit resting places in Europe, but it is not known how many Latino families took advantage of it.
The intrigue: Scholars are still examining the role that WWI played in the lives of Latinos, but historians say returning veterans were influential in creating some of the first Latino civil rights organizations, like the League of United Latin American Citizens (LULAC).
In 2014, Texas A&M University Press published an English version of a memoir written in Spanish by a Mexican American World War I veteran named José de la Luz Sáenz.
The memoir, edited by historian Emilio Zamora, talks about the discrimination Mexican American soldiers faced, the conditions on the battlefield and a desire to return home and fight for change.
LULAC notes on its website that many WWI veterans returned to Texas and fought the Texas Rangers against illegal land seizures and violence against Latinos.
"Daytime meetings of Mexican-American veteranos returning from serving in WWI were banned so they gathered at night in remote jacalitos, hidden in the desolate brush, lit only by kerosene lamps," LULAC writes.
It was out of those secret meetings that LULAC was formed in 1929.
What's next: Ramos said she is working to get the name of her great-great granduncle corrected on his marker.
Subscribe to Axios Latino to get vital news about Latinos and Latin America, delivered to your inbox on Tuesdays and Thursdays.
Go deeper