NYC's new Airbnb rules are bigger than the Big Apple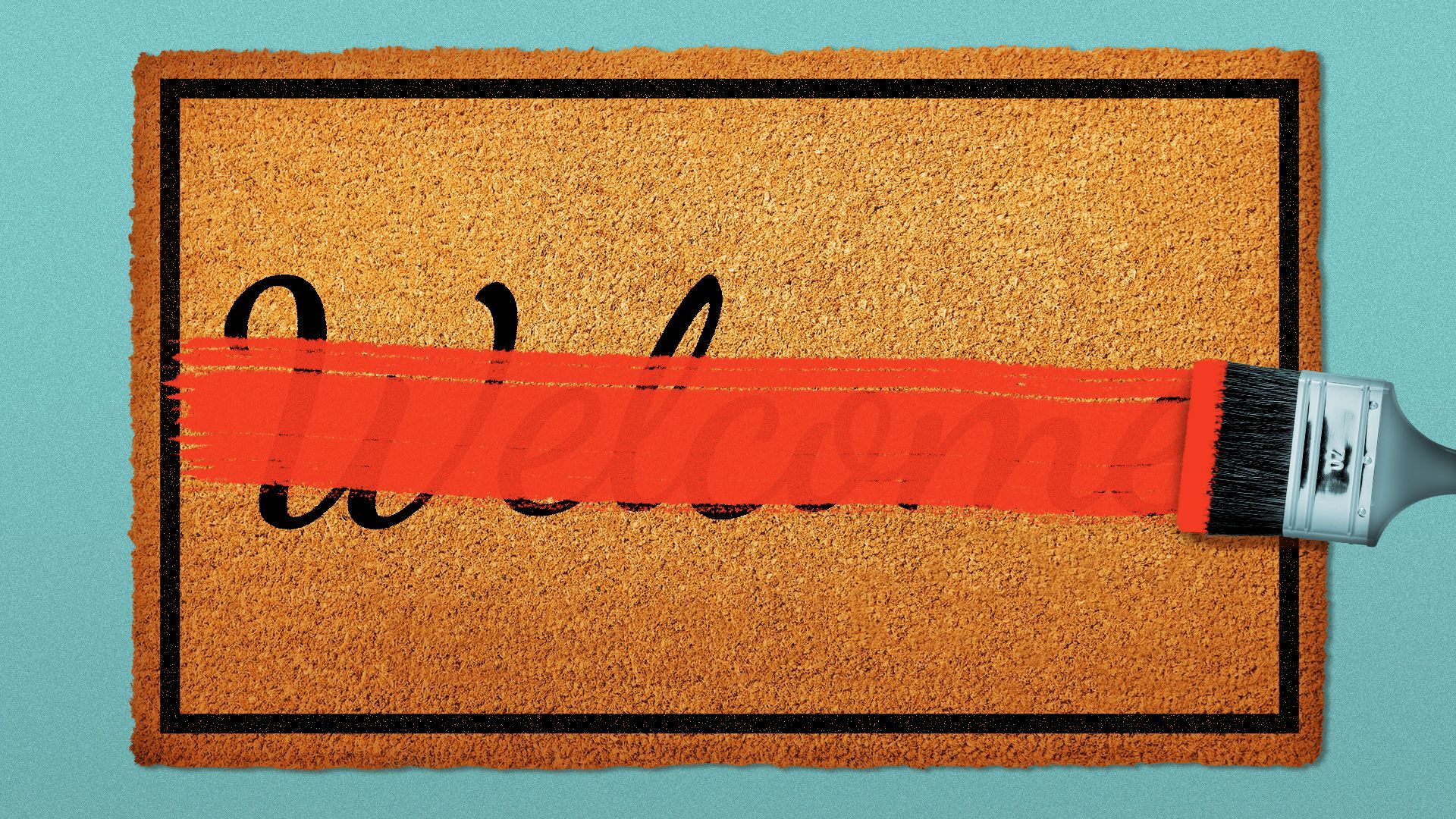 New rules governing short-term stays book via Airbnb, Vrbo and similar platforms in New York City could have broader consequences for the vacation rental industry, just as it faces headwinds from some travelers who are once again favoring traditional hotels over residential-style listings.
Why it matters: The change — which Airbnb has called a "de facto ban" — is one of the most significant moves a major city has made in recent years to curtail short-term rentals, coming after New Orleans issued new restrictions of its own in March.
Depending on what happens in New York, other cities could follow suit.
What's happening: Starting Sept. 5, New York City hosts listing their properties for short-term stays must register with the city, or face fines of up to $5,000.
That rule is meant to help enforce a longstanding (but oft-ignored) prohibition against rentals of fewer than 30 days unless the host is present, and with a maximum of two guests.
Another noteworthy rule: "Hosts and visitors must leave the doors inside the dwelling unlocked, so occupants can access the entire unit," per the Washington Post.
A judge last month dismissed a lawsuit Airbnb brought against NYC over the new rules, saying it's "'inherently rational' for the city to require that hosts register with a local agency," Reuters reported.
By the numbers: The move is expected to dramatically cull the list of available short-term rental listings in New York City.
"Nearly 15,000 hosts" previously offered short-term Airbnb rentals across NYC, the New York Times reports — but as of Aug. 28, the city had approved just 257 of only about 3,250 applications.
Of course, those numbers may increase as awareness spreads and officials process more applications.
What they're saying: "New York City's new short-term rental rules are a blow to its tourism economy and the thousands of New Yorkers and small businesses in the outer boroughs who rely on home sharing and tourism dollars to help make ends meet," Theo Yedinsky, global policy director for Airbnb, said in a statement.
Meanwhile, per the Times, some critics "say the city is bending to the lobbying of the hotel industry and locking out cheaper options for visitors."
The other side: Critics of short-term rentals say they reduce the supply and increase the cost of housing because landlords list rooms on platforms like Airbnb instead of renting them to locals.
Some also say that guests are often rowdy or otherwise disruptive and belong in proper hotels, not residential apartment buildings.
The big picture: If the city's move has the desired effect without dramatically curtailing tourism, it could turn into a blueprint for other cities looking to reduce short-term rentals.
Any such domino effect would come at a less-than-ideal time for Airbnb, which is taking steps to address criticisms that what was once a cheaper, easier hotel alternative has become overly expensive and burdensome thanks to high fees, cleaning requirements and more.
Yes, but: Airbnb is a global booking powerhouse with strong financials, posting its most profitable Q2 on record this year as travel continues to rebound post-pandemic.
The bottom line: New York drew bucketloads of tourists well before short-term rentals were a thing.
Fewer such options might be a hassle for families looking for residential-style accommodations, but may not result in much more than a blip in long-term tourism numbers.
Go deeper