Why Nintendo's next big Super Mario Bros. game could be a smash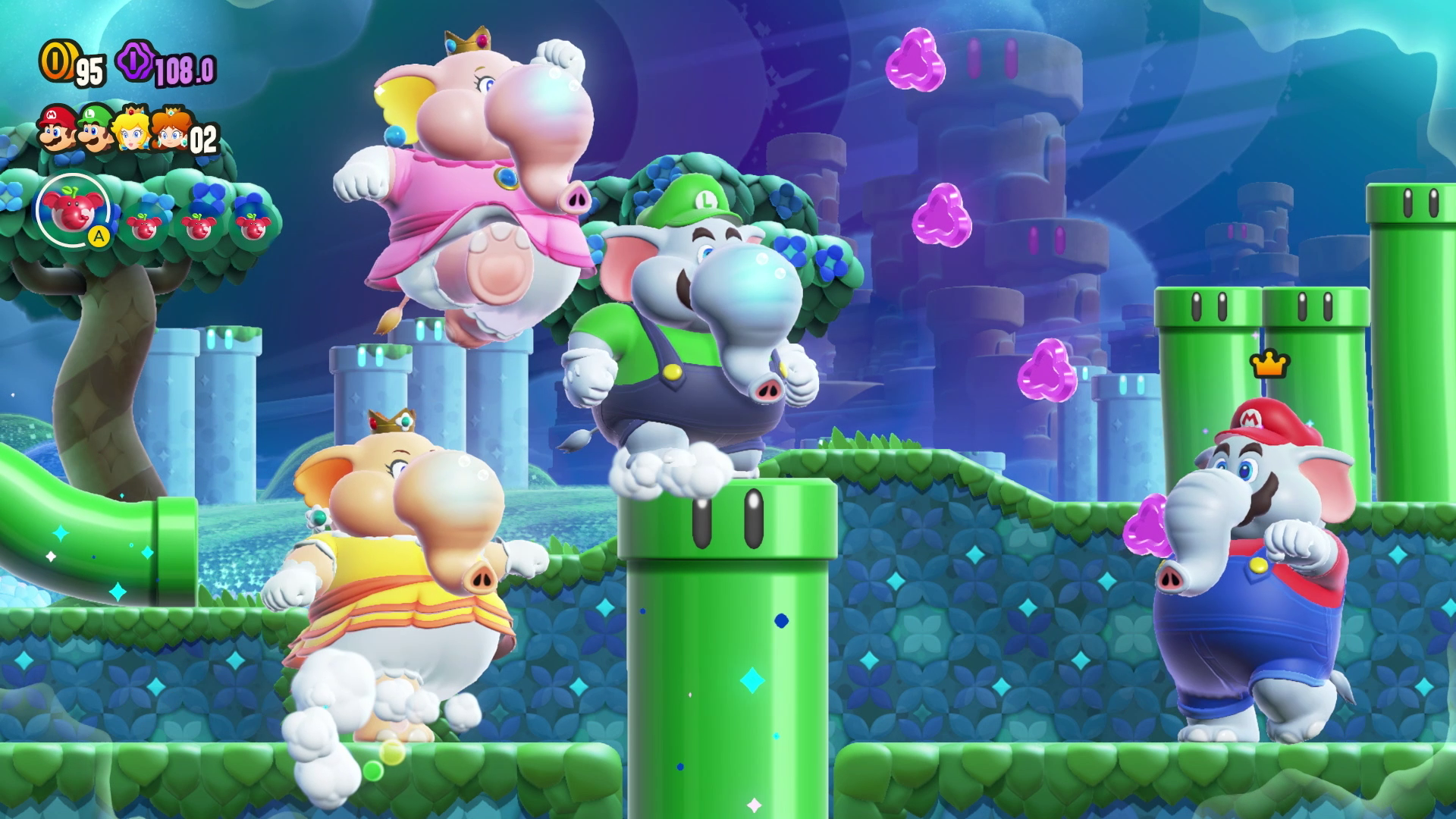 Nintendo's next big game, Super Mario Bros. Wonder, plays like a throwback to the Mario series' earliest games, but has the energy of the newest ones.
Why it matters: Wonder — set for an Oct. 20 release — is Nintendo's flagship game for the fall, as it brings back one of its most-popular styles of game: a side-scrolling Mario adventure, the first new one in 11 years.
Nintendo aired an online preview of the game earlier today, and also let some media outlets, including Axios, play it for 45 minutes last week.
Details: Super Mario Bros. Wonder builds on the format introduced in 1985's side-scrolling Super Mario Bros., which featured its hero running from left to right across the screen, navigating obstacle courses filled with bricks, green pipes and harmful turtles, while grabbing power-ups to make himself bigger or to throw fireballs.
With Wonder, the 12th (or so) 2D Mario game, the cast has been expanded to include the likes of Mario, Luigi, Princess Peach and dinosaur pal Yoshi. The pipes sometimes come alive through discoverable "wonder" effects that radically transform each level. And the power-ups now include the ability to turn into a water-drinking, block-crushing elephant, or a living drill that can swivel into the ceiling.
Each main level in Wonder contains at least one trigger that morphs the level in some dream-like way: gravity zeroes out, or the player's character turns into an enemy (transforming the game briefly into a stealth adventure).
Be smart: Mario's 2D games used to dominate its portfolio, but Nintendo has repeatedly leaned into 3D Mario adventures, creating two different approaches to its flagship franchise.
Nintendo's Mario schism began in the late '90s with the release of the revolutionary Super Mario 64, a game that popularized a move by much of the medium into adventures in which players navigated more open environments while viewing the virtual worlds from behind the main character.
After releasing five 2D Mario games in less than a decade, 3D Mario adventures took over for 10 years after Mario 64.
A 2006 return to 2D Mario with New Super Mario Bros. established a new 2D line of conservatively-designed throwback side-scrollers, while subsequent 3D Mario games offered sugar-rushes of new level concepts, enemies, and power-ups.
Super Mario Bros. Wonder is a 2D Mario with what appears to have the density of new ideas of a 3D Mario.
Between the lines: Wonder is made by a Nintendo team led by producer Takashi Tezuka (a co-designer of the original Super Mario Bros.) and director Shiro Mouri, whose Mario credits include senior roles on the company's last big new 2D Mario, 2012's New Super Mario Bros. U and its 2019 Switch remaster.
During Axios' hands-on time, Wonder felt more forgiving than Nintendo's major 2D Marios. Power-ups are more plentiful and a new system lets players earn badges that can add powers (higher jumps, parachute hats) or protection (a badge that lets players automatically spring out of otherwise fatal pits, for example).
The game's four-player co-op options are less prone to sabotage this time around, too. In a change from the recent co-op 2D Mario game, players can't bump into each other or toss each other around, as collision impacts are disabled (unless someone wants to ride on Yoshi).
The big picture: Mario games are crowd-pleasers. The question is how big a crowd this one will amuse.
Wonder is following the release of May's The Legend of Zelda: Tears of the Kingdom, which has sold more than 18 million copies and is credited with helping boost Japan's GDP last spring.
Mario games typically rival Zelda sales. The Switch's lone original 3D Mario game, 2007's Super Mario Odyssey, has sold 26 million copies, according to Nintendo. The system's remaster of the 2D New Super Mario Bros. 3 has sold 16 million copies.
It can't hurt that the Mario franchise also can boast of a $1 billion movie, which even featured an early scene shot as a 2D side-scroller.
Sign up for the Axios Gaming newsletter here.
Go deeper