Indeed offers transgender employees seeking to relocate $10,000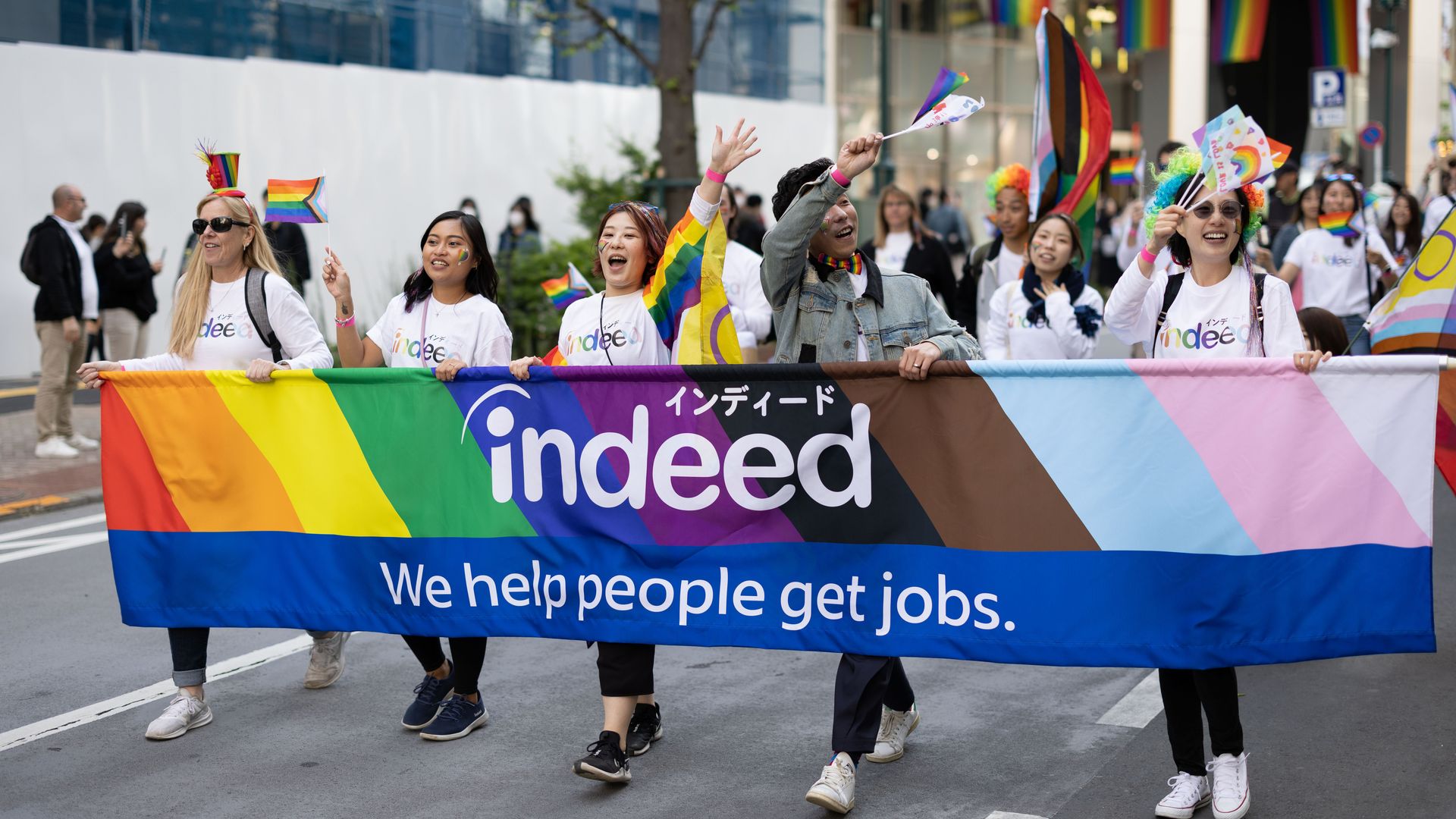 Indeed, the online job search company, is offering transgender employees who want to relocate for care or support a $10,000 benefit to cover expenses, the company confirmed to Axios on Wednesday.
The big picture: Amid a flood of conservative efforts targeting transgender rights and gender-affirming care for minors, some companies are stepping up to offer support for their trans workers.
There has been an uptick in legislation targeting the LGBTQ+ community, with 495 such bills introduced by lawmakers across the U.S. so far this year, per the American Civil Liberties Union.
Details: Indeed's gender-affirming care relocation benefit was announced to employees and went into effect in July 2023, the company told Axios.
It's for U.S.-based employees and immediate family members who seek gender-affirming care and live in a location where state laws or government-issued directives criminalize or restrict access to such medical care.
It also applies to those who live in places that attempt to restrict support for children who are gender non-conforming, transgender or non-binary.
Eligible employees will receive approval to relocate to a state or jurisdiction where they will be able to access the care and support they need, as well as a $10,000 flat-rate benefit to support their relocation expenses, Indeed told Axios.
What they're saying: Misty Gaither, vice president of Diversity, Equity, Inclusion and Belonging at Indeed, told Axios in a statement that the company introduce the initiative to help ensure employees and their family can receive the care they need.
"Our transgender, non-binary and gender non-conforming colleagues are integral to our business and culture at Indeed," Gaither said. "We know employees thrive and do their best work when they can bring their authentic selves to work."
"We also believe that everyone has the right to make the healthcare decisions that they feel are right for themselves and their families," she added.
By the numbers: Nearly two-thirds of transgender individuals (62%) say they feel pressure to manage their identity at work, and 38% say they need to hide their identity at work, a survey conducted by Indeed found.
Over half of transgender individuals (51%) say they face additional stigmas and/or judgment at their workplace compared to other members of the LGBTQ+ community due to their gender identity or gender expression.
Only 8% LGBTQ+ workers know their company offers transgender-specific benefits, per the survey, while 50% say their company does not offer any, and 42% are unsure.
Meanwhile, some other big companies offer health care benefits for trans employees.
Intuit, maker of TurboTax and QuickBooks, also offers its own relocation benefit and has aligned its benefits with the World Professional Association for Transgender health standards of care.
Netflix offers gender-affirming care for its employees with coverage that includes surgeries and hormone replacement therapy.
Starbucks has health insurance options for transgender employees to include gender reassignment surgery as well as a host of other procedures previously considered cosmetic.
Go deeper: Canada warns travelers of U.S. LGBTQ+ laws
Go deeper