Medicare drug price negotiations could have limited impact at first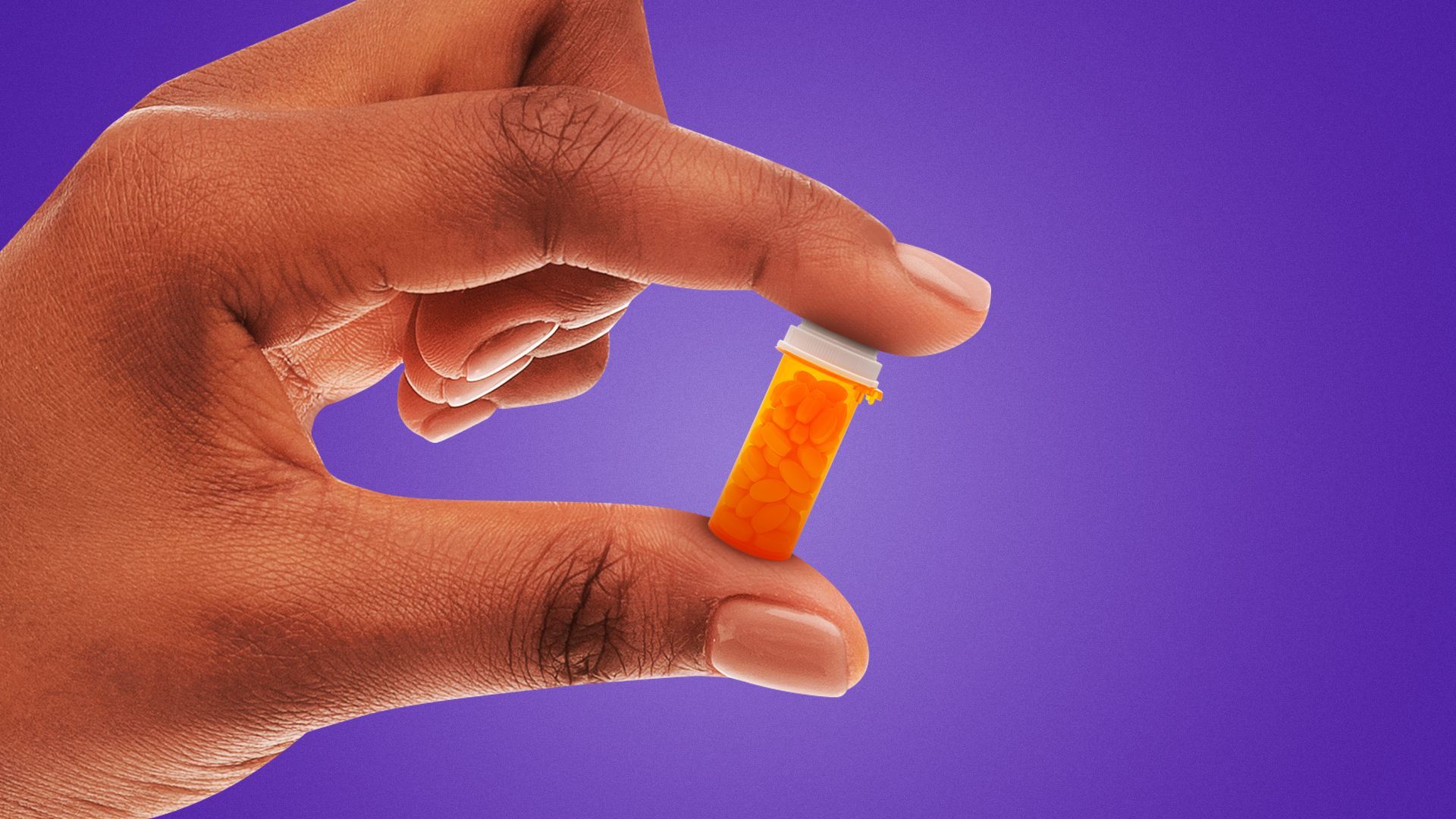 Depending on who you ask, the first-ever Medicare drug negotiations announced yesterday will either mean huge pocketbook relief for seniors or the demise of America's pharmaceutical industry — but the immediate impact will likely be relatively small, experts told Axios.
Why it matters: There are still questions about how the Biden administration will arrive at what it thinks is a fair price for the drugs and how much of the savings from lower prices will ultimately be passed on to seniors.
Constraints within the new law, existing discounts on many of these Medicare drugs, and fear of backlash if cuts are seen as unreasonably deep could mean a tempered rollout of the new negotiation scheme.
The big picture: The 10 drugs named by the Biden administration include some that cost Medicare the most money and combined cost $50 billion last year.
But that's before accounting for rebates already negotiated by Part D plans or pharmacy benefit managers, and many of these drugs come with manufacturer discounts well below their list price.
That means the negotiated price on several drugs may not end up being much, if at all, lower than what the government currently pays on net for them. That opens the door to inflated estimates of how much the law is saving Medicare, at least in the first year.
"In a lot of cases, we don't expect the negotiated price to go lower than even the net price today. I think this list is chock-full of highly rebated drugs," said Stacie Dusetzina, a drug pricing expert at Vanderbilt University Medical Center.
That could change with next year's negotiations, however. "It's possible you get a greater range of products that include things like cancer products, other protected class drugs, that actually need negotiations to push down the net prices that Medicare pays," she added.
In a statement bashing Medicare negotiations, PhRMA CEO Stephen Ubl noted that many of the drugs on the administration's list are already discounted "due to the robust private market negotiation" in Part D.
What they're saying: "As we have been saying since the Inflation Reduction Act first passed, we believe the sector-wide impact of the Inflation Reduction Act, including negotiation, on the pharmaceutical industry to be minimal," Raymond James analyst Chris Meekins wrote in an investor note yesterday.
"The areas where the price ceiling would have resulted in significant savings were excluded from the list," Meekins told Axios.
The negotiated prices for the drugs announced yesterday are set to take effect in 2026, but lawsuits from six drugmakers and two allied groups could delay or even prevent the law's implementation.
Between the lines: Government could reap greater savings from the program in the future, especially once Medicare starts negotiating the prices of drugs with fewer rebates, like the cancer drugs Xtandi and Ibrance.
The number of negotiated drugs will increase to 15 in the next two years of negotiations, followed by 20 drugs in the following years.
Inma Hernandez, a pharmaceutical researcher and professor at the University of California-San Diego, predicted there will be modest savings for the first 10 drugs, given their existing discounts.
"Once we're negotiating 20 drugs a year, I think savings are going to accrue," said Hernandez, who authored a paper estimating the minimum savings under the law in 2026. "That's going to be a sizable impact."
And part of the drug industry's fierce opposition to the law is based on its entirely reasonable fear that Democrats will seek to make it more aggressive — as they already proposed this summer.
Yes, but: The drug pricing law says Medicare must negotiate a minimum discount on drugs it selects, based on several factors. But Medicare could decide to push further, resulting in bigger savings.
The law also accounts for drugs that already are heavily rebated, meaning the negotiated prices won't end up being higher than the net price Medicare already pays.
"It is possible that they will look at what the statute says they have to look at, and come to various conclusions about these drugs. Some may be closer to the ceiling price, others may be further down," said John Barkett, a former Biden administration official who helped draft the Inflation Reduction Act.
Of note: Even if the negotiated prices don't ultimately translate to big savings for the federal government, they should still help out seniors, since their share of a drug's cost is based off the list price.
"Even if that's all that happens, that is a big win for patients who are filling drugs that are negotiated," Dusetzina said.
What we're watching: The administration will begin figuring out a proposed price for each drug, which will ultimately determine the level of government savings.
"One of the things that the law really requires us to look at is the clinical benefit of the drugs that we're negotiating. And we want to hear from patient groups to hear what their experience has been," CMS administrator Chiquita Brooks-LaSure told Axios' Maya Goldman. "That's going to be an important way that we value the drug relative to the other drugs that are in that same class."
Go deeper