Drugmakers, investors say they've already changed bets in IRA's first year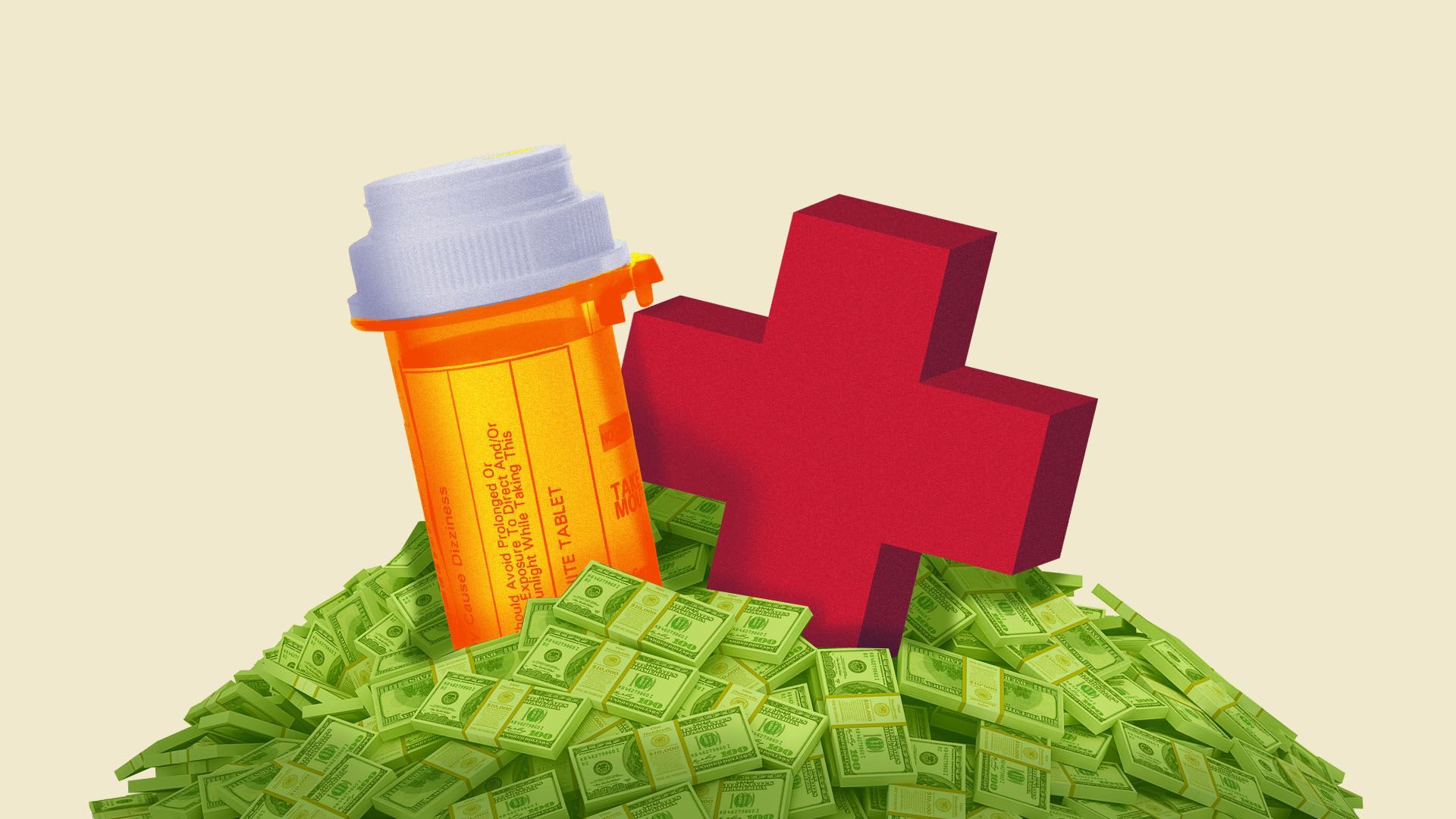 In the year since the passage of Democrats' drug pricing law, pharmaceutical companies and venture capitalists have shifted their priorities and placed less emphasis on developing synthetic drugs that will be subject to price negotiations faster than biologics.
The big picture: Pharmaceutical interests say it's proof that Democrats' signature health policy achievement is driving investment away from some mainstays of modern medicine.
It's an argument the industry and its allies are likely to amplify as the Biden administration gets set to reveal today the first 10 drugs subject to Medicare negotiations. But, in fact, some drugs likely up for negotiation are older products that will soon lose their market exclusivity.
Zoom in: The industry often refers to what it calls the IRA's "small molecule penalty" — the way in which the law exempts synthetic drugs from negotiation for nine years after they hit the market while giving more complex biologics 13 years.
"We're investors. Why on earth would you invest in something with nine years of returns when you could invest in 13?" John Stanford, executive director of Incubate Coalition, a venture capital advocacy organization, told Axios.
The negotiations introduce an unacceptable amount of risk into what's often an already risky R&D proposition, he said. "50% of a drug's revenues come in years nine to 13 ... so we're seeing money at the early stage flow away from small molecules towards biologics," Stanford said.
Catch up quick: Small molecule drugs account for 90% of the drugs on the market and include some of the most common medicines, like aspirin and amino acids. In contrast, large molecule drugs or biologics are biotech-developed drugs involving living organisms that are more complex and typically pricier.
"Small molecule products are less expensive because they're still less expensive to make and they're less expensive to administer [than biologics]," Michael Abrams, managing partner of the global healthcare consultancy Numerof & Associates told Axios. They are also typically delivered orally as pills while biologics are administered intravenously or via injection.
Between the lines: Industry experts say it's hard to quantify deals that don't get made or research that's deferred because of proprietary considerations.
In recent months, there have been a number of examples, such as Genentech's CEO telling STAT earlier this month about slowing research on drugs for smaller markets because of the IRA.
Novartis CEO Vas Narasimhan said the company dropped early-stage cancer drugs from its pipeline as a result of the risk of negotiations, Barron's reported in May. Eli Lilly confirmed in June it sidelined three drugs so far because of the IRA.
Boston-based RA Capital Management told biotech companies in its portfolio to switch to large molecule versions of their small molecule drugs, Peter Kolchinsky told the Boston Business Journal earlier this year.
"We can't justify funding the small-molecule version," Kolchinsky told the BBJ.
What they're saying: Executives of drug companies with products already on the market say it no longer makes sense to perform ongoing studies on additional uses of their drugs because the price may be locked by the time their evidence is available, John O'Brien, CEO of the National Pharmaceutical Council told Axios.
Others are reconsidering some drugs for small patient populations until they can be certain they will pay for themselves.
"Nobody wants to have to be out there and say, 'We're no longer going to invest in this product because we only have so many years now,'" O'Brien said. "It's a hard position to take publicly which is why it's such a big deal that some of these companies have said this."
Reality check: While sweeping theoretical arguments have been made about the damage, it's too early to fully assess the IRA's real-world impact.
The Congressional Budget Office projected a limited impact of the IRA on drug innovation in the U.S.
The congressional scorekeepers estimated that the provisions related to prescription drugs would reduce the deficit by $237 billion from 2022 to 2031 and result in two fewer drugs introduced in the next decade and about eight fewer drugs in the decade after that. Critics of Medicare negotiations have questioned the reliability of CBO's projection.
Meanwhile, the Brookings Institution has pointed to record investments in drug company research and development, as well as upbeat quarterly reports from pharma companies this year.
What to watch: Once the list of drugs subject to negotiation is out, the companies that have signed agreements to participate in the negotiation will have one month to submit data to CMS for consideration of a maximum fair price.
The negotiated prices are supposed to take effect in January 2026.
But that timeline could change as the drug industry and its allies press several lawsuits that seek to slow the implementation of the law and kill the negotiations.
Go deeper