Biden set to name first 10 drugs subject to Medicare negotiations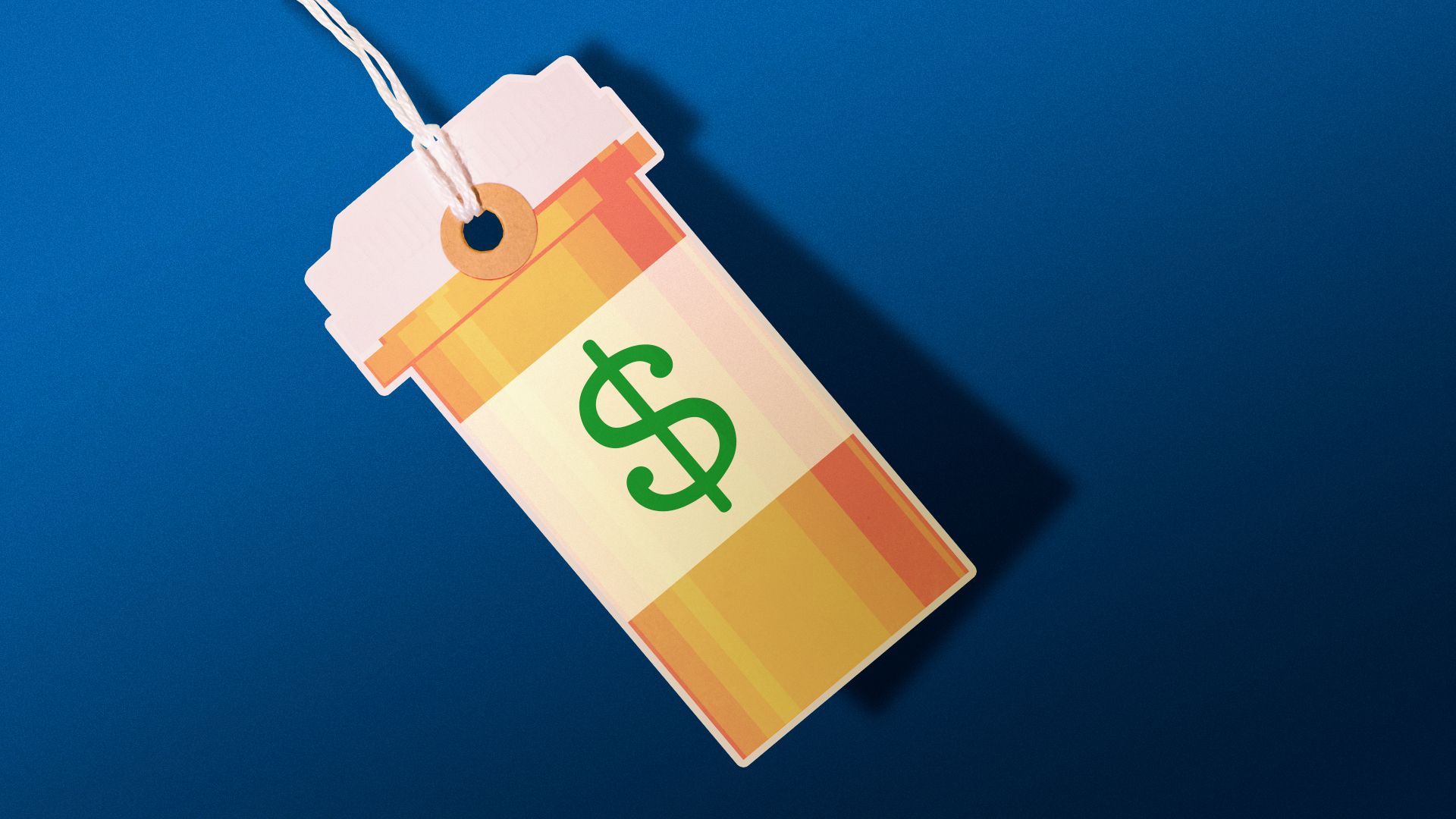 The Biden administration is set to announce the first batch of prescription drugs that will be subject to new price negotiations with Medicare, kicking off formal discussions with drugmakers who are fiercely challenging the effort.
Why it matters: The upcoming announcement marks a major milestone in Democrats' decades-long push to lower drug prices by leveraging the government's purchasing power.
The hard-earned and rare victory against the pharmaceutical industry is expected to play prominently in President Biden's re-election messaging, even as the negotiations face an array of legal challenges from drugmakers.
State of play: Medicare is preparing to release a list of the first 10 drugs up for negotiation on Tuesday morning before the stock market opens, and a White House event is planned for the afternoon, per Politico.
Industry experts expect the list will include some widely prescribed medicines from leading drugmakers, like the blood thinner Eliquis from Bristol Myers Squibb and Pfizer, Merck's diabetes medication Januvia, and Johnson & Johnson's blood thinner, Xarelto.
Health officials must choose the medicines from among the 50 with the highest total spending in Medicare's prescription drug program, Part D, according to the negotiation process laid out by last year's major economic legislation, the Inflation Reduction Act.
The Centers for Medicare and Medicaid Services, which will lead the process, can account for certain factors during negotiations, like research and development costs, production and distribution costs and how drugs stack up against existing alternatives.
Certain drugs are exempt, like those that are the only one approved for a rare disease or condition.
Medicare will eventually have the ability to negotiate 20 drugs per year.
What they're saying: Medicare enrollees won't feel the effects of negotiated prices for just over two more years. But Democrats are taking a victory lap to celebrate an idea that's broadly popular with the public, while drawing a contrast with Republicans and drugmakers, who say it will hurt development of new treatments.
"House Democrats have been in this fight for a long, long time," Rep. Nancy Pelosi, former House speaker, said in a statement to Axios. "Our Inflation Reduction Act marks a monumental victory in this effort: at long last, Medicare now has the power to negotiate lower prices for prescription drugs."
The announcement of the first drugs subject to price negotiation is the result of more than three decades of political effort against one of Washington's most powerful lobbies.
"It signifies that where others have failed, [the previous] Congress and this president managed to succeed," said Duane Wright, a senior research analyst at Bloomberg.
The drug industry has intensified criticisms of the negotiation process as its formal start approaches. The trade group PhRMA, which is among those challenging negotiations in court, called it an "arbitrary and politicized process being launched under an extremely compressed timetable" in a recent blog post.
Meanwhile, those struggling to afford medicines said they see this week's announcement as an important step.
"The fact that Xarelto may be on the first list of drugs to be negotiated gives me so much relief," Medicare beneficiary Ellen Farmer told reporters last week on a call organized by AARP.
Farmer said she's been taking Xarelto for close to 15 years. Her original co-pay for the drug was $1,000 per month, though she's since been able to qualify for Medicare's low-income subsidy program to make the prescription more affordable, she said.
What's next: Drug companies on the government's list have until Oct. 1 to decide whether to participate in negotiations, setting off a process that will last for nearly a year.
Manufacturers that refuse to participate face an excise tax of up to 95% of their U.S. sales, or they can withdraw their drugs from Medicare and Medicaid coverage.
CMS will publish the maximum prices for the drugs by Sept. 1, 2024, and those prices become effective Jan. 1, 2026.
Those prices won't be extended to other coverage, like employer health plans.
The Congressional Budget Office estimates that negotiations will drive down average drug prices in Part D by 8% in 2031.
Yes, but: The negotiations could be delayed or derailed if drugmakers are successful in their court challenges.
Drugmakers and their allies have filed at least eight lawsuits aiming to halt the negotiation process, with AstraZeneca filing the most recent challenge on Friday.
The challenges, filed in courts across the country, claim that the negotiations violate several provisions of the Constitution, and the program could eventually wind up at a Supreme Court that's skeptical of regulation.
This week's announcement could spur additional lawsuits from drugmakers, said Bloomberg's Wright.
Go deeper