Social media algorithms fuel rise in public apologies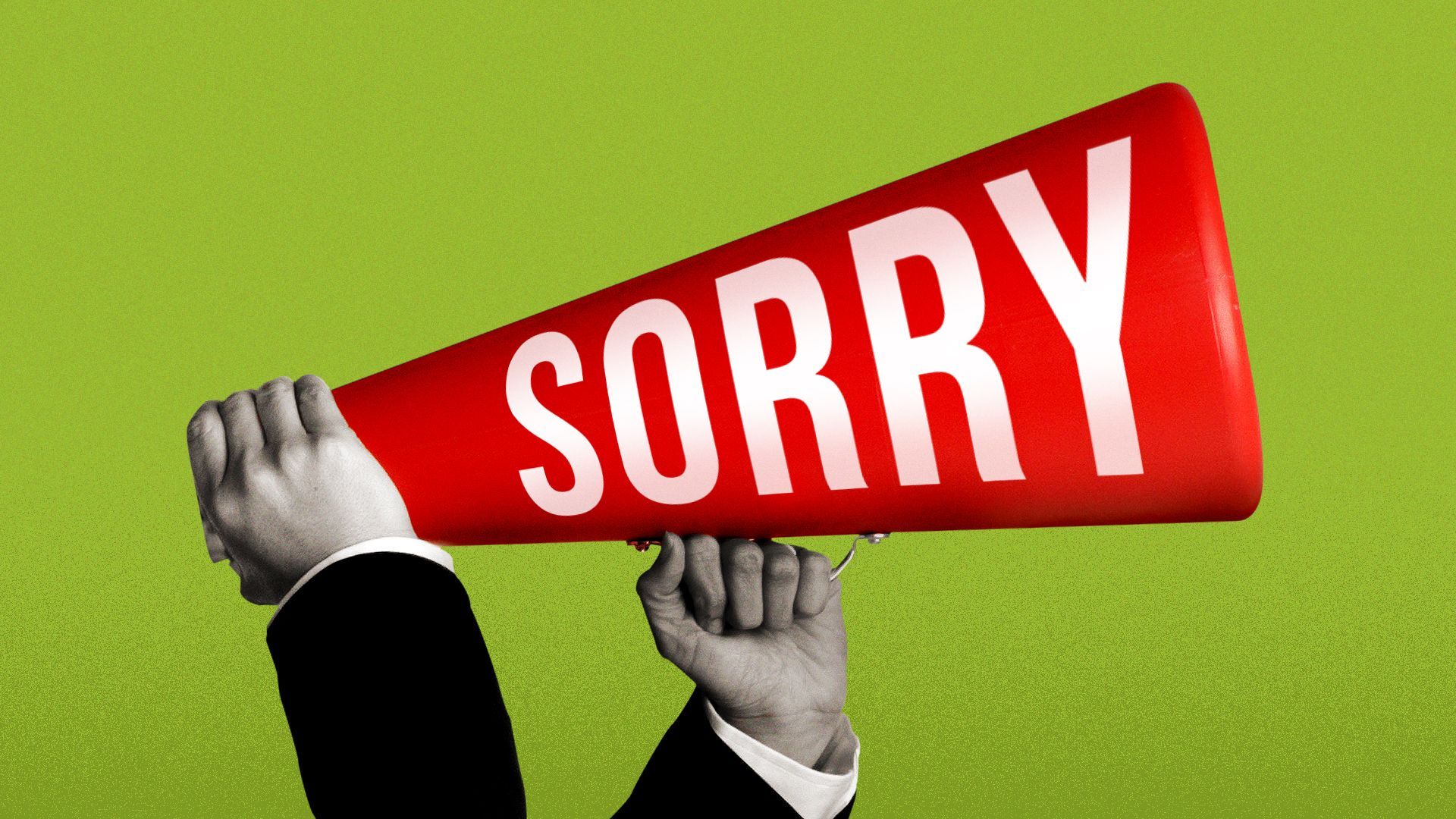 There has been a steady stream of public apologies coming from major beer brands, reality TV stars, tone-deaf bosses and even private individuals who go viral during their worst moments.
Why it matters: Social media algorithms fuel negative commentary, which can create a greater need for quick, clear apologies or explanations.
State of play: Social media firestorms can envelop brands and companies quickly, says crisis communications expert Molly McPherson.
"Suddenly they are a search term and a talking point that is shareable. When all of these things happen at once, you have a combustible social media inferno on your hands."
By the numbers: Since the beginnings of social media, the correlation between what's read and what's posted has been noted.
A 2014 study from Proceedings of the National Academy of Sciences — which predates TikTok's highly personalized algorithms — found that social media users who "had seen mostly negative content produced more negative posts and fewer positive posts."
In short, haters gonna hate and their hate can generate a pile-on, so what the offender does next is important.
"That's why more people need to be prepared to quickly issue explanations, apologies or acknowledgments," says McPherson. "If there's a lack of an apology, there will be retribution and people will deem the lack of apology as yet another grievance, so they'll need to apologize even more."
Yes, but: "Bad apologies almost always make matters worse," says Marjorie Ingall, co-author of "Sorry, Sorry, Sorry: The Case for Good Apologies."
"If you are not sorry, you should not apologize because you're going to make things so much worse for yourself if you apologize badly."
Zoom in: The researchers at Public Apology Central examined 1,688 public apologies from the last 70 years and found that admitting fault, asking for forgiveness and deflecting with good deeds are the most common threads in an apology.
And while there's no one-size-fits-all apology, there are several best practices.
✅ Do: Explicitly use the words "I apologize for ..." or "I am sorry for ..." and spell out what the offense was.

"A lot of brands and celebrities will say, 'I'd like to apologize...' then, just do it. Or the line 'We regret ...' — but a regret is about how you feel, while an apology is about how somebody else feels," says Ingall.

❌ Don't hide behind the words of a publicist or spokesperson. The apology should feel authentic and true to the individual at fault.
✅ Do: Pull back the curtain and show that you understand what went wrong, then listen and let others process the incident.
✅ Do: Anticipate potential follow-up questions and prepare to address them head-on.
❌ Don't shift blame or make excuses.
❌ Don't use a passive voice ("I'm sorry your ball is lost" vs. "I'm sorry I lost your ball") because it dodges responsibility.
✅ Do: Temporarily suspend all other communication channels, including social media and email marketing, until a formal apology has been shared.
❌ Don't prioritize timeliness over thoughtfulness.

"People need time to think about a bad thing that happened, whether you are the recipient of the bad thing or the doer of the bad thing," says Ingall. "When people have time to sit with what happened, apologies are more likely to be accepted."
Plus: "There's no such thing as being too late to apologize," says Sarah Brown, founder of Brighton Media. "But make sure you have all of the facts and are very clear on what actually transpired before issuing an apology."

✅ Do: Explain the corrective measures that are being taken and offer to repair any damages, if necessary.

❌ Yes, but: Don't make promises you cant keep and be sure to report back with any progress.

✅ Do: Show empathy to the parties that suffered and speak to them directly.

❌ Don't let them hear about it through the grapevine or read about it in the news. Know your audiences and plan the cadence accordingly.

❌ Don't issue an apology if you're not actually sorry.

Half apologies that don't convey genuine remorse will only lead to more reputational damage.

✅ Do: Take the long view.

"In a crisis, make decisions that align with your long-term reputation and business goals. That might mean taking a few bruises in the short term," says Stacey Zolt Hara, head of global corporate affairs for Airwallex.
The bottom line: "The crime is often not the crisis itself — it's the response to the crisis," says Zolt Hara.
"When leaders get the response wrong, that's when the wheels come off the reputation wagon. Trust is often best built from places of extreme vulnerability, and there's real power to be regained in simply saying, "I'm sorry."
Go deeper