Debate spat reflects divide in GOP over Ukraine aid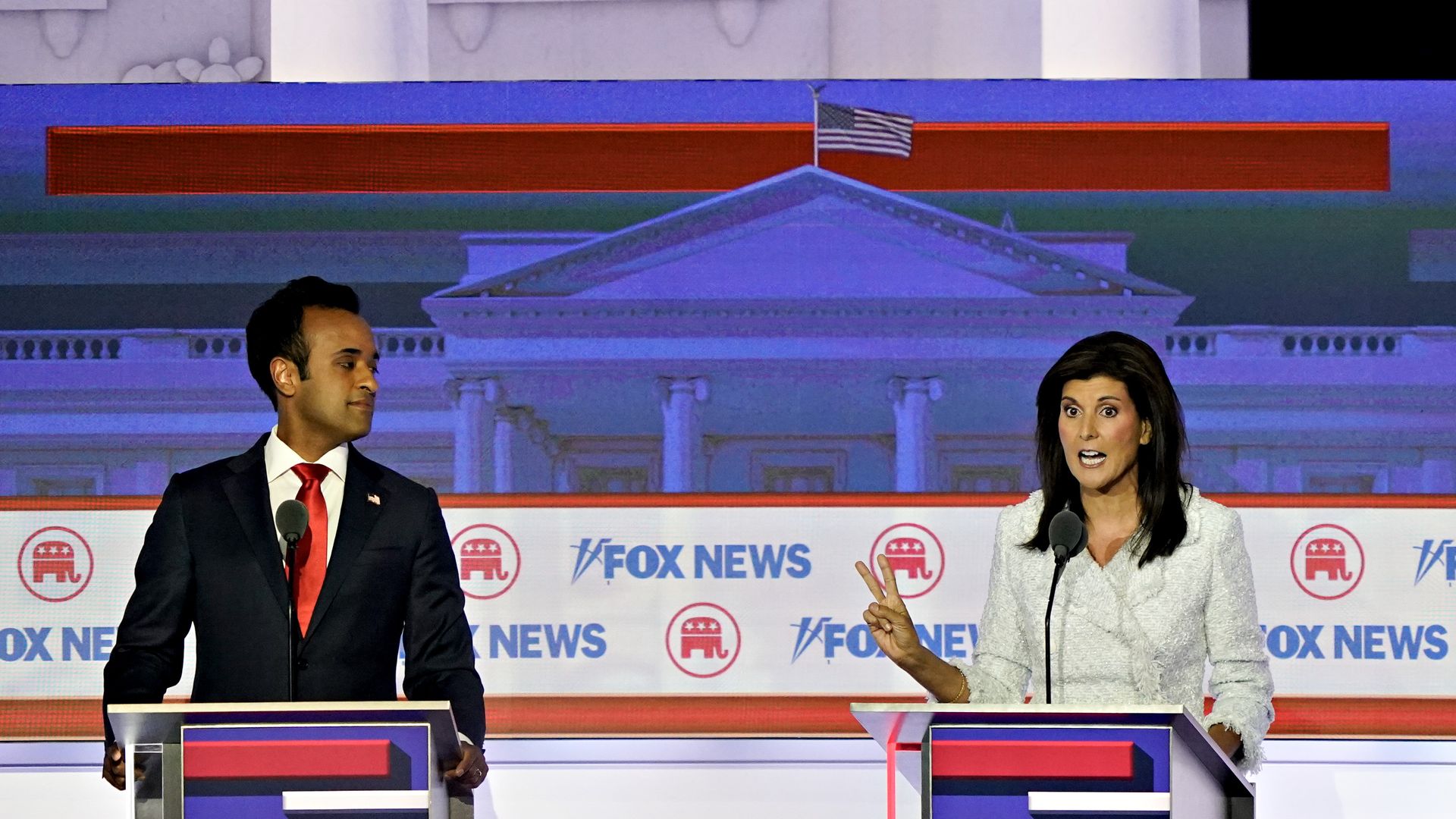 U.S. military aid to Ukraine was the focus of one of the most heated exchanges during Wednesday's GOP presidential debate, in a scene that reflected how the issue is dividing many Republicans.
Why it matters: The exchange involving Vivek Ramaswamy, Nikki Haley, Mike Pence, Ron DeSantis and Chris Christie reflected why the government in Kyiv and U.S. allies in Europe are concerned about a Republican winning the presidency next year.
Ramaswamy was a hard "no" on continuing U.S. aid to help Ukraine fight off Russia's invasion, while DeSantis expressed skepticism.
Haley, Pence and Christie vigorously defended the aid as crucial to the security of NATO and the U.S., and to prevent Russian President Vladamir Putin from aggressively moving on other European nations.
Haley, a former UN ambassador in the Trump administration, also blasted Ramaswamy while saying a Russian victory in Ukraine would enhance a Russia-China alliance.
Ukraine is a "pro-American country that was invaded by a thug," Haley told Ramaswamy, an entrepreneur with no previous political experience. "You will make America less safe. You have no foreign policy experience and it shows."
Ukraine and European allies of the U.S. are concerned that a growing number of Republicans on Capitol Hill — and former President Trump, the frontrunner in the GOP race who skipped the debate — are questioning whether the U.S. should continue sending military aid to Ukraine.
Those countries worry that a stoppage in U.S. aid could jeopardize efforts to repel Russia's invasion.
Driving the news: The war in Ukraine dominated the foreign policy part of the debate, during which the candidates also sparred over the threat of China, support for Israel and the flow of undocumented immigrants crossing the southwest border.
When the candidates were asked whether they would support stopping aid to Ukraine if they were elected, Ramaswamy quickly raised his hand and said he wouldn't give more aid.
DeSantis, Florida's governor, didn't say he would stop aid but stressed that if were president any U.S. support to Ukraine would be contingent on European countries increasing their support to Kyiv.
DeSantis said his priority would be to send troops to the southern border instead of sending money to Ukraine.
Ramaswamy then attacked several of the other candidates for traveling to Ukraine to meet President Volodymyr Zelensky, whom he referred to as "their pope."
He said he'd send U.S. troops to defend the southern border but not to take deal with the invasion of another country, an isolationist view of many far-right Republicans.
The other side: Pence, the former vice president, called Putin "a dictator and a murderer" and said that if the U.S. followed Ramaswamy's plan it wouldn't be long before Putin invaded a NATO country, which would compel the U.S. to join the war.
Haley also focused on Ramaswamy's previous suggestions that the U.S. should curtail aid to Israel: "He wants to stop aid to Israel," she said. "You don't do this to friends."
Go deeper