Why a labor union has so much power in the bidding war for U.S. Steel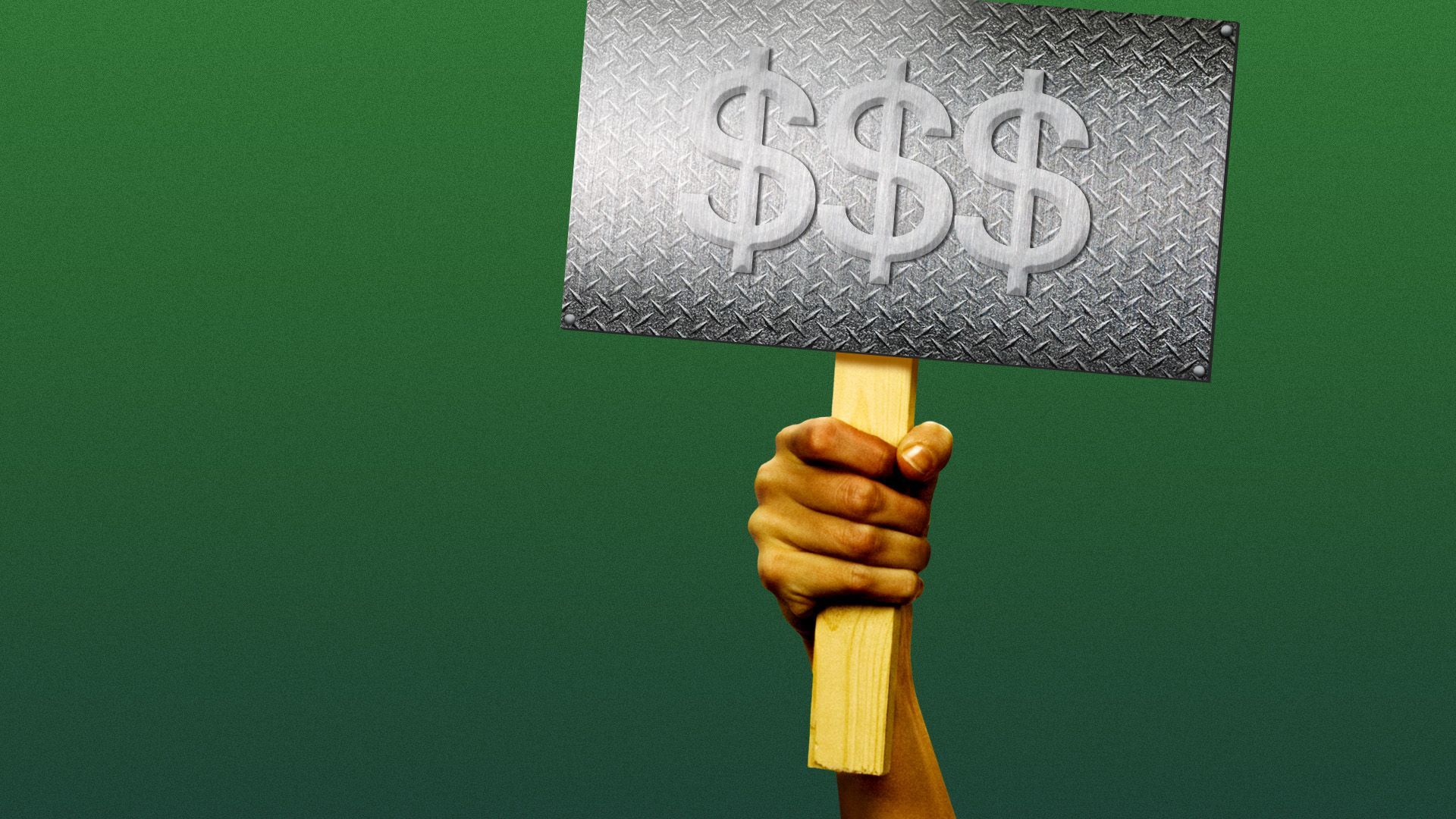 A bidding war for U.S. Steel is heating up and one player in particular holds enormous sway: the steelworkers union.
The big picture: Strong provisions in the union's contract give it a surprising amount of power to influence who buys the iconic American company.
Catch up fast: Last week, U.S. Steel rejected a $7.25 billion cash-and-stock takeover offer from competitor Cleveland-Cliffs, a producer that, like U.S. Steel, has been around for more than 100 years.
U.S. Steel instead kicked off a review of "strategic alternatives" — that's deal-speak for a formal auction process — saying it had received multiple unsolicited proposals.
Esmark, a privately held company involved in the steel and oil and gas industries, said it too had made an offer, at $7.8 billion all-cash. Esmark is a nonunion shop.
ArcelorMittal, the second-largest steelmaker in the world, is also reportedly considering a bid.
State of play: Under its contract with U.S. Steel, the United Steelworkers union has a right to bid for the company if it's in play, which it now is. But instead of the union making an offer to buy U.S. Steel, it transferred its rights to Cleveland-Cliffs, a company whose employees are also represented by the USW.
"We have a very good relationship with the United Steelworkers, which we believe provides Cliffs with a unique position to facilitate the smooth execution of the Transaction," Cleveland-Cliffs CEO Lourenco Goncalves said in his initial offer letter back in July.
"The USW will not endorse anyone other than Cliffs for such a transaction," the union, which represents 11,000 U.S. Steel workers, said in a letter last week.
The intrigue: The contract does not obligate U.S. Steel to take the union's offer, but there is a question over whether the steelworkers can veto other potential buyers, as Axios' Dan Primack has reported. The union argues it has a de facto veto — a claim U.S. Steel disputes.
The issue is one that's likely to head to arbitration and even perhaps play out in the courts.
In the meantime, it means that the union has the potential to gum up U.S. Steel's dealmaking mojo.
What they're saying: In the past, the union has preferred having two major unionized steel producers, said Michelle Applebaum, a longtime steel analyst. So their support for consolidation is "meaningful."
These are "really strong contractual rights," said Anne Lofaso, a labor law professor at West Virginia University College of Law. That could translate to the union taking legal action seeking to temporarily block any deal they don't approve of.
"U.S. Steel gave up their right to unilaterally close the deal without talking to the union," she said. "Now they have to talk to the union and deal with delay." That's going to cost "real money," she said.
Go deeper: A century ago, the U.S. didn't want a steel king — but now, maybe?
Go deeper