Why music catalogs are booming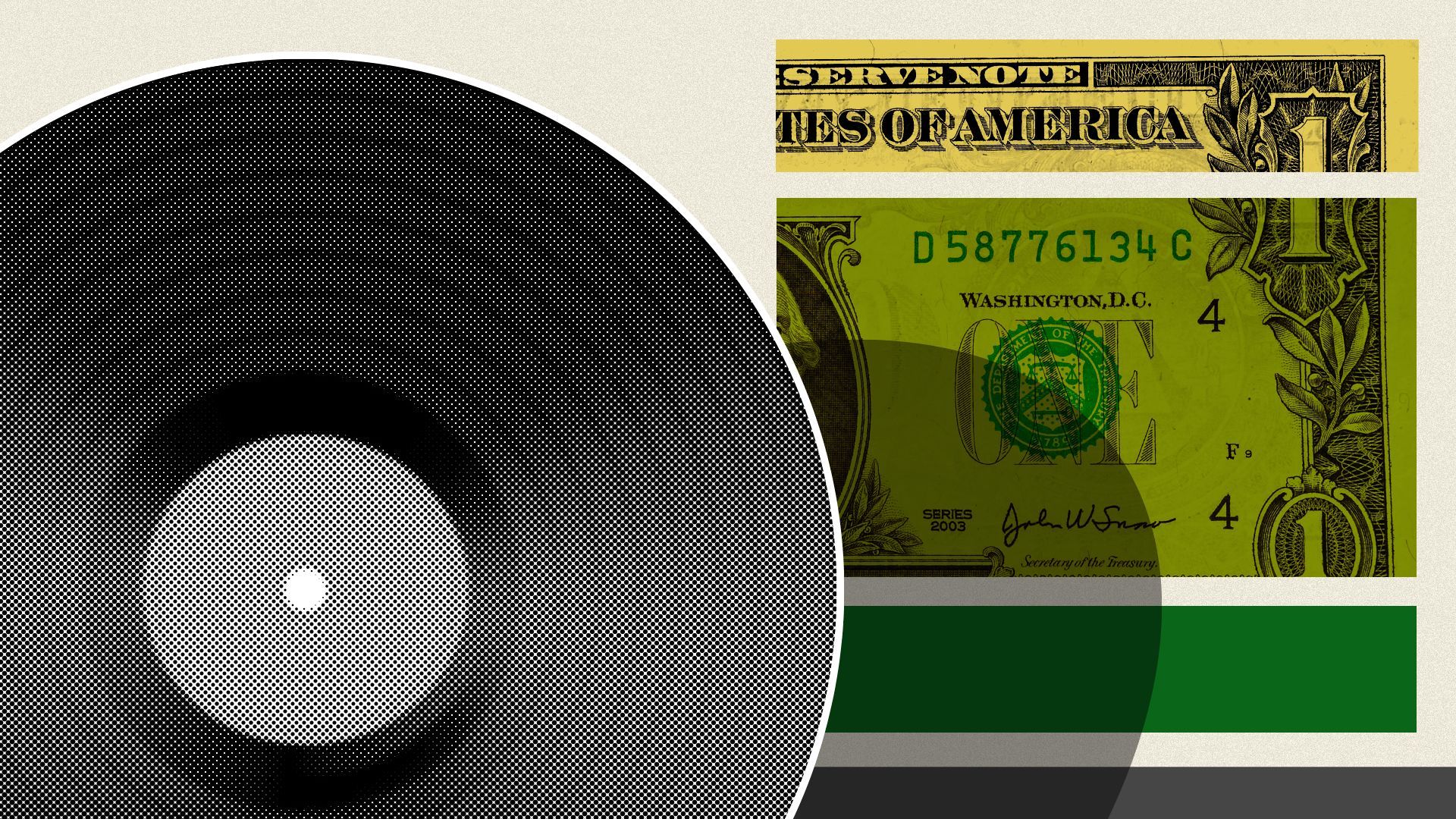 Like much of the investing world, the boom in catalog sales — and ballooning prices across the board — during the height of the pandemic was caused by a flood of both new capital and top-tier sellers.
Why it matters: While elite music artists will continue to command top dollars, the market has since moderated.
The big picture: In 2021, more than $5 billion was spent on music rights acquisitions, according to an estimate by Music Business Worldwide.
2021 catalog sales include Bruce Springsteen, Tina Turner, and Paul Simon.
Last year, David Bowie, Sting, Nancy Wilson, and Neil Diamond, among others, sold their catalogs.
"I think it's the investment community, the money, waking up to the fact that music is one of [America's] strongest national assets," music attorney Lisa Alter recently told Axios Pro's Kerry Flynn.
To get better insight into trends driving the scene, I spoke with Patrick Russo and Jason Sklar, partners at Shamrock Capital, an L.A.-based music and entertainment firm with over $4 billion in assets. Some highlights from our conversation:
Price gap: "There isn't a one-size-fits-all in talking about multiples because there's always been a disparity between — we'll call 'the iconics' — and then everything kind of below that," says Sklar.
"And so I still say there's a vibrant ecosystem of buyers and sellers right now, and so that continues. But you're not seeing as many of those 'iconics' in the press, in 2023, maybe as it was in 2021," he adds.
Different business models: "We fundamentally believe in the long-term value of content, and the risk-return profile of acquiring assets or cash-flow streams that generate uncorrelated yield to our investors," says Russo.
"We're not in the business of amalgamating up these rights, and selling them off in a couple of years."
"Compare that to funds that are being set up to buy smaller investments, or catalogs or music rights and amalgamate them in an effort to consolidate, bring scale, and ultimately to transact in shorter time periods," adds Sklar.
Market impact: While interest rates and macro trends affect the overall market, Sklar cautions that things work differently for iconic music artists, who can command premium prices. There's not a direct effect on the recent slowdown in elite catalog sales.
"This is such a personal decision, this is your life's work, and everyone's going to view that in a different light and sensibility — and so ultimately it becomes a very personal decision," he adds.
Quantifying the vibes: "We focus on acquiring what we define as premium content," says Russo.
"That's part of our internal debate and discussion and perspective," he explains.
"Right now, someone who's in their 50s might think that a certain artist is a ["Greatest Of All Time (GOAT)] for them, which may be different than what a 26-year-old on our team might think is a GOAT. [...] Is [the content] relevant today, and [will it] be relevant 30 years from now?"
But of course, there are also more quantifiable factors that go into assessing and pricing a catalog, such as the number of songs, the genres, streaming revenue, and so on.
The intrigue: The market appears to be picking back up, according to a number of industry reports, so expect more deal headlines on the topics.
Go deeper