Why Blue Shield of California ditching CVS could upend drug plans nationwide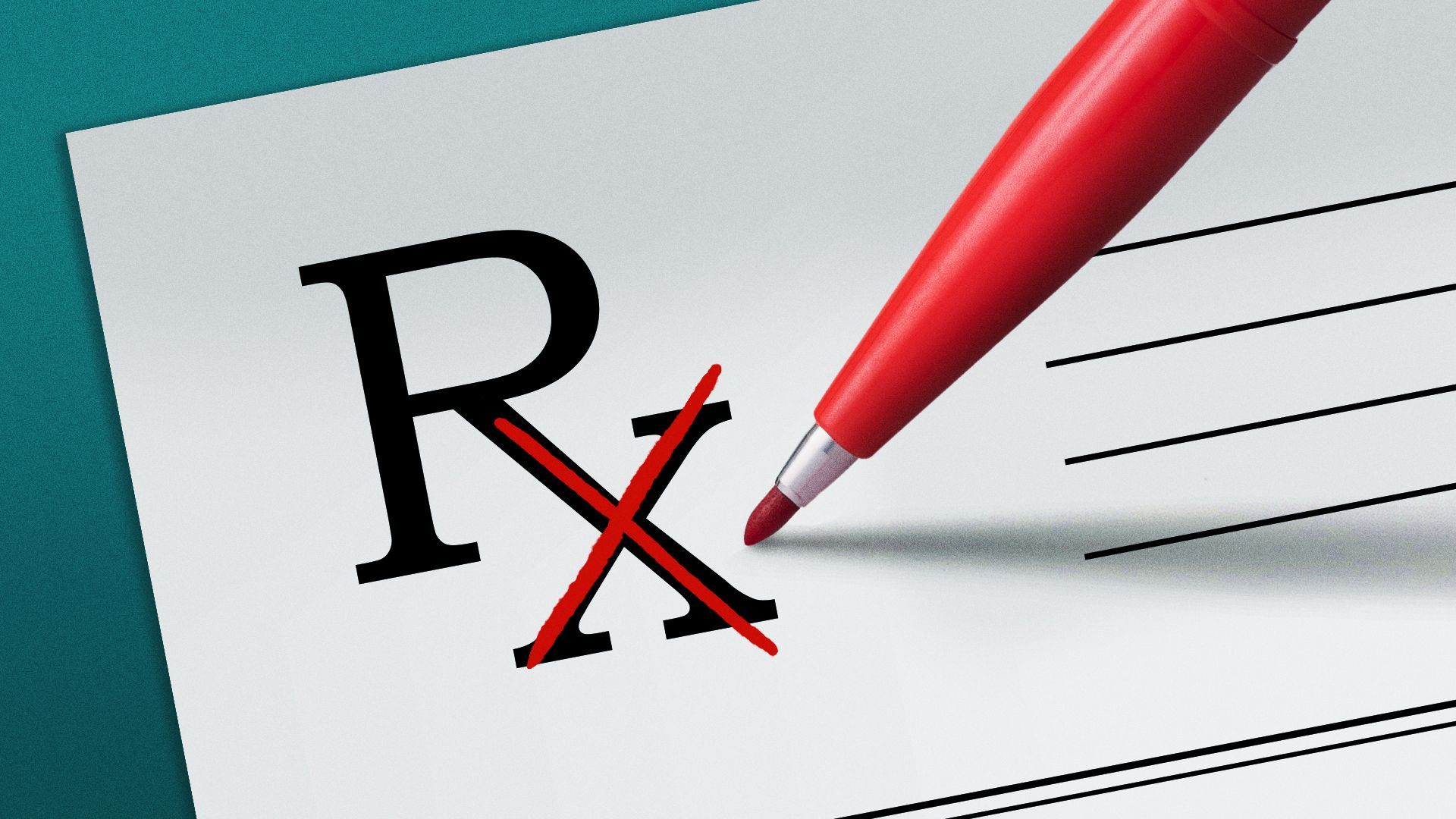 Blue Shield of California may have upended the status quo for prescription drug plans on Thursday by dropping CVS Caremark as its sole pharmacy benefit manager and shifting some business to Amazon and Mark Cuban's drug company.
Why it matters: The nonprofit insurer's move came as PBMs face more scrutiny from the Federal Trade Commission and Congress over their role in rising drug prices — and sent top industry players' shares tumbling.
PBMs negotiate prices with drug companies and help insurers decide which drugs are covered. Three players, CVS Caremark, UnitedHealth's Optum Rx, and Cigna's Express Scripts, control about 80% of the market.
Driving the news: Blue Shield of California said it expects to save $500 million a year starting in 2025 by restructuring its pharmacy benefits and leaving CVS only in charge of specialty drugs for its nearly 5 million subscribers.
Paul Markovich, CEO of Blue Shield of California, said the decision was partly driven by CVS' hesitancy earlier this year to cover a cheaper generic version of Johnson & Johnson's prostate cancer drug Zytiga.
CVS saw its shares plummet nearly 10% for much of Thursday on the news before ending the day down about 8%. UnitedHealth Group's shares dropped about 2% and Cigna's fell 6%.
"That's a signal that the market believes this could be an indicator of things to come," Peter Bonis, chief medical officer at Wolters Kluwer Health told Axios.
"No one in their right mind would want to go after that kind of operational complexity and change unless it was a very compelling business proposition," he said. "That's the claim they're making."
Yes, but: Some analysts question if Blue Shield's shift to multiple vendors will actually pay off, in a notoriously complex drug supply chain with competing interests.
"We're skeptical this approach is sophisticated enough and practical, yet it bears watching," Bloomberg Intelligence analysts Jonathan Palmer and Jordan Dahan wrote, per Bloomberg News.
What they're saying: Markovich told Axios the current pharmacy system is expensive, complex and has distorted financial incentives.
Critics say PBMs keep too much of the discounts they negotiate and steer patients to costlier drugs to boost the rebates they get, or otherwise benefit their own bottom lines.
"It is irretrievably flawed. We're eliminating it and starting from scratch," he said.
Markovich said his company struck a deal with Civica Rx earlier this year to get the generic prostate drug abiraterone for about $160 a month.
That was down from the $3,000 it was previously paying for the J&J drug, but he said it took Blue Shield five months to convince CVS to pay for the generic.
"It's not hard to figure out why. They make more money with that [more expensive] drug," Markovich said.
The other side: In an SEC filing, CVS said the partial termination of its Blue Shield contract isn't expected to affect its 2023 financial guidance or materially change its longer-term outlook. The company noted that specialty drugs, the portion of the Blue Shield business it's retaining, represent about 50% of spending in the marketplace.
"The market is demonstrating that there is ample competition among PBMs with over 73 pharmacy benefit companies operating in the U.S.," PBM industry group Pharmaceutical Care Management Association said in a statement to Axios.
Between the lines: Payers will be closely watching if Blue Cross can spin a seamless collaboration of five different partners that lowers costs.
Under the plan, a midsized PBM called Prime Therapeutics will negotiate with manufacturers for brand-name drugs, while Mark Cuban's Cost Plus Drugs will establish a transparent pricing model for generics.
Abarca will pay prescription drug claims and Amazon Pharmacy will provide drug delivery.
"I just can't imagine all the operational considerations that will be facing their members, their internal operations, and their partners. My guess is it's going to end up being bumpy," Bonis said.
"Many in the industry will likely be watching this situation closely as managing the five partnerships could prove tricky," Elizabeth Anderson of Evercore ISI wrote in a note to investors about the move. "But if BS of CA is successful, we could see additional regionals move more in a similar direction."
Zoom in: The payers with the most interest in following Blue Cross' lead could be self-insured employers, who partner with insurers and PBMs to manage their health care services.
Thursday's selloff may be an overreaction by the market, Rob Andrews of Health Transformation Alliance, a cooperative of self-insured employers like Coca-Cola and American Express, told Axios.
He pointed to Prime Therapeutics' role in the deal as an example. "Is that really going to be any different than what CVS does?" Andrews said. "The concern I guess I would have is that Prime Therapeutics doesn't have market power anywhere close to what CVS has."
Self-insured employers will have lots of questions, such as whether this ultimately leads to paying for outcomes versus how many pills they buy, Andrews said. "The present system doesn't do a great job of that."
The big question is how much this experiment will actually change any of that, he said.
Go deeper: Scrutiny over drug costs shifts to pharmacy benefit managers
Editor's note: This story has been corrected to reflect that Rob Andrews is with Health Transformation Alliance (not Healthcare Transformation Alliance).
Go deeper