How WeWork finally arrived at the brink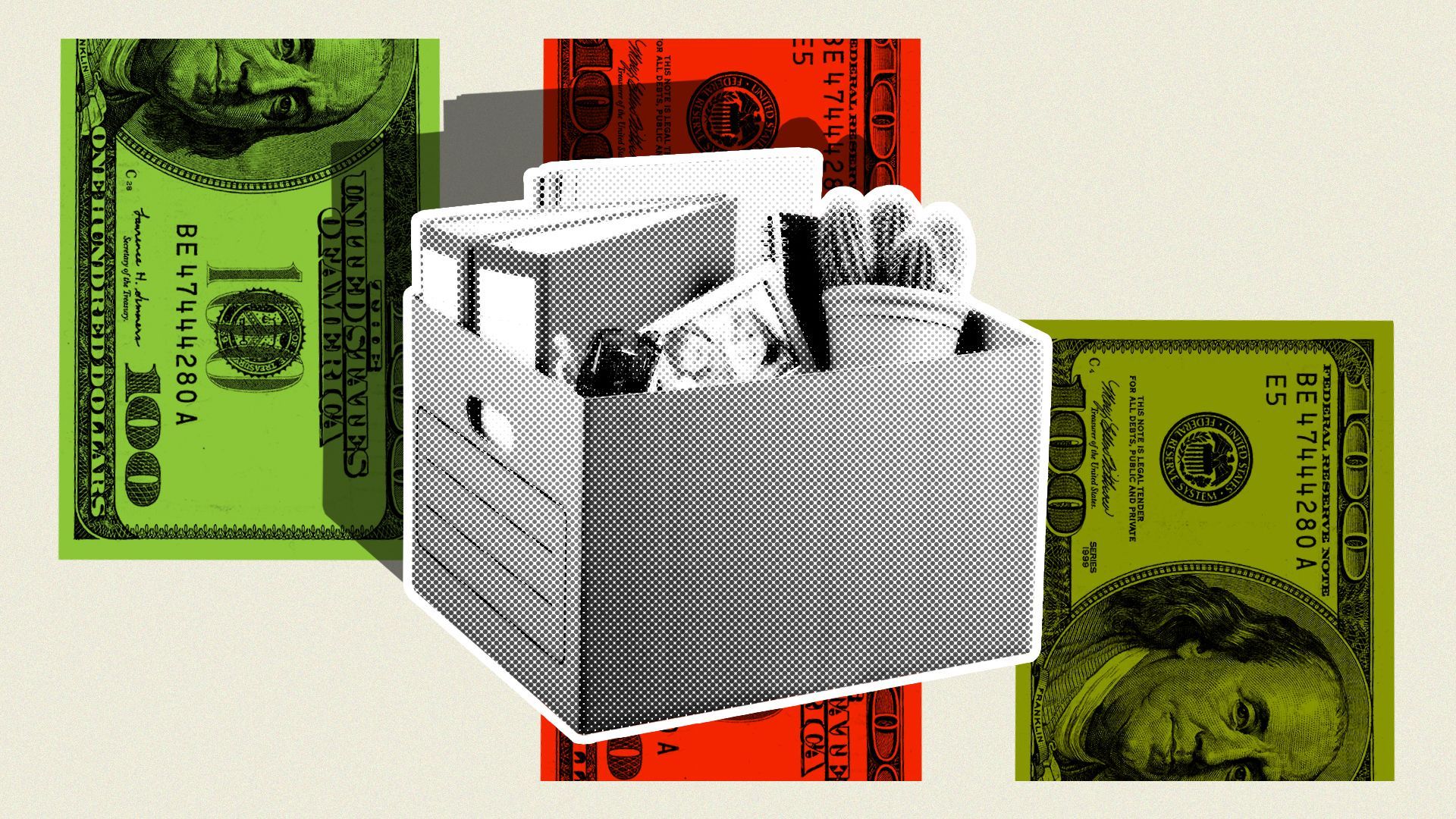 The pandemic at one point seemed like a boon to embattled coworking company WeWork, as it exponentially increased corporate America's desire for flexible office arrangements.
Yes, but: WeWork's challenges now appear to have been so fundamental that not even a widespread shift in office needs could fix them, even as similar companies have taken advantage of the circumstances.
Driving the news: On Tuesday, WeWork disclosed that "substantial doubt exists about [its] ability to continue as a going concern, [which is] contingent upon successful execution of management's plan to improve liquidity and profitability over the next 12 months."
Vivek Ranadivé, whose special purpose acquisition company merged with WeWork in 2021 to take the company public, resigned from its board this week, along with Daniel Hurwitz and Véronique Laury.
Reached by phone on Friday, Ranadivé told Axios that his view is still that "it's perfect product-market-fit," but declined to elaborate on the disagreements he and the other independent directors had with the board, as noted in a regulatory filing.
Flashback: At the height of its notoriety, WeWork was seen as a poster child of mismanagement and founder excesses. Its initial public offering plans were shelved amid the company's messy breakup with founder and CEO Adam Neumann.
Since then, it's tried to refashion itself into a more disciplined business.
"I think the race is, 'is this company going to run out of money first or is it gonna become cash flow positive first?'" Ranadivé explained in an interview at Axios' BFD event in May. He added that the company's recent fundraising has taken care of the situation.
But, but, but: That hasn't been enough.
Specifically, a number of building leases WeWork signed at the top of the market are now squeezing the company's financing, a source points to Axios, echoing Ranadivé's May comments.
Today, its stock is trading at about $0.21, down from $11.78 on its first day of trading in October 2021.
The big picture: "This is definitely the strongest performance in the history of the company," Jamie Hodari, founder of Industrious, tells my colleague Javier E. David. (Disclosure: Axios' New York City office is housed in an Industrious coworking space)
"Our revenue has tripled since 2019, and our current revenue growth rate is between 35-40%," he adds.
Meanwhile, IWG (Regus' parent company) posted strong results earlier this week, with a 48% growth in half-year adjusted core profit. It's expected to break even in 2023 after three straight years of losses, thanks to aggressive de-leveraging and the ongoing shift to hybrid and remote work.
The bottom line: Even being the most iconic coworking brand might not be enough to overcome a history of missteps.
Go deeper