Nikki Haley "not worried" about Trump's dominant polling lead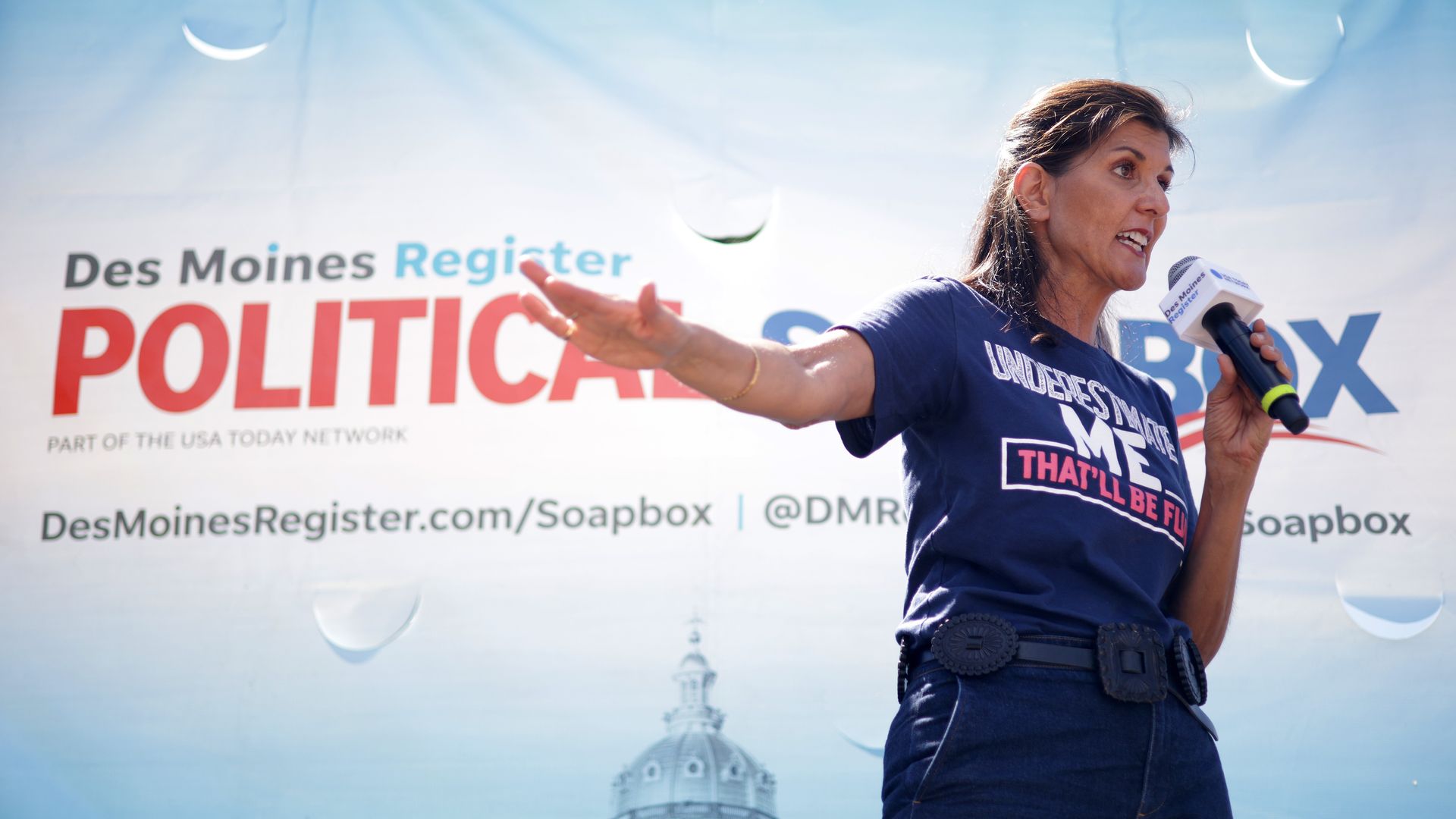 HUDSON, N.H. — Axios sat down with former UN Ambassador Nikki Haley on Tuesday at a VFW hall here to discuss the state of the presidential race, her differences with former President Trump and what she hopes to accomplish at the GOP debate on Aug. 23.
Why it matters: There's no sign that Trump's legal troubles — which could peak with a staggering fourth indictment in Georgia this week — have done anything but strengthen his iron grip on the GOP base. But Haley says she isn't concerned — and believes the real race will begin after the debate.
Excerpts from the conversation:
Haley on drawing sharper contrasts with Trump: "The media just wants us to punch Trump. They do, and I will tell you if you ask me about policy differences, I'm happy to talk policy differences. If you want me to pick a personal fight with him, I have no reason to."
"You know, I had a great working relationship with him in the administration. Do we differ on policies? Yeah, we do. If that comes up, I'm happy to say it. But I'm not Trump-obsessed. I'm just not. I don't think you have to punch him all the time. I think there will be a time and place where we have disagreements and that'll play out. But I just don't think that our job is to go and give media more fodder and create a frenzy just because that's what's going to get your attention."
On her biggest policy differences with Trump: "He thinks Jan. 6 was a beautiful day. I think Jan. 6 was a terrible day. He spent like a drunken sailor. I am an accountant and I think that we have to get our debt under control, and we've got to stop this ridiculous spending that's caused the inflation we've got.
"He did a great job of focusing on China, but he just focused on trade. I think we need to be talking about the infiltration they're doing in our country. I think we need to talk about the modernization of their military. I think we need to talk about the fact that they see us as an enemy and they are preparing for war with us."
"He thinks the Ukraine-Russia situation [is] a territorial dispute. I don't. I know that a win for Russia is a win for China, and we better pay attention to that."
On whether Trump's Jan. 6 indictment is disqualifying: "Look, I didn't rush to put out a statement because I'm tired of responding to all the Trump drama.
"I've said that Jan. 6 was a terrible day, but he said the election was stolen. We have freedom of speech in this country. I don't think anyone can go to jail for saying an election was stolen. ... "
"I'm not diving into every one of these indictments. I don't obsess over it. In all of these town halls, no one is asking me about Trump. Nobody's asking me about indictments."
On whether Trump should debate: "I've never known him to be scared of anything. I would be shocked if he's scared to get on a debate stage. But we'll find out."
On what she hopes to accomplish at the first debate: "To be my true self. I love debates because I think it's a great opportunity for people to see who their options are. And I love policy."
On the state of the race: "Once the first debate starts and we get past Labor Day, it's off to the races."
"Everyone's panicked over how high Trump's numbers are. We're not worried about that. We're worried about making sure that we are touching as many hands, answering as many questions, doing as many town halls as we possibly can."
Go deeper