The Woolworth Building's penthouse finally sells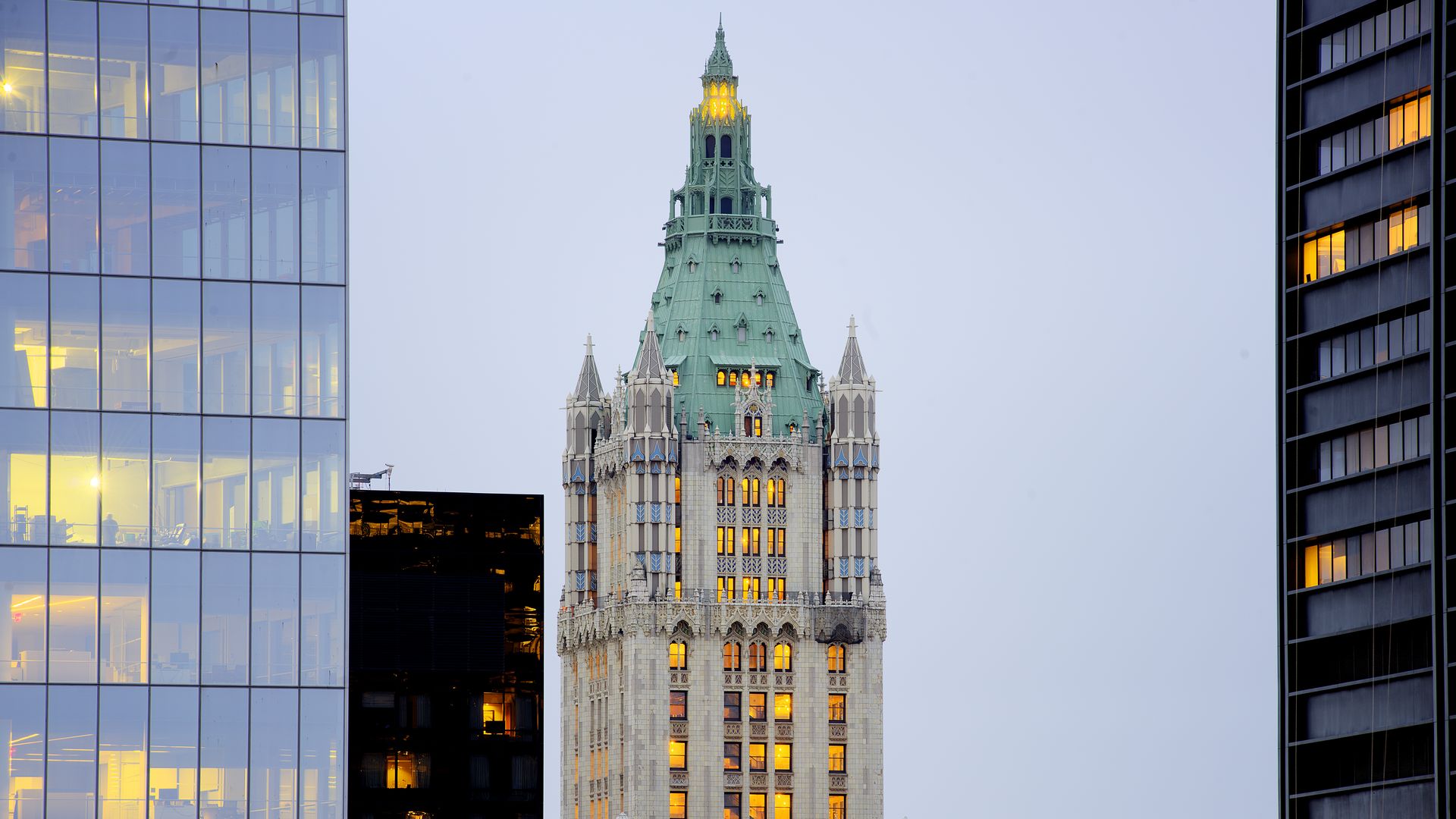 One of the most iconic residential spaces on the planet has finally sold.
Why it matters: The final price was $30 million, a mere $80 million below asking.
Zoom out: The top nine stories of the Woolworth Building in New York City mark the pinnacle of what was not only the tallest building in the world for 17 years, from 1913 to 1930, but what is, to this day, probably the most beautiful skyscraper ever built.
The pinnacle of the building "cleaves the empyrean and makes the welkin ring," critic Montgomery Schuyler said upon the tower's completion.
Flashback: The space was slated to become condos in 2000, with the penthouse penciled in at $15 million or so. At the time, the developers assigned it a modest 7,500 square feet.
In 2007, however, that plan was scrapped, and the tower was set to become high-end offices. The pinnacle of the building would include a private observation deck for the use of all tenants.
Fast-forward to 2014, and the tower was back to being condos again. By this point, the penthouse space had somehow expanded to a curiously specific 8,975 square feet, plus a 584-square-foot terrace. The asking price had gone up even more: No longer $15 million, it was now $110 million.
Driving the news: The penthouse ended up selling to Scott Lynn, the founder of Masterworks.
The official square footage has increased again; it's now 12,000 square feet. (It's like the Tardis, this property. It's now clearly bigger on the inside than it is on the outside.)
The final price was far below asking perhaps because most billionaires are disinclined to live in what the Found newsletter describes as "the equivalent of a seven-story walkup."
The bottom line: There's clearly a lot of potential for price — and even size — appreciation with this property.
If only there were a way for Lynn to sell off fractional ownership of his apartment, while charging 2-and-20 for the effort of actually inhabiting it. I'm sure there would be lots of takers.
Go deeper