Why Masterworks is worth $1 billion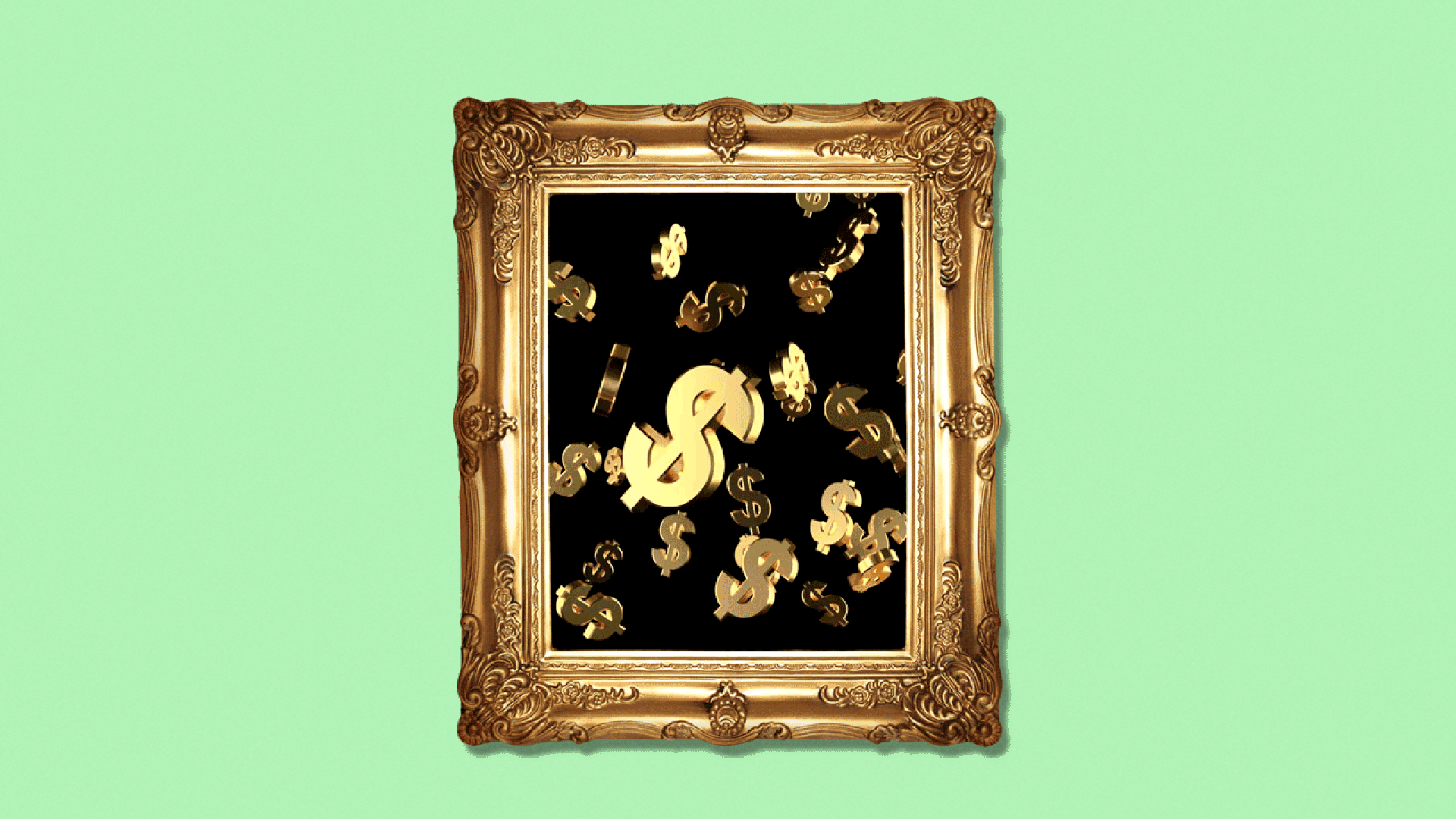 Masterworks is a company that buys paintings and securitizes them, selling off partial ownership to individual investors. It was valued this week at more than $1 billion — which is more than the aggregate value of all the art it has ever bought.
Why it matters: The value of Masterworks itself is growing much more quickly than the value of any of the art it's investing in. As a result, there's a strong case that Scott Lynn, its CEO, has created the most lucrative art-dealing business model of all time.
How it works: The art world historically spends very little on marketing. Beyond understated full-page ads in Artforum, it's rare to see art being advertised. Masterworks has revolutionized the industry by spending profusely on ads across the internet — including ads in the Axios Markets newsletter.
The pitch: Masterworks doesn't sell art as a noble, uplifting, or aesthetic consumption good. Instead, it sells art as an alternative asset class — a place for investors to find returns that have a low correlation with stocks or bonds.
Anybody who expresses an interest in such an investment is then subjected to a high-pressure sales call from a Masterworks employee — as recounted to Axios by two individuals on the receiving end of such calls. Paintings are sold as fractional investments that are selling out fast, at which point the opportunity to buy them at the initial offering price will be gone.
Lynn told Axios that the sales calls are focused on making sure that the investors are suitable, and that his business complies with all Finra regulations.
While there is a secondary market in the shares, it's only available to people who have previously bought investments directly from Masterworks.
Be smart: While Lynn is happy to tell financial journalists that "investing in one of these paintings, you're never going to earn 10 times your money," his advertising cites made-up returns that can exceed 800 times. (After Axios asked about the claims, Masterworks stopped running those ads.)
The big picture: Once Masterworks has acquired a painting, it is normally securitized within a few months. That means the company will have raised back the full cost of buying the artwork, plus a 10% "true-up" payment. Only then, in most cases, will Masterworks actually pay the seller for the work.
The power of monopsony: Masterworks is now the biggest spender on artworks in the world, expecting to buy nearly $400 million of art this year and closer to $1 billion in 2022. The company has a relatively short list of artists it's interested in, and anybody selling a painting by one of those artists is going to approach Masterworks first.
As the biggest buyer in the market, Masterworks gets to set its payment terms, especially since sellers want to remain on good terms with the company. That's how Lynn manages to pay for art only after he's already sold it. It's not uncommon for art sales to come with generous payment terms, and Lynn is taking full advantage of that.
What's next: As the Masterworks portfolio grows in value, the company will start to capture an ever-greater proportion of the total value of that portfolio. Like a hedge fund, Masterworks charges 1.5% of assets annually plus 20% of profits, payable when the art is sold. Those charges come on top of the initial 10% premium payable to Masterworks.
The timing of any art sale is entirely at Masterworks' own discretion.
By the numbers: Lynn says the average investor puts about $30,000 into Masterworks. If people spent that much money buying art directly from artists, it could transform not only many artists' lives but also those of the new collectors, who would discover how wonderful it is to live with art. Instead, the money is locked up for between 3 and 10 years, and the investor will never see the art.
Lynn tells Axios that most of his investors have never heard of most of the artists that they're investing in. "They know who Basquiat is, or KAWS," he says. "They don't know the other artists. Out of 150,000 investors, very few are art world people."
The bottom line: While art tends to appreciate slowly if at all, Masterworks has perfected a business model that allows it to flip art at a 10% gross profit every time it buys — and to still retain 20% of the upside on the art, plus a management fee, on the art it has already sold. Lynn says the company is already profitable.
That explains its billion-dollar valuation — as long as the current FOMO/YOLO investing environment sticks around for a few more years.
Go deeper