Prompt: Kidgeni offers kids a sandbox to try out AI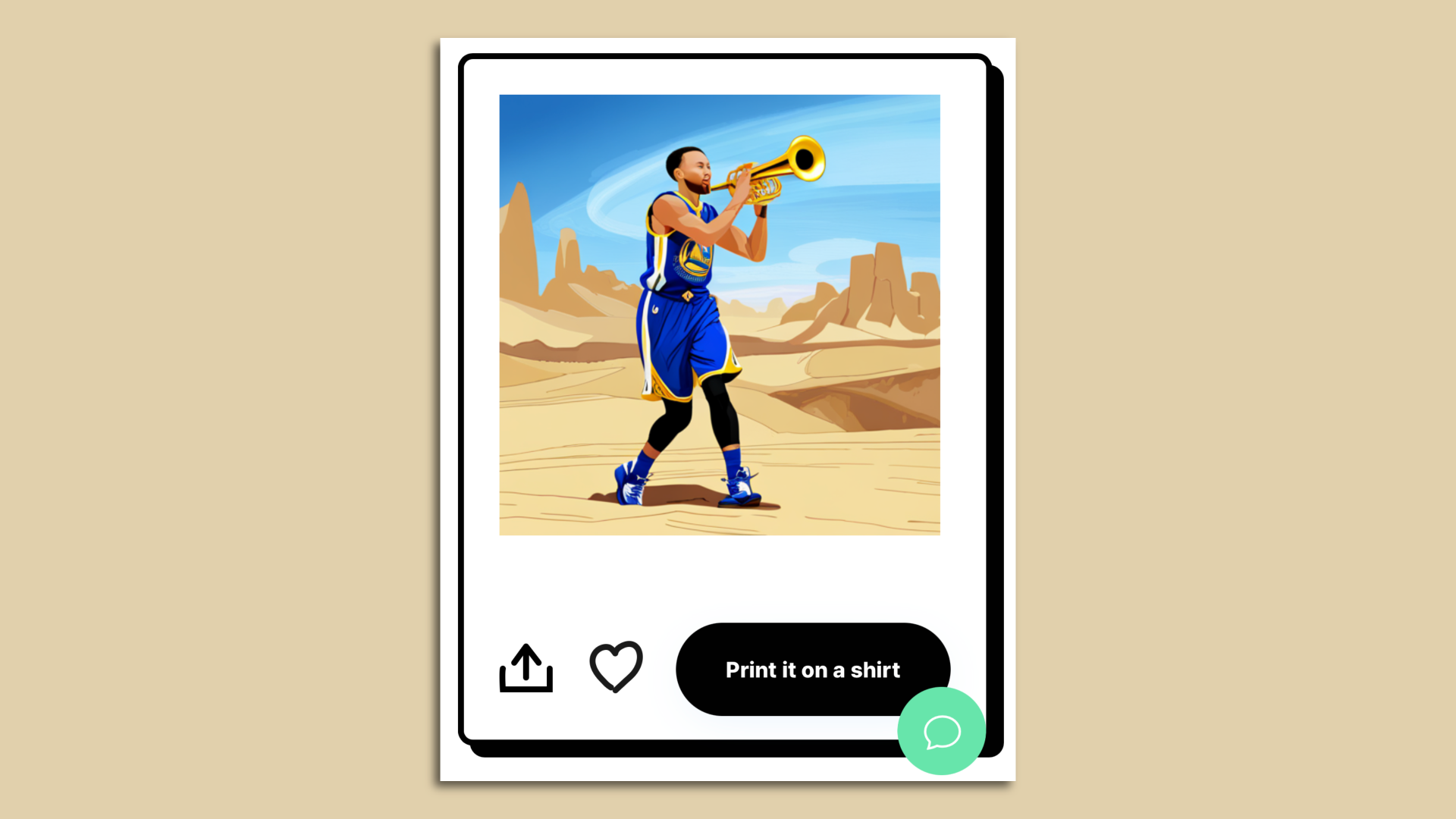 "What. How?"
That was my 10-year-old son's response upon seeing the cartoony image that appeared on the iPhone after he typed, "Show Steph Curry playing the trumpet."
Zoom in: Kidgeni is a web app that aims to offer a safe and fun way for youngsters to try out some of the key capabilities of the newest generative AI programs, including creating images or stories based on a simple text prompt.
Why it matters: Generative AI isn't going away, and all indications are that being able to use the technology — responsibly and safely — will be an important skill.
"The goal here is to give kids the tools ... to enjoy AI and start playing with it at an earlier age," Kidgeni creator Matt Lock told Axios.
Lock developed Kidgeni on nights and weekends over the last year and a half as a side project to his day job in tech.
How it works: Kidgeni is a Web app that works on computers and mobile devices.
Underneath the hood, it uses a mix of Stable Diffusion and an unnamed startup partner to power the AI. That partner also handles keyword filtering to make sure the prompts and results are kid-appropriate.
The app offers three modes — create, draw and stories.
Create offers a simple but rewarding text-to-image generator capable of producing pictures in a variety of styles.
Draw lets you combine a rudimentary sketch with the text prompt.
Stories will craft a tale from your text prompt and lets you choose a target age range.
Hands on: With Harvey's help, I put Kidgeni through its paces.
We generated a number of different images from text prompts with mixed results. Some, like the trumpet-playing hoops star, worked exactly as expected. Others seemed to incorporate only part of the prompt.
For the stories part, we asked Kidgeni for a tale of cats and dogs playing basketball. It delivered with an entertaining story featuring the Dogtown Dribblers, led.by a German shepherd dribbling ace named Rover, taking on the Catcity Shooters, whose captain was a Siamese named Whiskers who can hit from anywhere on the court. It ended in an unsatisfying tie.
One nice feature is that you aren't just limited to the first thing the story engine cranks out. Kidgeni lets you continue and customize the story based on further input. For our basketball story, Harvey and I added some birds, and even put my parents' two maltipoos into the action as rookies on the dog team.
Yes, but: Kidgeni also highlights all the challenges facing other generative engines, from intellectual property issues to hallucinations to bias.
A request to portray "a computer engineer at a desk" returned an image of a white man and a prompt for" nurse in scrubs" featured a white woman. Meanwhile, a request to show a poor homeless woman produced an indigenous or Latina woman.
Kidgeni makes no deliberate effort to exclude notable figures, such as Curry. I also had no problem having it create a picture of The Simpsons on a beach in Tahiti — although Marge appeared to have literally let her hair down, while Homer was also sporting some blue hair.
The good: Both the images and stories largely deliver fun results with minimal effort.
I found it a good way to introduce AI to Harvey and liked that it brings kids into the creative process rather than focusing on, say, writing homework essays for them.
While the app seemed to do a decent job rejecting some obviously unsafe requests, i'd probably still supervise a youngster's use, at least initially.
The bad: The stories take a minute or so to generate, which can test the patience of those with short attention spans.
At $10 to $50 per month, Kidgeni isn't cheap. There is also a pay-as-you-go option that starts at $5, and Lock said he is still experimenting with pricing. Sharing options are fairly limited, though there is a way to e-mail one's images.
Kidgeni also offers the ability to order a T-shirt or hoodie with one's AI image creation, at prices ranging from $20 to $50.
Given the unsettled state of the law around AI and intellectual property, sooner or later, someone who owns the rights to an image that they really don't want the service selling on a T-shirt is likely to take action.
My thought bubble: Kidgeni illustrates what one person can do with broad access to AI technology. I'm also keen to see how big the children's market for generative AI gets and who jumps in — there's plenty of opportunity across education and entertainment.
Go deeper