113 promises for the Amazon, but no "deforestation zero" roadmap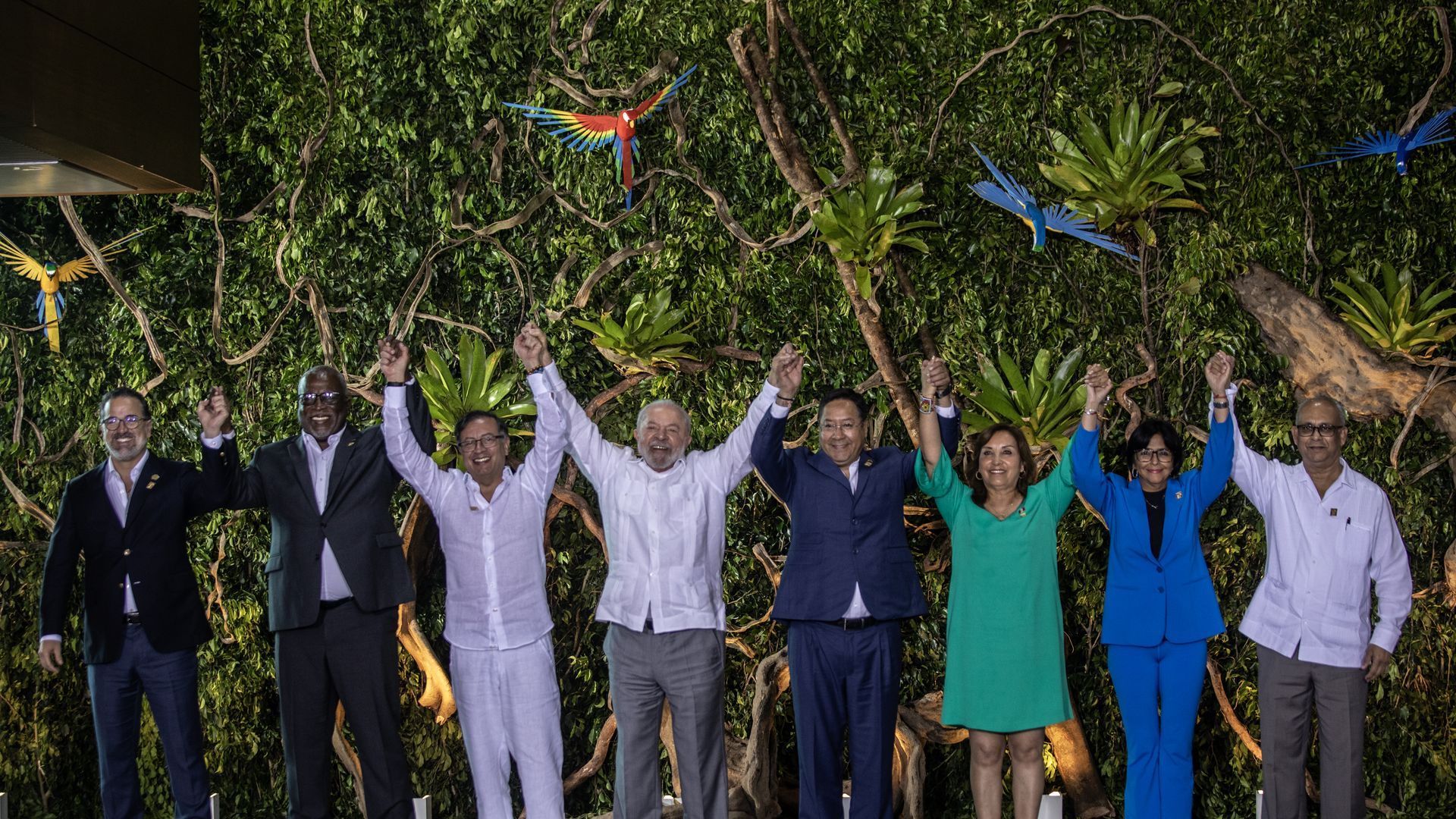 Leaders from the eight nations that share the Amazon rainforest promised in a joint statement this week to work towards "deforestation zero," but they did not commit to a roadmap for achieving it.
Driving the news: The leaders of Brazil, Bolivia, Colombia, Ecuador, Guyana, Peru, Suriname and Venezuela met this week to discuss Amazonian conservation — the first such meeting since 2009.
They announced a joint agreement with 113 provisions, starting with a promise to "combine efforts at the highest level" to set a common agenda for sustainability and conservation.
They also announced they'll create a police cooperation framework to fight deforesters and poachers, work together to promote connectivity in the Amazon, and create panels for scientific cooperation and for Indigenous peoples to have a direct line with the eight governments for conservation matters.
Yes, but: Climate action organizations like the World Wildlife Fund said the joint declaration does not go far enough.
Observatório do Clima, a coalition of 78 environmental nonprofits, criticized the governments for not coming to agreements on key matters such as mining and common objectives for reducing deforestation.
The summit's pact says it's "urgent to set shared goals to fight deforestation" but right now each country can still set up its own target.
The countries promised to "set up a dialogue about the sustainability of sectors like mining and hydrocarbons" but did not agree, like Colombia had asked, on a road to "decarbonization."
The big picture: The Amazon is the world's largest rainforest, with trees that help absorb the carbon dioxide in the atmosphere. It has a fifth of all the world's fresh water reserves, and unique flora and fauna.
Subscribe to Axios Latino to get vital news about Latinos and Latin America, delivered to your inbox on Tuesdays and Thursdays.
Go deeper