Impact of new pill to treat postpartum depression will depend on price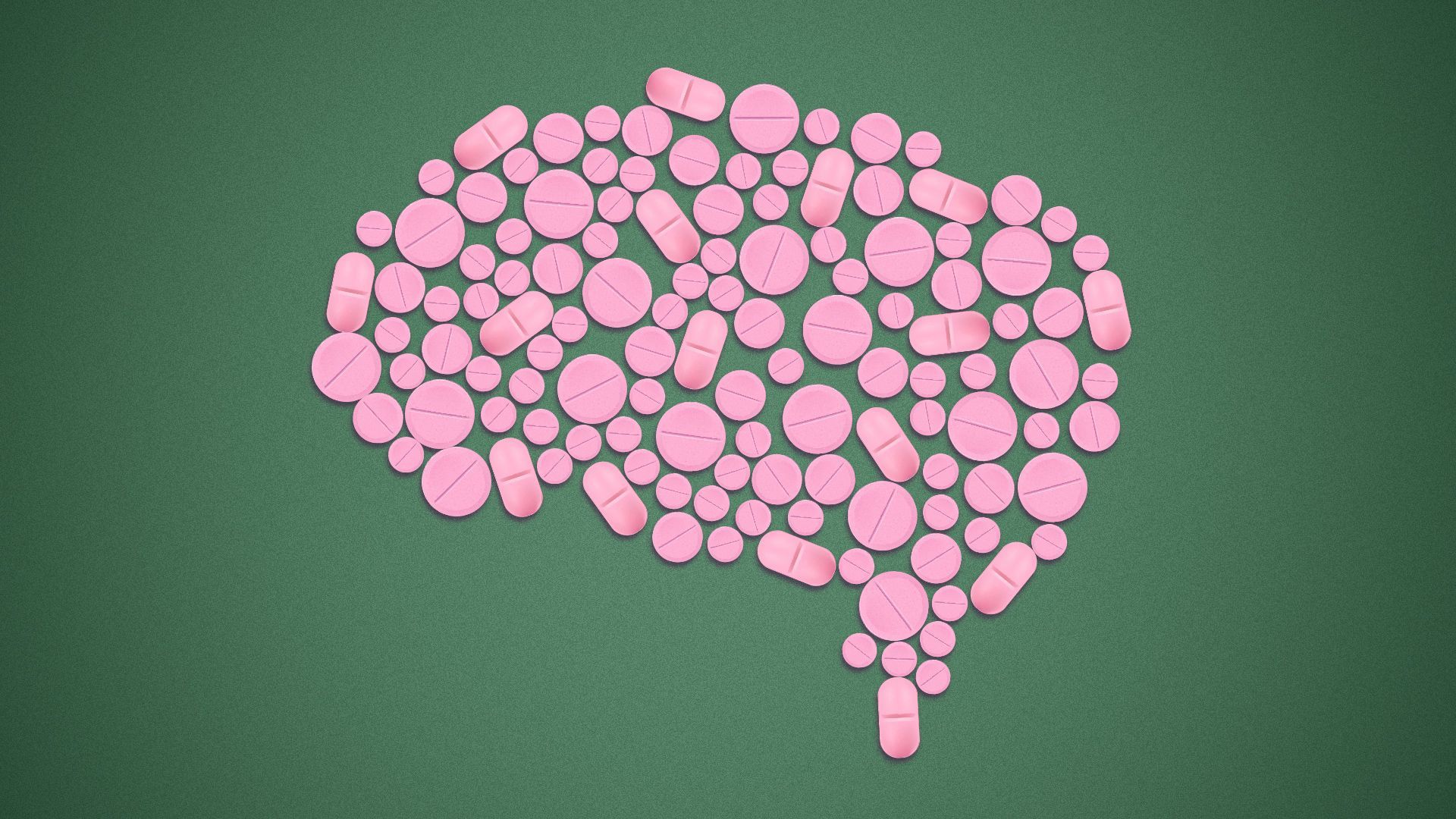 The approval of the first-ever pill treating postpartum depression on Friday was hailed as a significant milestone, but it was quickly tempered by questions around how much the drug will cost.
Why it matters: The price of zuranolone will ultimately affect how widely it may be prescribed.
The drugmaker delayed a decision on pricing later until later in the year, signaling it could be greatly impacted by zuranolone's simultaneous failure to win approval for treating the more common condition of major depressive disorder, or MDD.
Driving the news: Sage Therapeutics, which partnered with Biogen on the drug, saw its share price plummet Monday in reaction to the Food and Drug Administration's determination there was insufficient evidence that zuranolone, which will be sold as Zurzuvae, was effective in treating MDD.
During a call with analysts Monday, company officials said they are "committed" to ensuring the drug remains accessible. But they also said a variety of factors will affect how zuranolone is priced in the absence of the MDD indication and its much larger patient population.
An estimated 500,000 people are affected by postpartum disorder each year. The National Institute of Mental Health estimated in 2021, roughly 14.5 million U.S. adults had at least one major depressive episode with severe impairment in the past year.
Catch up quick: Zuranolone was approved as a once-daily pill to be taken for two weeks for those with severe depression after giving birth. In clinical trials, it showed benefits for many patients within three days, making it faster-acting than most antidepressants.
The drug is promising for women suffering from this disorder, even as there are questions about how well it works longer term as clinical trials only tested mothers 45 days out, experts said.
"It's very well-needed to have this drug for rapid efficacy in the postpartum period, but is it going to suffice for maintenance in these women who may be at risk of a longer-term psychiatric condition like major depressive disorder or bipolar disorder?" Mimi Winsberg, co-founder and chief medical officer of mental health telehealth platform Brightside, told Axios.
It may make sense to start zuranolone and concordantly start it with a traditional psychiatric drug to allow for the immediate improvement of postpartum depression before transitioning to something longer term after the 45 days, Meleen Chuang, medical director of women's health at the Family Health Centers at NYU Langone, told Axios in an email.
What they're saying: "We and our collaborators Biogen had been preparing wholeheartedly" to launch zuranolone with postpartum and MDD indications, CEO Barry Greene said during the call with analysts. "We now have to go back given the results from Friday and re-engage payers."
Sage officials also indicated they will consider job and pipeline cuts in light of the news, Endpoints reported.
By the numbers: RBC Capital Partners revised down projections for zuranolone from $2 billion to $472 million on Monday. Similarly, Jefferies now expects peak sales of $472 million.
While RBC still expects meaningful use among postpartum women, "the relatively strong boxed warning around driving, and potential breast milk exposure, may somewhat limit the uptake of the drug," the firm wrote.
Baird was more pessimistic about the mixed approval, writing in a note to investors that it believes it will be a "tough indication to build a big market out of, even at a high premium price," BioPharma Dive reported.
Be smart: Sage in 2019 brought another postpartum depression drug known as Zulresso to market. However, that drug has had little take-up, partly due to its steep launch price of $34,000 and its delivery as a one-time infusion over 60 hours.
Zoom in: The FDA's split decision on zuranolone highlights the challenge in bringing new mental health care drugs to market.
"Progress in treating depression is not keeping pace with the accelerating prevalence and burden of this debilitating disease," Greene said. "Despite current treatment options, people with depression continue to struggle. A change in the treatment paradigm and approval of novel options is desperately needed."
What's next: It's expected the drug will launch in the fourth quarter of this year after scheduling by the Drug Enforcement Administration.
Go deeper