Body of Mine puts users in a virtual body of a different gender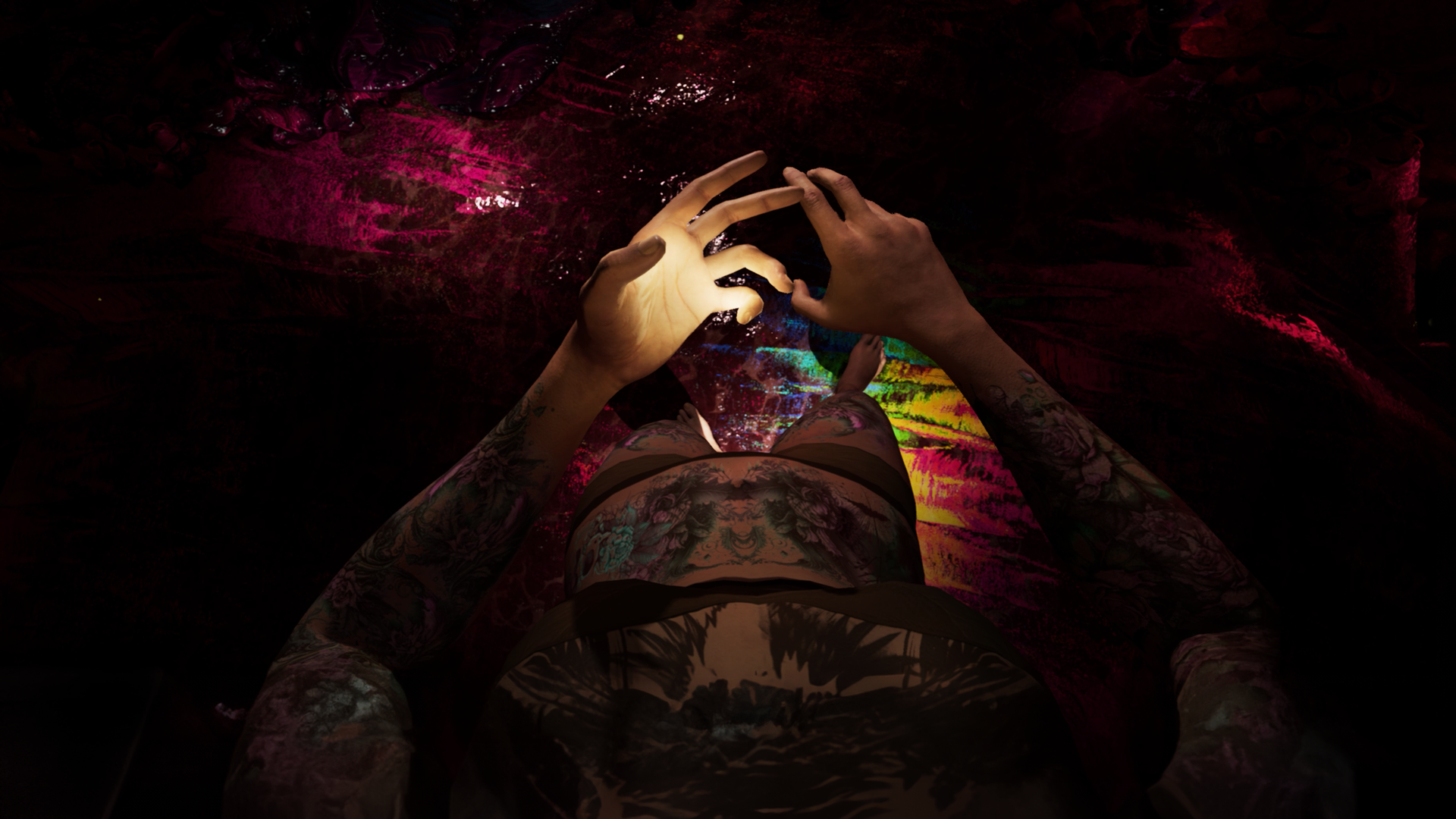 In Body of Mine, a new virtual reality experience, users can put on a headset and body tracking sensors, then look down and see a body — their arms, their chest, down to their feet — that does not match the gender they were assigned at birth.
Why it matters: The project, which was demoed for Axios last week in New York City, is an ambitious and already award-winning experience. It is designed to provoke introspection about gender and a transgender person's experiences, and allow people to explore what it might be like to be in a different body.
"We really want this to be a way for people to get a headset and explore their own gender and think more critically and deeply about what gender is," Body of Mine lead designer Cameron Kostopoulos told Axios.
Details: The interactive demo lets the user touch their virtual body as if it is their real one and hear audio clips from trans people about those parts of their bodies.
Someone assigned male at birth who uses Body of Mine, for example, will seem to inhabit a virtual body that has breasts. When touching their chest, they will hear a trans woman talk about what it feels like to have them.
Some of the stories from trans people that play inside Body of Mine VR describe anxieties regarding onlookers' comments about their bodies or elation about having a body that feels like their own.
What they're saying: A major goal, Kostopoulos says, is to give cis users the feeling of being in a body that they do not feel comfortable with and help them try to understand what gender dysphoria might feel like.
"We want to take it to the areas around the world that have a lot of transphobia and have people who could empathize more and don't have the opportunity to understand trans issues."
"But also what you see in those same places are a lot of people who are in the closet and a lot of trans youth who are really struggling with their identity," he said.
He recalled taking a prototype of Body of Mine to a film festival in Oklahoma and letting a trans girl try it and then letting her mother, who kept calling the girl her son, try it as well. The mom was quiet afterward, he said.
The big picture: VR and immersive video have long been used to allow people to experience what it's like to be in an unfamiliar body or setting, often to help people empathize with marginalized groups.
Between the lines: Kostopoulos, who is gay, says he conceived Body of Mine after being outed. "I was thinking about how we can use VR to build safe spaces," he says.
He wanted to create something that would tell the stories of his trans friends and potentially help trans people.
The project is self-funded on an "extremely low budget," Kostopoulos says.
The demo used in festivals is shown in private screening rooms. "Anonymity is a key part of the experience," he says.
What's next: Kostopoulos is still refining the experience, which he hopes to eventually release for free on VR platforms that support body tracking.
He also expects to work with researchers in Germany to study the psychological benefits and risks that using Body of Mine might have for people who are transitioning.
And for his next project: A VR app called A Cure For Straightness, in which he'll use generative AI to train a virtual therapist to try to convince straight users to become gay–to make a point about the absurdity of conversion therapy, he says.
The bottom line: Kostopoulos hopes Body of Mine will have a positive impact, but is keeping things in perspective.
"Rarely you're going to see someone with a change of heart right on the spot," he says. But "you're relating to stories in a way that you don't normally and that at least plants a seed."
Sign up for the Axios Gaming newsletter here.
Go deeper