Embryo "adoption": IVF off-shoot gains popularity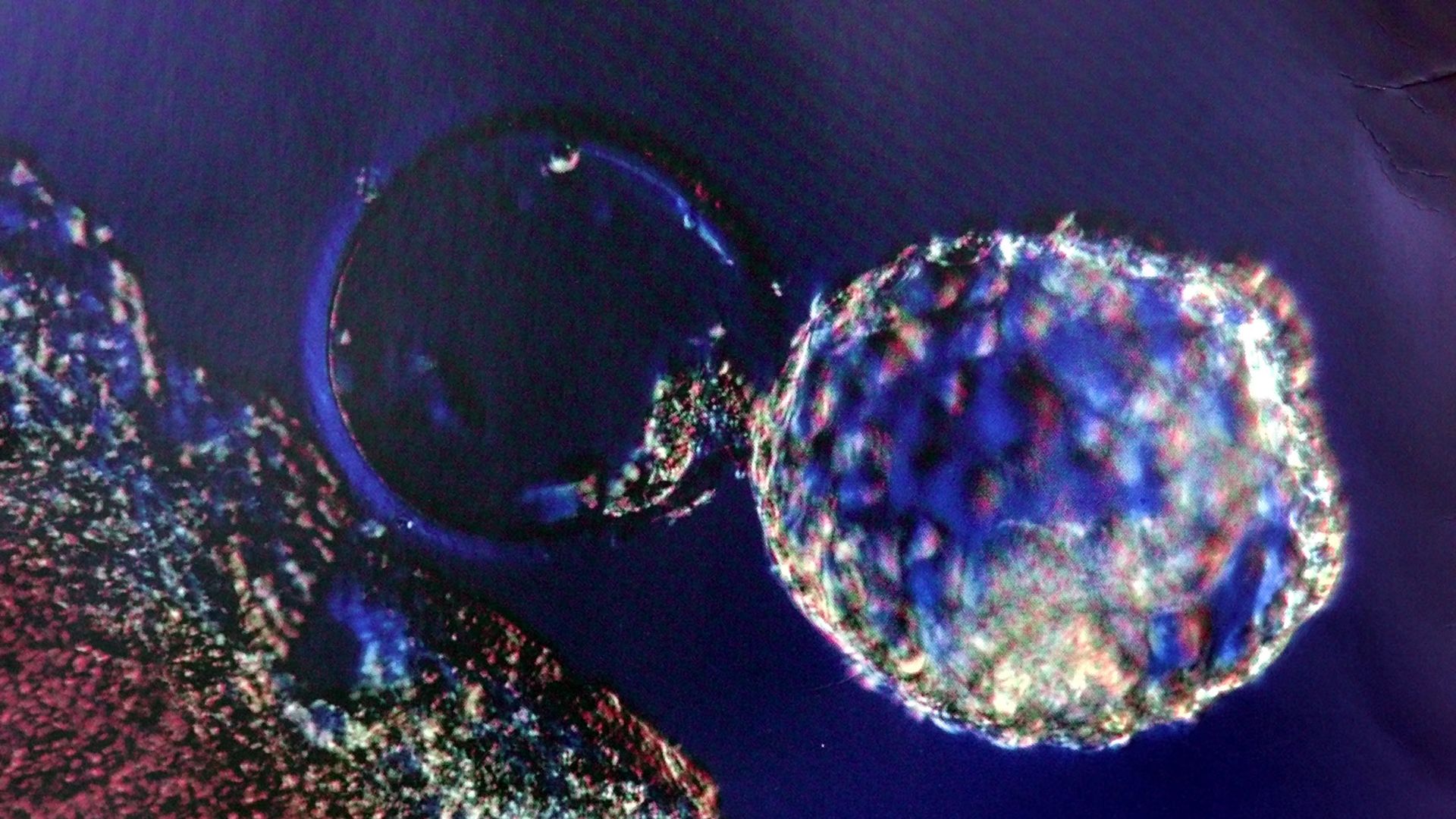 A lesser-known fertility option is gaining traction: using donor embryos.
Why it matters: As the use of in vitro fertilization (IVF) has gone up, there's been an increase in the amount of unused embryos, and in embryo donor rates.
Details: "Embryo adoption" is the term a number of embryo donor services primarily in Christian circles use to describe transferring the extra frozen embryo cells of an IVF patient to an individual or couple.
It's a term typically preferred by faith-based organizations that specialize in embryo donation and emphasize the prevention of those frozen cells from being discarded or used in research.
The belief that life begins at conception is a strong undercurrent of some embryo donor programs.
From a medical and scientific perspective, cells are genetically unique at fertilization, but fetuses aren't considered viable until around 24 weeks gestational age. The "When does life begin?" debate is an important one for lawmakers, because views could restrict embryonic stem cell research and IVF.
More than half of reporting fertility clinics offered in-house donor embryo services as an option in 2020, according to CDC data.
The process to receive an embryo includes fees, which vary by organization (but start at $9,000 before transfer costs at the National Embryo Donation Center).
Recipients can typically choose to have an anonymous or known relationship with donors.
Nearly 41% of donated frozen embryo transfers resulted in live births in 2020, according to the CDC.
By the numbers: Total annual donated embryo transfers in the U.S. more than tripled from 2004 to 2019, resulting in 8,457 births overall during that time, according to the American Journal of Obstetrics & Gynecology.
Zoom in: In 2004, the National Embryo Donation Center, one of the biggest embryo donor services, completed eight frozen embryo transfers. In 2022, that number grew to 252 — and the organization has had 1,386 babies born since 2004, according to data shared with Axios.
NCA Snowflakes Embryo Adoption Program, another major agency, saw in the past seven years: a 26% increase in new family "adoption" applications, a 21% rise in new placement family applications, and a 29% bump in births to 1,070 babies over seven years, adoption program vice president Kimberly Tyson tells Axios.
Using donor embryos is an option for prospective parents who might experience infertility but can carry a baby.
Some bypass IVF — because of the cost, because they're not comfortable with creating multiple embryos and/or because they want to avoid using just donor eggs or donor sperm — to go straight to donor embryos.
What they're saying: "I grew him, I gave birth to him ... I can't imagine him not being in our family," Kat Gade told Axios about her baby, who was conceived with the help of a donor embryo.
Gade says that after she and her husband Ray "struggled with infertility for years," they considered infant adoption before learning that donor embryos existed. The embryo they ultimately received had been frozen for five-and-a-half years.
The Gade family has a good relationship with their donors. Their son "will know his story," she says.
How it works: Frozen donor embryos (which don't have an expiration date) are thawed, and then transferred into the uterus of the recipient.
As is typically the case with a gestational carrier, a prospective parent using an egg donor, or a couple undergoing reciprocal IVF, the pregnant person is not genetically related to the embryo they're carrying.
Embryo donation is a rarer option for what to do with IVF patients' unused frozen embryos that would otherwise be disposed of, given to science research, or continually frozen in fertility clinics — many of which are running low on space and have costly storage fees.
The bottom line: 45 years after the birth of the first IVF baby (Happy belated birthday, Louise Brown!) advances in assisted reproductive technology have made way for higher birth rates and more options for family-building.
Go deeper: Listen to the Axios Today podcast, where Felix Salmon and Carly Mallenbaum walk us through what happens in in vitro fertilization (IVF).
Go deeper