Bibi posts photo holding Xi's book amid tensions with Biden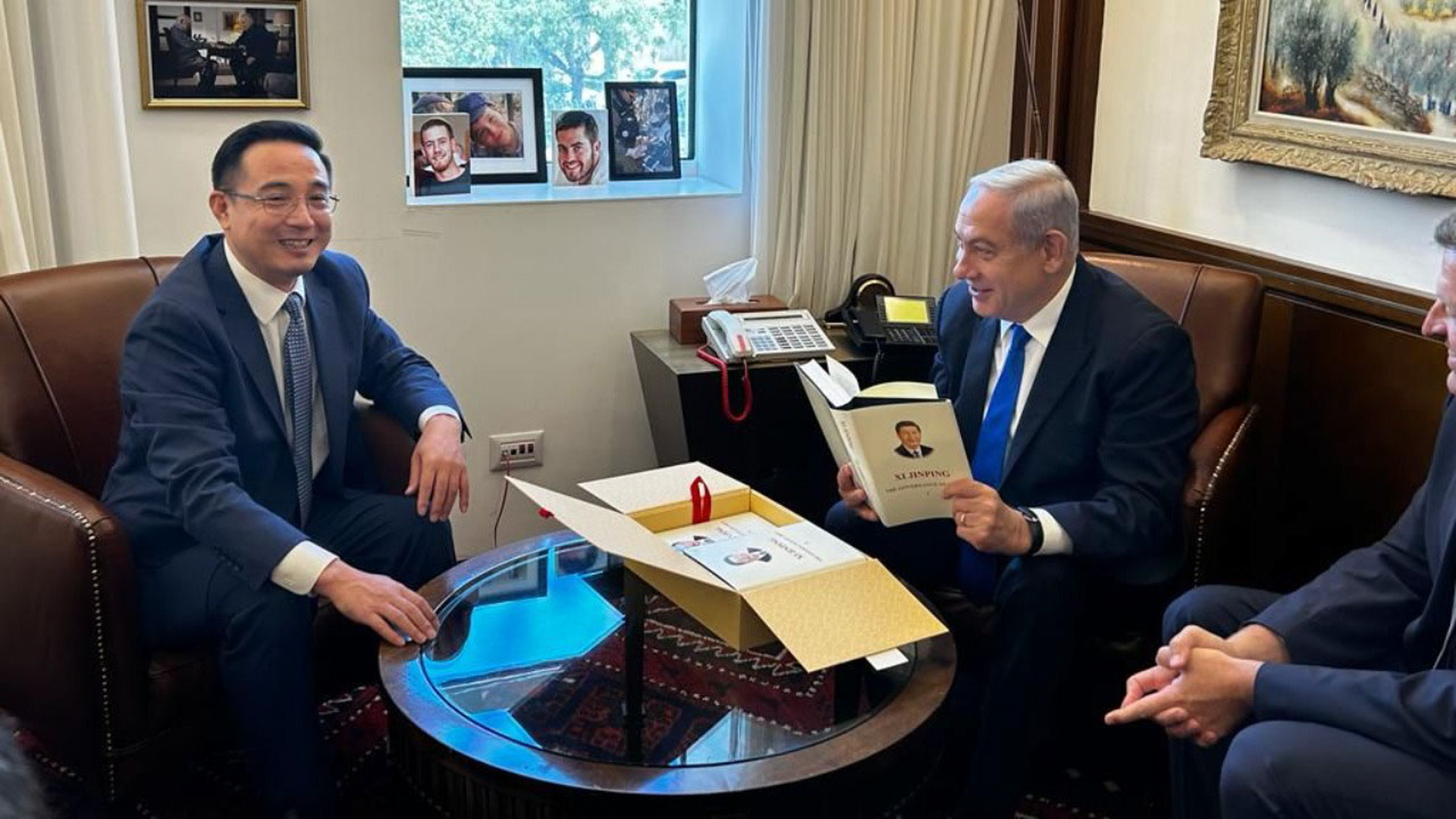 Israeli Prime Minister Benjamin Netanyahu received a gift on Wednesday from the Chinese ambassador to Israel: four autographed copies of President Xi Jinping's book.
Why it matters: It's unusual that Netanyahu's office issued a statement about the meeting and a photo of the Israeli leader skimming the book.
The timing — just days after Netanyahu's right-wing coalition unilaterally pushed through a judicial overhaul bill, despite the White House's objections — prompted speculation that the Israeli leader was sending a not-so-subtle message to President Biden.
What they're saying: "If this is meant to be a message to Biden, this is a really stupid idea," a former U.S. official close to the White House said about the statement and photo of Netanyahu and Chinese Ambassador to Israel Cai Run.
The Israeli Prime Minister's Office downplayed the image and statement, saying they were only part of an interesting diplomatic update and not a message to the U.S.
"The ambassador told Prime Minister Netanyahu that President Xi read with interest and appreciation what the Prime Minister wrote in his memoir about China-Israel relations," a Netanyahu spokesperson said about the meeting.
The Chinese ambassador also told Netanyahu that Xi is "looking forward" to his meeting with the Israeli leader in Beijing later this year, the spokesperson added.
Between the lines: The passage of the judicial overhaul bill this week has added to the already strained relations between the Biden administration and Netanyahu's right-wing government.
Netanyahu hasn't visited the White House for a meeting with Biden since taking office seven months ago.
Earlier this month, Biden and Netanyahu spoke by phone and the U.S. president said he hoped to see the Israeli leader in the U.S. before the end of the year.
Netanyahu called the comments an "invitation," but the Biden administration has appeared to downplay the remarks, saying no details, including the meeting's location, have been determined.
"Last week, the president and Prime Minister Netanyahu agreed to meet in the United States later this year. The details will be worked out by our teams to see what is feasible, at this time we have nothing to announce," a White House National Security spokesperson said in a statement to Axios on Wednesday.
Go deeper