Seeking affordability, more Americans are going abroad for fertility treatments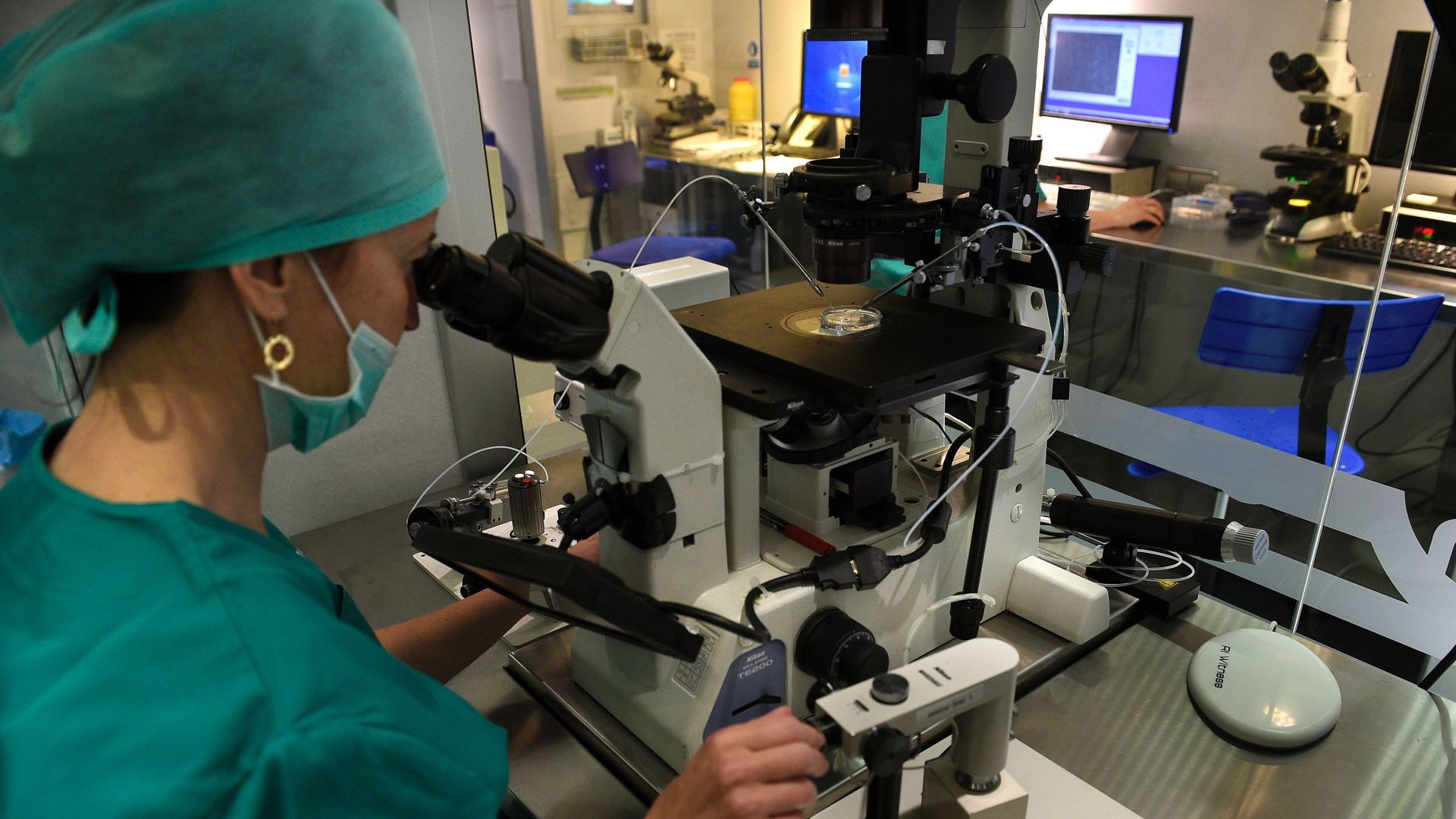 Faced with steep health care costs in the U.S., an increasing number of women are going abroad for fertility treatments, including egg freezing and IVF.
Why it matters: The number of women seeking to freeze their eggs surged after the onset of the pandemic, but sky-high costs, coupled with a lack of insurance coverage, have put some fertility treatments out of reach for many people.
Going abroad for egg freezing "opens up a lot more access for women to do it in a price range that makes sense for them," Jennifer Lannon, co-founder of the egg-freezing informational platform Freeze Health, told Axios.
By the numbers: In the U.S., one cycle of egg freezing — including preparation, clinical costs, and medications — varies in cost but can exceed $22,000, according to Freeze Health. It costs another $200-$1,350 per year for egg storage.
People going through IVF treatments — the process of fertilizing an egg with sperm in a lab to create an embryo that is then transferred into the uterus — will pay anywhere about $10,000-15,000, not including medications, according to the Society for Assisted Reproductive Technology. The cost of medication can range from $5,000 to $7,000.
Those costs can quickly add up, especially when they aren't covered by insurance.
In 2022, 43% of large employers — those with 500 or more employees — offered health plans that covered IVF treatment, up from 36% in 2021, according to benefits consultant Mercer.
Only 16% of large employers offered coverage for elective egg freezing.
Among the largest employers — those with 20,000 or more employees — 54% offered coverage for IVF and 24% offered coverage for egg freezing in 2022, per Mercer.
Only one state — New York — requires Medicaid coverage of fertility treatment, putting egg freezing or IVF out of reach for low-income Americans, according to the Kaiser Family Foundation. Even in New York, the only requirement is for Medicaid to cover up to three cycles of fertility medication.
Yes, but: Americans can seek these treatments sometimes at a fraction of the cost abroad.
In Colombia, American patients can expect to pay around $3,000 for a cycle of egg freezing, plus an additional $1,000-$1,500 for medications, said Ana Medina, a commercial manager at Inser, a top fertility clinic there.
The facility offers package deals for egg storage, at $400 for two years or $950 for five years, she added.
A round of IVF at Inser costs about $7,000 plus roughly $2,000 for the accompanying medications, Medina said.
New Life IVF Greece in Thessaloniki offers an egg-freezing package deal for 2,250 euros (roughly $2,457) that includes the initial consultation, sedation, egg freezing, one year's worth of storage for frozen eggs and follow-up appointments, Ioannis Papakonstantinou, the clinic's chief operating officer, told Axios.
In Mexico, a single cycle of IVF cost about $5,800, though it doesn't include medication, according to Patients Beyond Borders, which provides information about medical travel.
Barbados Fertility Center charges about $6,500 for one round of IVF treatment, but that includes the cost of the procedure, ultrasounds, anesthetic and all doctors visits, Anna Hosford, the clinic's director, told Axios.
Zoom in: The option of getting cheaper services abroad, helped Carmel DeAmicis, a freelance editor and writing coach in San Francisco, freeze her eggs sooner than if she would have waited to save up enough money to afford it in the U.S.
DeAmicis told Axios she began thinking about freezing her eggs when she was in her mid-20s. The estimated $15,000 she'd have to spend on the procedure in the U.S. was "way out" of her price range, she said.
That reality led her to Madrid, where at the age of 31 she froze her first round of eggs in 2019. She said she paid between $5,500 to $6,000 in total, including for all the necessary medications, the egg-freezing procedure and four years of egg storage.
DeAmicis said turning her experience, which could have otherwise been "painful or scary," into a vacation in Spain transformed it "into something that felt more celebratory."
Zoom out: Medical tourism overall has grown "exponentially" over at least the last decade, Jonathan Edelheit, CEO of the nonprofit Medical Tourism Association, told Axios.
MTA has observed a 20% increase in patients seeking fertility treatments over the last three years, according to Edelheit.
Most of the fertility clinics Axios spoke to worldwide reported a significant uptick in the number of Americans seeking treatment.
Going abroad is also an option in the post-Roe U.S. While many are driven abroad by the costs, the cascade of state abortion bans and proposed legislation following last year's Supreme Court ruling has some worried such restrictions could limit the control they have over their embryos if going through IVF in the U.S.
Between the lines: Traveling abroad for fertility treatments is still too expensive for many who want or need to freeze their eggs or undergo IVF.
"Unfortunately, lower, lower-middle and even middle-income Americans, we just don't see it as much," Freeze Health's Lannon said of the patients at her facility.
For those who can afford it, it's not necessarily an easy process either. Patients must navigate different restrictions countries have put in place around the treatments. Many also must determine whether they want to store their eggs in the country they had the procedure or have them shipped back to the U.S., which can carry many risks.
Go deeper