DOJ sues Texas Gov. Abbott over Rio Grande buoy barrier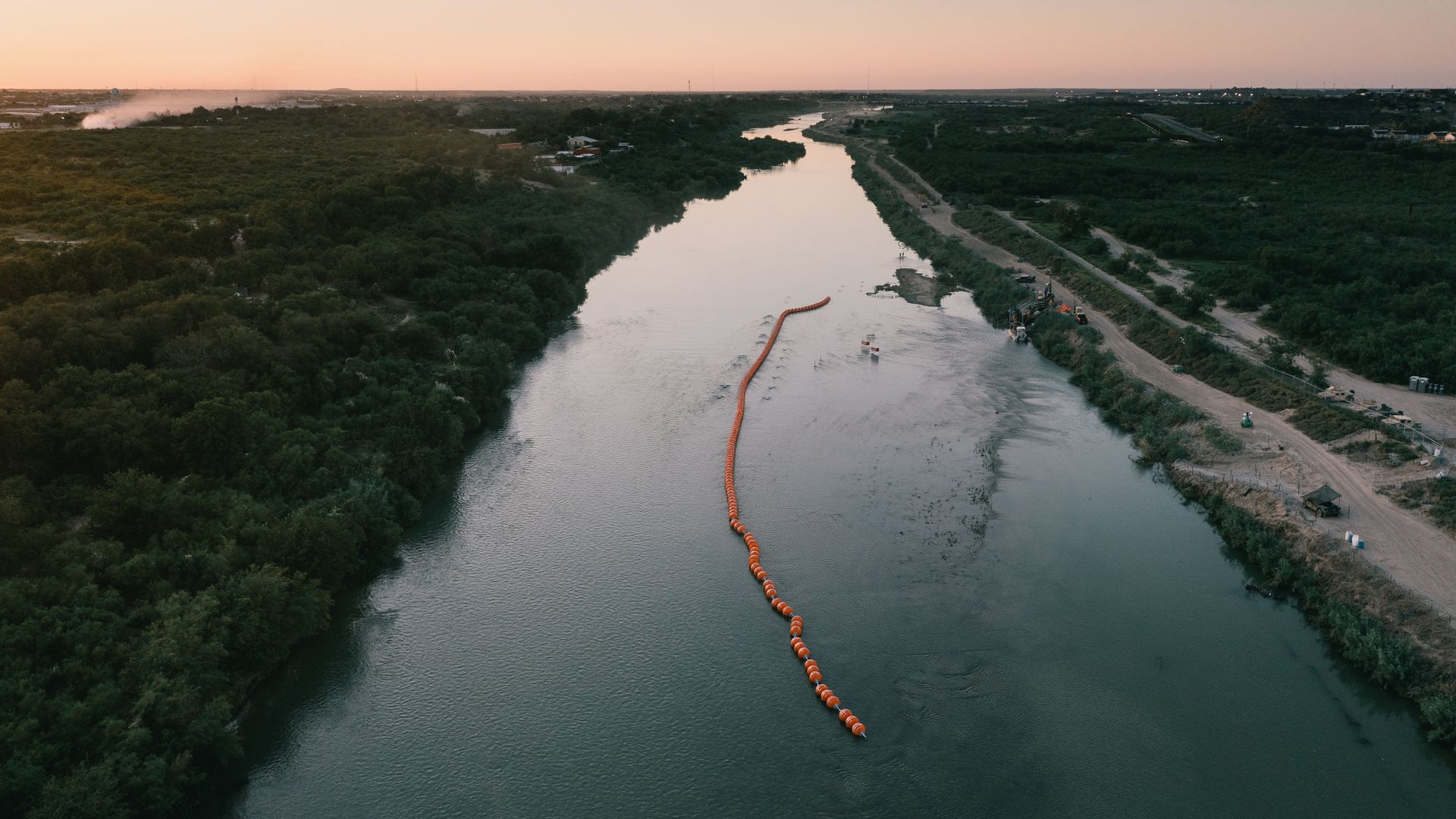 The Department of Justice sued Texas on Monday over a string of buoys deployed by the state on the Rio Grande River to prevent people from illegally crossing into the U.S. from Mexico, saying it violates federal environmental law and threatens public safety.
Why it matters: In addition to the floating barrier, Texas has set up miles of razor wire barriers along crossing points on the river near Eagle Pass.
The state is currently investigating claims made by a state trooper that superiors had ordered officers to push migrants, including children and babies, back into the river and to deny them drinking water, according to the Houston Chronicle.
The trooper also alleged that the razor wire has injured multiple people, including a woman who had a miscarriage while caught in the wire.
What they're saying: The Justice Department argued in the lawsuit that Texas' floating barrier violates the Rivers and Harbors Act, which is often considered the oldest federal environmental law.
"We allege that Texas has flouted federal law by installing a barrier in the Rio Grande without obtaining the required federal authorization," Associate Attorney General Vanita Gupta said in a statement.
"This floating barrier poses threats to navigation and public safety and presents humanitarian concerns. Additionally, the presence of the floating barrier has prompted diplomatic protests by Mexico and risks damaging U.S. foreign policy."
Texas Gov. Greg Abbott (R), in a statement on Monday, claimed that the string of buoys was legal because the Constitution "grants Texas sovereign authority to protect its borders."
The big picture: The string of buoys and concertina wire is part of Texas' "Operation Lone Star," which has cost the state billions of dollars while having little effect on migration, according to the Wall Street Journal.
Though the river defines the Texas border, it's also the marked boundary between Mexico and the U.S and falls under the International Boundary and Water Commission's jurisdiction.
The commission has stated that it did not authorize Texas' placement of the barrier, according to AP.
Illegal border crossings also dropped to the lowest level in over two years in June.
Go deeper: Record migration sparks backlash in wealthy nations
Go deeper