America's electric grid needs an upgrade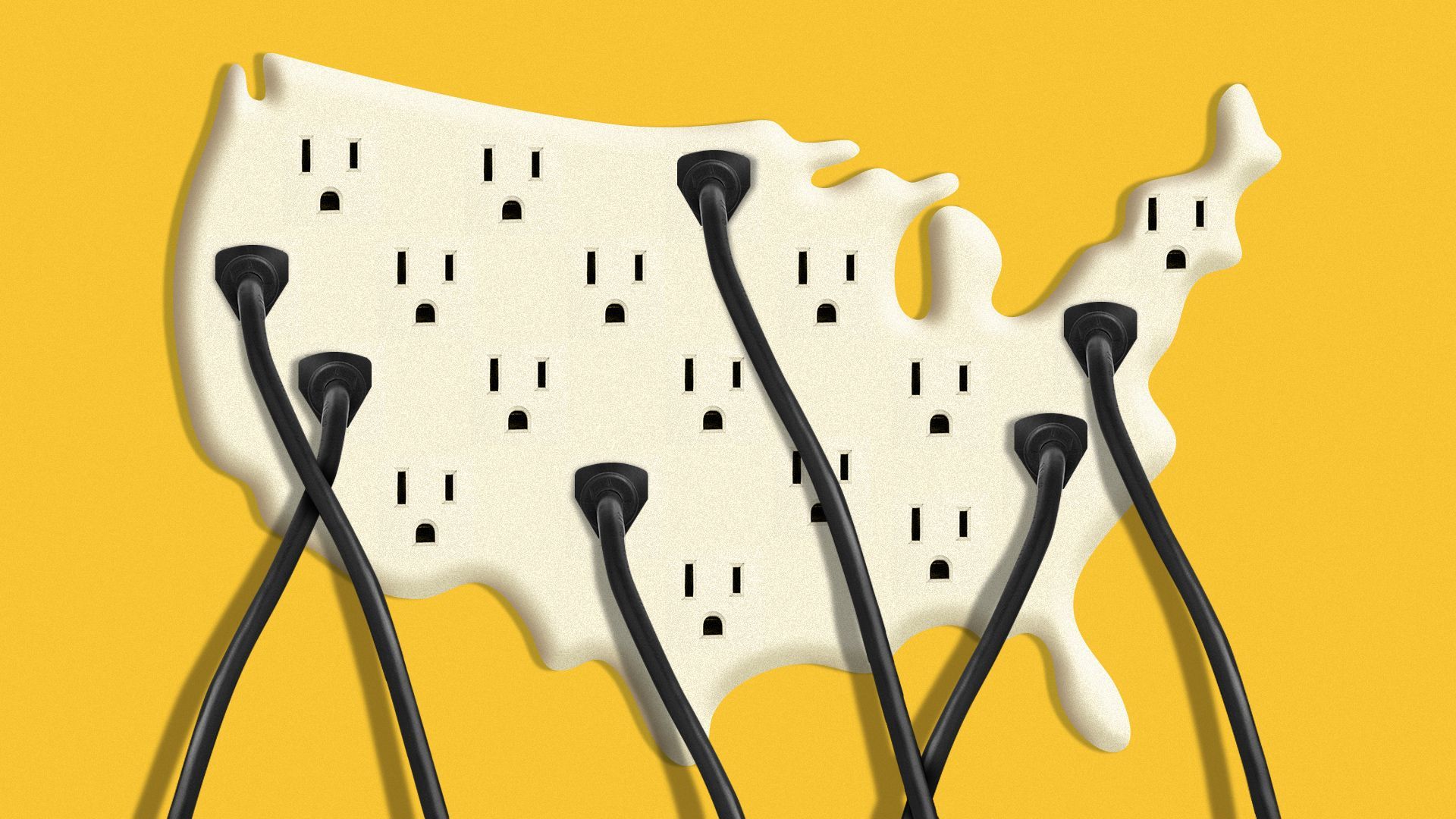 With the U.S. in the midst of a relentless heat wave, all eyes are on the electric grid, which experts say is in desperate need of modernization.
Why it matters: Access to air conditioning is not only an economic imperative, but increasingly a life or death issue.
Case in point: Extreme heat delivers a triple whammy to the electric grid, Joshua Rhodes, a research scientist at the University of Texas at Austin, said in a podcast interview.
The hotter it is outside, the less efficient power plants are and the less power they can actually make.
Same with the power lines. The hotter they get, the less electricity you're able to move through them.
Meanwhile, the heat drives up demand for electricity — right when the grid is making less power, and is less efficient about moving it around.
The basics: It's helpful to know exactly what people mean when they refer to "the grid." Rhodes described it as "the biggest machine we've ever built." The grid consists of:
The power plants that make electricity.
The wires and poles that move the electricity out of the plants (called the transmission grid).
And the distribution grid, the smaller wires and poles that directly connect your home to power.
"The grid is basically how electricity gets to you. It's how electricity is made. It's how electricity is moved around."
You could even argue that the electric devices we use are part of the grid, he said. "Whether that's electric cars or toasters or computers, are also part of that system because they're the ones that are consuming that electricity. And they can do that dumbly or they can do that smartly."
What's needed: A lot of money. According to an estimate Rhodes did a few years ago, replacing the grid and adapting it to modern-day needs would cost something like $5 trillion. That would include:
Replacing the lines, and many of the power plants, and bringing everything up to modern standards.
Taking into account "the new reality of climate change," by weatherizing power systems in areas that experience extreme heat, cold, wildfires or hurricanes that their current system can't handle. (Think: Burying power lines in California, or getting Texas's grid in shape to handle snow and ice.)
Adapting to increasing electricity use, as things like electric vehicles or electric heat pumps become more common.
And, moving toward more sustainable sources of power, like wind and solar — and building more storage for that power so it can be used on days that aren't windy or sunny.
What to watch: There are a host of renewable power projects in the works in the U.S., and more "demand response programs," which try to limit electric demand during surge times to keep the grid stable.
"There are going to be challenges, going forward and there are going to be other times when the grid goes down and because nothing's perfect, but I think we're moving in the right direction."
🎧 Go deeper: America's $5 Trillion Grid Problem (Slate)
Go deeper