Oppenheimer revealed the human and political sides of science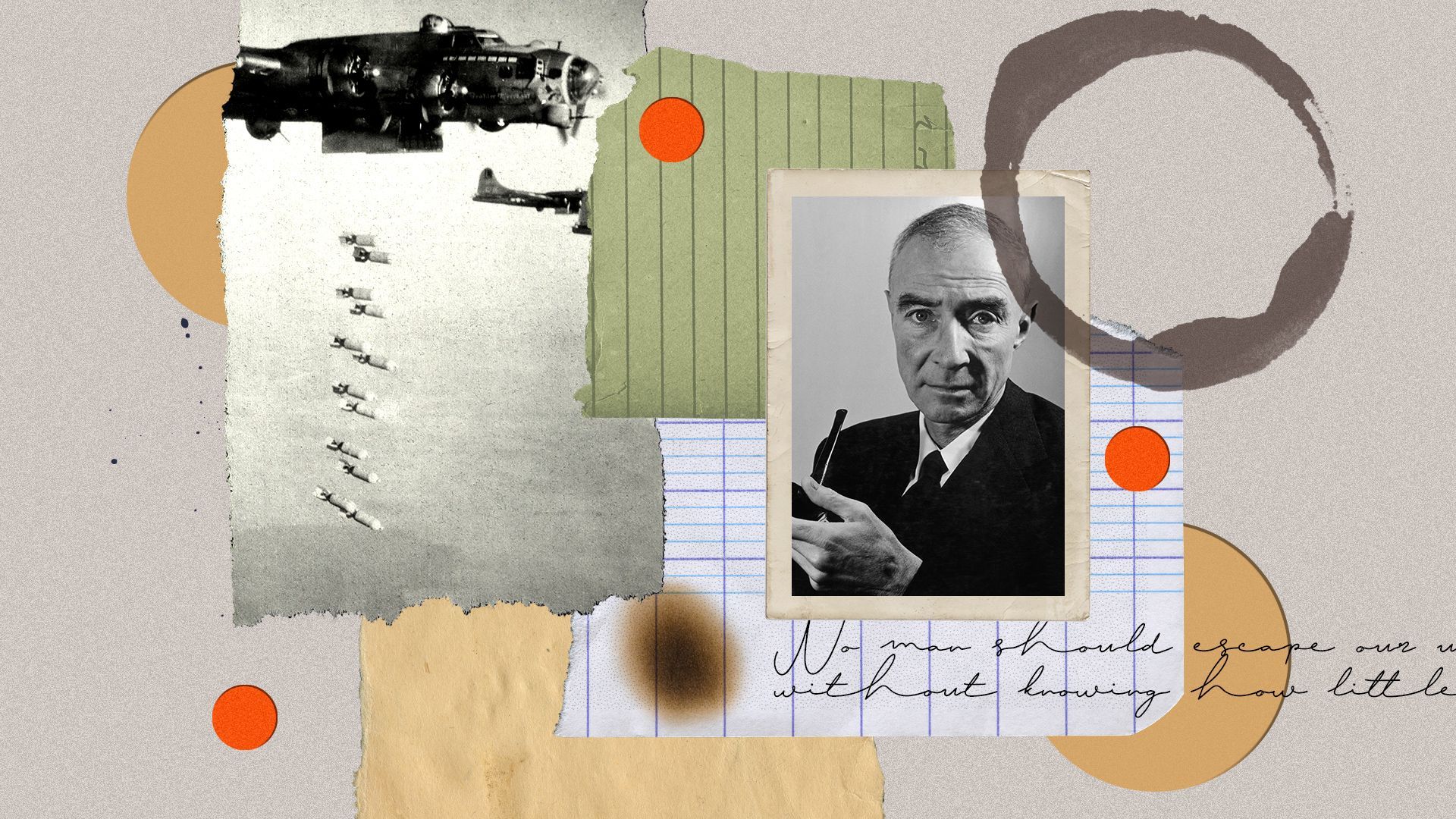 J. Robert Oppenheimer and the science he oversaw reshaped the world — but the political and cultural forces of the day also shaped the science he pursued.
The big picture: In the abstract, science is often extolled as a search for truth untouched by politics and traveling on a separate track, but in practice science, politics, culture and society can strongly influence one another.
Details: Oppenheimer described himself as indifferent to contemporary politics early in his career.
But that changed in the mid-1930s. Oppenheimer, whose parents were German and Jewish, developed a "smoldering fury" about the treatment of Jewish people in Nazi Germany.
Politics helped push Oppenheimer into nuclear science — and it ultimately separated him from it when he was targeted during the Red Scare of the 1940s and 1950s for his opposition to the hydrogen bomb and stripped of his security clearance.
Zoom out: The Atomic Age encapsulates how political and cultural factors can shape science — what research gets funded, who funds it, who is in charge, and who gets to conduct the science.
"The type of science that gets done at any given time is itself a reflection of the times," says science historian Alex Wellerstein, a professor at Stevens Institute of Technology.
In the 1970s, men were predominantly in decision-making roles about research, which contributed to a knowledge gap about the impact of sex chromosomes and hormones on disease, says Katie Schubert, CEO of the Society for Women's Health Research.
"We know a lot about the bottom of the ocean and a lot less about difficulties that women have going through menopause," Wellerstein says. "The Navy is interested in the former."
Between the lines: These factors can go beyond the funding and framing of scientific research, he says. They can influence what conclusions are drawn.
The interplay of politics and science has been described by historians for decades but "there are a lot of forces who do not want that idea to be thought of — for good reasons and bad ones," he says.
Acknowledging the political impact risks opening the door to any findings being subject to a political or cultural interpretation and for skepticism to slide into denialism.
The intrigue: The public's understanding of science and what shapes it is often influenced directly by those scientists who are best able to communicate their work.
Part of Oppenheimer's power as a scientist was his ability to communicate that science and its importance, putting it in the context of an "ethical narrative" that made the cultural significance of the science of the day clear, says Charles Thorpe, a professor of sociology at the University of California San Diego.
"He was a scientist who could articulate a broad humanistic vision of the place of science within culture and politics. He was, in many ways, a general intellectual," Thorpe added.
Yes, but: Oppenheimer's experience underscored the potential dangers and challenges for scientists involved in policymaking.
"[T]he Oppenheimer case sent a warning to all scientists not to stand up in the political arena as public intellectuals," Kai Bird, co-author of the biography "American Prometheus," wrote in the New York Times this week. "This was the real tragedy of Oppenheimer. What happened to him also damaged our ability as a society to debate honestly about scientific theory — the very foundation of our modern world."
Today, the scientific community "is wired to do everything that we can to remain detached from the entire endeavor of politics, policy and parliament," says Daniel Correa, of the Federation of American Scientists.
But that attitude can be counter-productive, Correa added. "[W]e actually benefit from the scientific community giving voice to policy ideas and engaging more actively."
What to watch: Perhaps more so than a century ago, the issues the planet faces today — and their potential solutions — are related to science and technology.
"[W]hether it's CRISPR and gene editing, nuclear weapons, or some facets of the AI debate — these are discussions where scientists need to be at the table" where policies are being made, Correa says.
The bottom line: The "relationship between science and politics is a two-way street," says Toshihiro Higuchi, a professor of history at Georgetown University who studies the environmental impacts of the nuclear age.
It's also "very, very complex. It is not simply just politics always trumping science or science always prevails over politics."
"Both are indispensable," he added.
Go deeper