Drug shortages squeeze trans patients' access to hormone therapy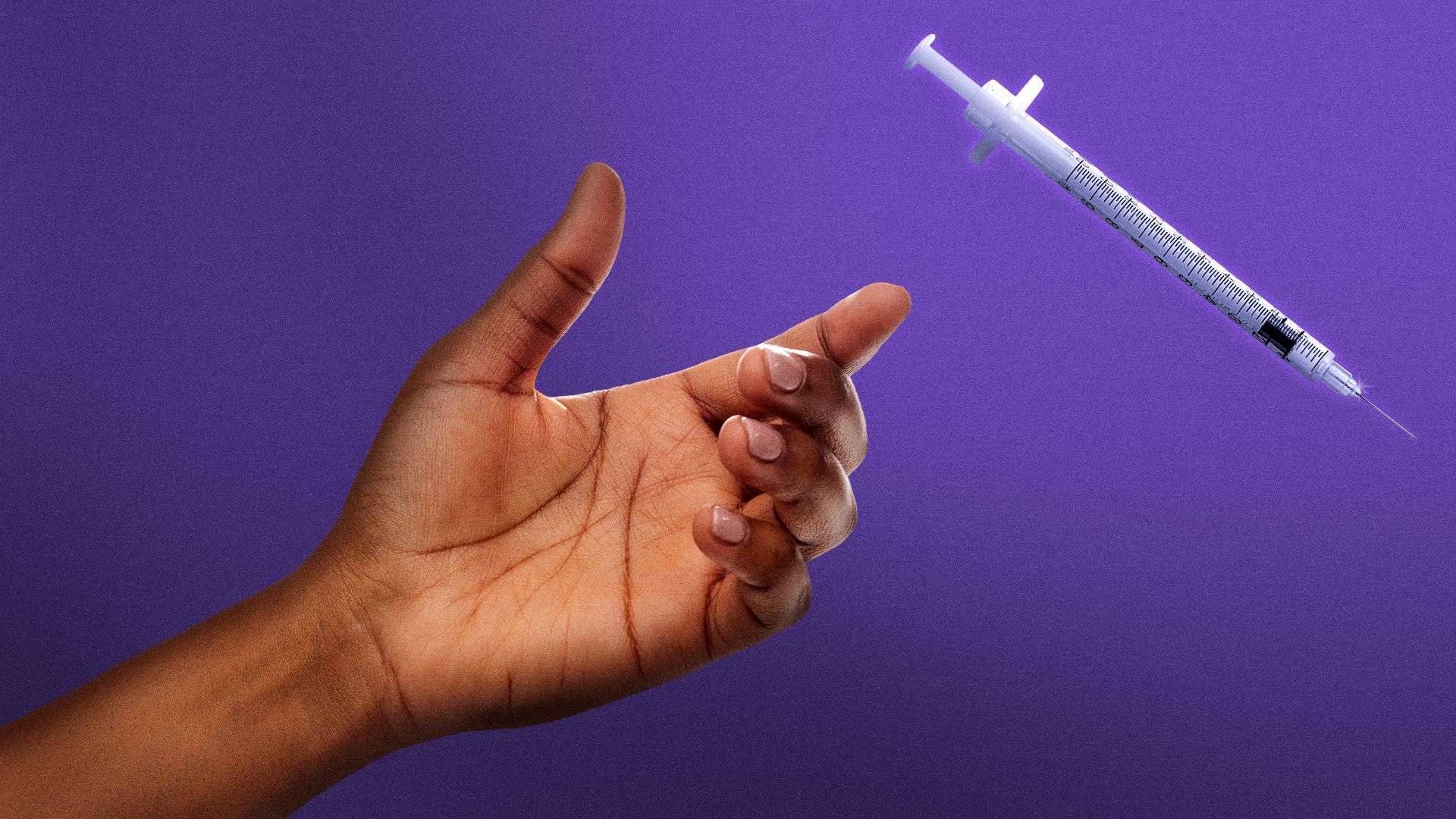 The worst drug shortage in a decade is disrupting gender-affirming care, as scarce supplies of injectable estrogen prevent some transgender women from obtaining hormone therapy.
Why it matters: Shortages of cancer drugs and other life-saving medications have already forced doctors to develop workarounds. A lack of access to estrogen products can affect trans patients in different ways: putting some through early onset menopause, reversing certain physical changes from their transition or causing them to experience anxiety and depression.
"If somebody is suddenly unable to take their hormones, then they certainly will be at risk of basically going through acute menopause: hot flashes, mood swings, low energy, low mood, migraines," said Maddie Deutsch, president of the U.S. Professional Association for Transgender Health. "It can precipitate serious mental health symptoms."
Patients who have had their genitalia surgically altered would be at risk of developing osteoporosis without long-term access to estrogen, Deutsch said. There's also the risk of testosterone levels going back up, which can cause masculinized features to develop, she added.
The big picture: Because injectable estrogen is seldom used outside of trans health care, "manufacturers have little incentive to produce this medicine," which leads to shortages, according to the University of California, San Francisco Gender-Affirming Health Program.
The American Society of Health-System Pharmacists (ASHP), which tracks current drug shortages, says that there is "insufficient supply" of estradiol cypionate, a type of injectable estrogen.

Pfizer — the sole supplier — said that the disruption has been caused by a change in its manufacturing process. The product is on backorder at both CVS and Walgreens, and a Pfizer spokesperson said, "[W]e are currently awaiting regulatory approvals" to accelerate production.

An ASHP spokesperson said that estradiol valerate, an alternate form of injectable estrogen made by several companies, is not in shortage, "though there may be some intermittent, regional supply disruptions."
What we know: The Food and Drug Administration does not have either form of injectable estrogen on its drug shortage database.
Under federal law, manufacturers are required to notify to the FDA when there are changes in drug productions that could affect their availability. However, suppliers often don't.
What they're saying: "I cannot tell you how frustrating it has been," Heather Sheppard, a clinician for FOLX Health, a virtual health provider that caters to the LGBTQ community, said of the shortage.
Sheppard said that she has warned trans patients who chose to take injectable estrogen that there will "inevitably" be at least two times a year where they won't be able to get the medication: "It's part of my standard counseling."
Patients might need to switch pharmacies to one that has injectable estrogen available, but in some cases, a pharmacist could refuse to fill their prescription, Sheppard said.
Trans people may struggle to access health care, and those that do "have to call every pharmacy in town and just hope that they'll actually have the medication and fill it and not give them a hard time," she added.
Between the lines: It's possible for patients who cannot access injectable estrogen to switch to other alternatives — such as a tablet or patches — to get their hormones, but that comes with its own difficulties. For one thing, injections tend to have higher levels of estrogen, so some health providers might recommend them because they could decrease testosterone levels.
Prior medical history, cost, insurance coverage and how much change a patient desires, also are factors, said Jenny Wares, medical director at Plume.
In general, it's a trial-and-error practice, and a patient will need to consult with their physician on what alternative works best for them, Wares added.
Zoom in: Gender-affirming care providers told Axios that injectable estrogen is one of the most commonly prescribed hormone products among trans women.
Plume, which claims to be the world's largest virtual gender-affirming care provider, said that tablets are the most used, immediately followed by injections. Sheppard told Axios her personal experience led to the same conclusion.
Don't forget: Injectable estrogen is sometimes used in hormone replacement therapy to treat menopause, but the required doses are much smaller.
There's difficulty controlling the dosage levels, so patients could be "stuck with a potentially high level for long period of time," said Stephanie Faubion, medical director of the Menopause Society and director of the Mayo Clinic Center for Women's Health.
The Menopause Society recommends the use of tablets, patches, sprays and gels.
What we're watching: Often, gender-affirming care providers will look to compounding pharmacies — where a licensed physician can prepare a drug when it's not available — to access injectable estrogen. However, compounded medications aren't always covered by insurance.
Go deeper